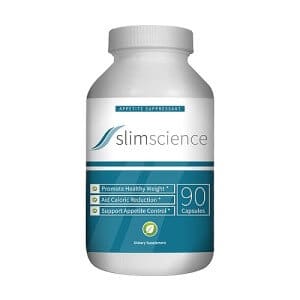 I paused before I hit the "publish" button on this one, because my conclusion was a bit of a shocker. Slim Science is relatively new to the weight-loss industry, so we decided to put it to the test with one of our in-depth product reviews. We looked at the ingredients, side effects, research and customer-service quality. We also read experiences on multiple websites. We summarized and condensed to give you the bottom line.
What You Need to Know
First off, Slim Science uses plenty of powerful ingredients including L-carnitine, caffeine, thiamin, green tea Extract, and ginseng root. Their products can be purchased in capsule form, which are taken daily to help suppress appetite and improve energy levels. There's no trouble taking this portable supplement with you.
Slim Science has only been around for a few years, but they're already making waves in the industry for both good and bad reasons. Their products include an affordable diet supplement with solid ingredients, their website provides support and they offer a money back guarantee, but read on…
Lack of Results – "Placebo Effect?"
Our first issue with Slim Science ingredients is the lack of results. Most customers that saw results attributed it to the fact that they were filling up on water, rather than the supplement itself. "When drinking the recommended amount with Slim Science, it will suppress your appetite," said our Research Editor. "But that's more because of the volume than the effectiveness."
"No different than a multivitamin. For those that do see results, this is the placebo effect at its finest," said one user.
"I took this for the first month and saw no results, it doesn't do anything for my appetite, and I didn't lose any weight," explains a user.
Scroll below for one of the best products we've seen over the last year.
Harmful Side Effects – "Are They Worrisome?"
Most of the reviews online were highly critical of Slim Science and one repeat concern was the numerous side effects that seem to stem from taking it. "Slim Science uses the same ingredient, Garcinia Cambogia, that has been found to cause liver problems," said one user.
"I took this product and wasn't feeling like myself for 4 days. It caused numerous side effects that suddenly stopped when I stopped taking Slim Science," offers another.
It seems like many people had similar concerns, especially when combining Slim Science with other medications. "Do not take this if you take drugs for diabetes or if you're on blood thinners. It can cause dangerous side effects when interacting with other drugs" said one customer.
Throughout our time writing diet and supplement reviews, our research has shown that weight-loss programs that have aspects that are especially troublesome (lack of results, high cost, taste, side effects, painful workout, etc.) are less likely to lead to long-term results. If Slim Science really does cause these adverse reactions, it may not be worth a try.
The Science – "Clinical Evidence?"
With a name like Slim Science, we assumed there would be plenty of evidence supporting their promises, but we were immediately disappointed. Not only do their products lack published research, but there's actually some proving that one of their ingredients is potentially harmful. Garcinia cambogia has been linked to liver problems and many diet supplements have voluntarily eliminated it from formulas. There are some positives in the mix, but nothing you can't buy as part of a clinically-proven solution. Here at DietSpotlight we need to see facts proving an option lives up to its claims. Without that, we're skeptical.
The Bottom Line – Does Slim Science Work?
Well now, what do with have to say this time around? We like that it's easy to buy Slim Science and that it's affordable, but we have concerns recommending this to our readers as an effective and safe way to lose weight. The lack of published studies proving it is more than just a multivitamin was a big factor, but we're also concerned about some of the ingredients and the potential to side effects. We also didn't like the high ratio of negative to positive reviews and the lack of results.
If you'd like a healthy way to lose weight, we suggest you go with a proven formula that is backed by published scientific research and has ingredients that support weight-loss without unintended side effects.
Among the best products we've seen in 2016 is one called Leptigen. This formula contains just four ingredients in a proprietary blend that has been shown in published research and unbiased studies to help boost weight-loss by accelerating fat loss and sparking metabolism. Users online seem to love the results that they've experienced and we can't find any hint of negative side effects.
Right now, the makers of Leptigen are showing just how confident they are in their product by offering a Special Trial Offer.