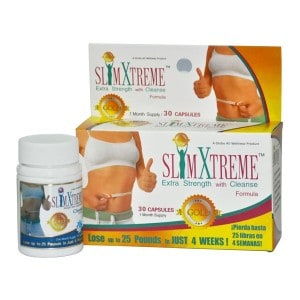 My love of diet products is bested only by my passion to review them, so we decided to turn our attention to Slim Xtreme Gold and the ingredients, side effects, clinical research and customer service. Furthermore, we examined hundreds of comments. Then we summarized and refined the info to give you what you need.
What You Need to Know
First off, Slim Xtreme Gold is a fat burner containing bitter orange fruit extract, cassia seed, mulberry leaf, jobstears seed, medical amylum, konjac root and lotus leaf. The recommended serving is one capsule per day, which is supposed to promote weight-loss. The ease of use is one positive.
The product, introduced as a fat burner in 2011 by Global Wellness, does contain a few natural ingredients, a plus. The supplement is available to purchase on the official website and through trusted online and offline stores. We like that Slim Xtreme Gold is available at multiple locations, but read on…
FDA Warnings – "Concerning?"
The first concern about Slim Xtreme Gold is FDA warnings. "It really doesn't matter what claims a company makes about a supplement," said our Research Editor. "If the government has taken notice of some issues, that's a red flag."
"Companies that distribute products containing undisclosed drugs are not only breaking the law, they are putting consumers at risk," said the Office of Compliance in the FDA's Center for Drug Evaluation and Research.
"Two important protections for the public are that a firm may not sell new drugs unless they have been tested and approved by the FDA" said Melinda K. Plaisier, acting associate commissioner for regulatory affairs.
Scroll below for one of the best products we've seen over the last year.
Side Effects – "Oh Wow!"
Customer comments mentioned Slim Xtreme Gold side effects were a bit harsh. "The problem is I got bad stomach cramps and major acid +diarrhea about 5 hours after taking the stuff," commented a user.
"I have been experiencing some strange side effects while taking Slim Xtreme: rapid heartbeat, irritability, pain in the left shoulder, extreme thirst, and frequent urination. I even experienced panic attack symptoms when I tried taking 2 pills early on," reported a consumer.
"After a few days though I began to feel really groggy and soon my chest started to tighten and my heart rate went through the roof!," said a user.
Our research concludes that something small, like side effects, could reduce the chances of long-term success. If Slim Xtreme Gold negatively affects dieters, we raise the red flag.
The Science – "Proven?"
The official website states the product is all-natural, but there's no published clinical research showing Slim Xtreme Gold ingredients will assist with weight-loss. According to the National Center for Complimentary and Integrative Health, "bitter orange contains chemicals that may speed up the heart rate and raise blood pressure, it may not be safe to use as a dietary supplement." At DietSpotlight, finding studies to support claims is critical. If there's no science, we turn our backs.
The Bottom Line – Does Slim Xtreme Gold Work?
So, what's the 411 on this one? After extensive research into Slim Xtreme Gold, here's the verdict. We like that the product is readily available and contains some natural ingredients, but we are skeptical about recommending it because of the lack of published scientific studies supporting weight-loss claims. We're also concerned about FDA warnings and potentially harmful side effects.
If you'd like to drop the weight, we recommend going with a supplement supported by published scientific research and no negative side effects. It's also a positive if the FDA is not part of the equation.
Among the best products we've seen in 2016 is one called Leptigen. The formula consists of a four-ingredient proprietary blend, which has been shown in studies to help boost metabolism and ignite fat loss. No one is talking about negative side effects, but comments on the web show people are seeing excellent results.
Also, the company behind Leptigen is so confident in the supplement, they're providing a Special Trial Offer, impressive.