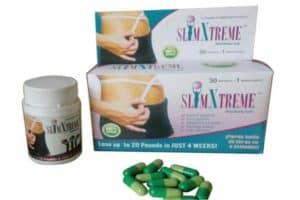 I did two things this week. I obsessed over every aspect of Slim Xtreme. Then I wrote this review about it. We at DietSpotlight really dug deep and conducted a thorough investigation into the side effects, ingredients, clinical studies and customer-service quality. We also looked at numerous user comments and responses from all over the web. Finally, we summarized and condensed to give you the facts you need.
What is Slim Xtreme?
First of all, Slim Xtreme is an over-the-counter diet supplement. It contains bitter orange fruit, cassia seed, mulberry leaf, jobstears seed and medical amylum. This formula is claimed to help you drop up to 25 pounds in only four weeks. It's supposed to help reduce appetite, boost thermogenesis, increase bowel movements and cleanse the colon. You simply take one capsule per day. There is no special diet or fitness regimen mentioned with this weight-loss product.
From what we can tell, Slim Xtreme has been available since at least 2011. It is available on eBay. The company that manufactures this diet supplement is located in Florida. Also, this formula contains mostly natural ingredients, but read on…
Questionable Ingredients – "Safety Concerns?"
The first concern related to Slim Xtreme ingredients. "This diet supplement contains a hidden substance, which was discovered by the FDA," said our Research Editor. "This is a serious red flag that should not be overlooked."
The U.S. Food and Drug Administration stated in 2011, "FDA laboratory analysis confirmed that "Slim Xtreme Herbal Slimming Capsule" contains sibutramine. Sibutramine is a controlled substance that was withdrawn from the U.S. market in October 2010 for safety reasons."
However, one customer revealed, "Not sure how safe this is, but it does suppress appetite."
Another said, "Makes you urinate frequently. Other than that, I think it works pretty well."
Scroll below for one of the best products we've seen over the last year.
Slim Xtreme Side Effects – "Watch Out!"
Another concern is Slim Xtreme side effects. Some users have reported adverse reactions like diarrhea, rapid heartbeat, jitters, headache, nausea, increased blood pressure and even heart attack. In fact, one person said, "This stuff cannot be safe. Made my heart race like crazy."
Then again, a different customer posted, "Slim Xtreme does decrease hunger. Been using it for about two weeks now."
"Have lost about two pounds so far. It does cause some side effects though," mentioned another.
Our research has shown if there is some particular part of a diet supplement or weight-loss program that is especially troublesome (dangerous ingredient, side effects, steep price) the odds of real success for the long haul are not good. Therefore if Slim Xtreme does in fact cause unpleasant adverse effects in a lot of people, this could be a serious problem.
The Science – "Is It There?"
Sadly we could not locate any documented science that supports Slim Xtreme and its weight-loss claims. This is a red flag, because we at DietSpotlight need to see some published research that backs up the diet product we are investigating.
The Bottom Line – Does Slim Xtreme Work?
Now the moment you've been waiting for. Here is our bottom line on Slim Xtreme weight-loss pills. To start, we like that this supplement does not require a prescription and it's easy to use/take anywhere. But we have some reservations about this diet formula because it's not supported by any actual research. Also, we're concerned about the dangerous drug it contains. Not to mention, the side effects some people have experienced.
If you'd like to drop more weight, then we suggest you go with a product that does not contain any dangerous ingredients, is backed by solid clinical research and will not lead to any unwanted adverse effects.
Among the best products we've seen in 2016 is one called Leptigen. Its formula is a proprietary blend of four unique ingredients. Some of which have been shown in published clinical research to help accelerate fat loss and ignite metabolism. We cannot find any discouraging user reviews, and the comments posted online indicate people are seeing excellent results.
The makers of Leptigen are so confident in their product they're offering a Special Trial Offer, which is very encouraging.