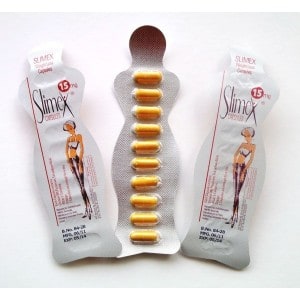 We're hearing a lot of buzz about Slimex. We decided to dig deep into the ingredients, side effects, customer service and scientific research. We took hundreds of customer comments into consideration. Then, we condensed and refined to give you the info you need.
What is Slimex?
First off Slimex is a fat burner containing sibutramine hydrochloride. The recommended serving is two capsules per day, supposedly increasing metabolism, fat burn and weight-loss. The convenient package makes it easy to take anywhere.
There's limited information about when Slimex hit the market, but we found several overseas companies claiming the product as their own. We like that we found some favorable customer comments and it seems to be affordable, but read on…
Ineffective Ingredients – "Not Working?"
The first thing was the effectiveness of Slimex ingredients. "The main ingredient sibutramine has been linked to increasing metabolism," said our Research Editor. "It also has been shown to not work and cause negative reactions."
"I was surprised to see this supplement contained an ingredient the FDA banned in 2010," commented a customer.
"I have been using Slimex 15mg for a year now, but I stopped after gaining weight. I went back but the pills seems not to have any effect on me," reported another.
We found that some customers found the supplement effective.
"I have been using this for about half year, and it works," stated a user.
Scroll below for one of the best products we've seen over the last year.
Side Effects – "Watch Out!"
The common theme from customers in forums was the intensity of Slimex side effects.
"When I took Slimex, I noticed my heart rate was a little high, and I felt really anxious all the time," stated a customer.
"The side effects weren't worth it. I couldn't sleep," commented a user.
Despite the fact that some users experienced side effects, there were some who reported no issues with the supplement.
"I lost weight quickly, and didn't experience any side effects," reported a consumer.
Another user said, "I guess I'm lucky – I got weight-loss and no side effects."
Over the years, we've found it takes a small thing, like negative side effects, that could limit the long-term results. If a supplement caused adverse reactions, is it worth your money?
The Science – "Solid Research?"
After looking through the official website, we found details about Slimex, but couldn't locate solid science supporting the weight-loss claims. We did find information about the Food and Drug Administration cautioning consumers about sibutramine. At DietSpotlight, we want to see science showing it works. If the research isn't there, we become concerned.
Does Slimex Work?
Is it time to clear the shelves of Slimex? Well, we like that we located some positive customer comments and the low price tag, but we're skeptical about this one because there's no research backing the weight-loss claims. We also have concerns due to reports of negative side effects, ineffective ingredients and FDA warnings.
If you're ready to lose weight, we suggest a weight-loss product made with some clinically-tested ingredients and no mention of negative side effects.
Among the best products we've seen in 2016 is one called Leptigen. It's made with a blend of clinically-tested ingredients, shown to help boost fat loss and accelerate metabolism. We couldn't find any reports of side effects, but users are talking about good results.
Plus, the makers of Lepitgen are so confident in their product they are offering customers a Special Trial Offer. This is always something we like to see.