Updated: 09/29/2015 - Sponsored by Leptigen
Slimming Toe Ring Review - Does This Weight-Loss Ring Work?
Are effectiveness and lack of comfort deal breakers?
PUBLISHED: 09/17/2015 | BY: SUMMER BANKS, SENIOR REVIEWER
Editor
's Review:
3.5
/ 5.0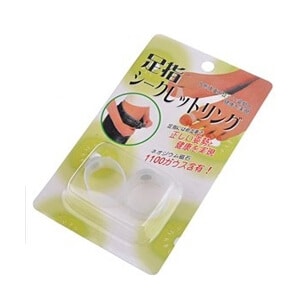 There's a lot of enthusiasm surrounding Slimming Toe Ring, so we decided it was time to narrow down the facts in a detailed review. Our review examined effectiveness, comfort and the company. We also browsed hundreds of buyer comments and reports from retail websites. We compiled the information to give you a boiled-down version.
EDITOR'S TIP:
Combine Slimming Toe Ring with a proven fat burner such as
Leptigen
for better results.
What You Need to Know
Firstly, Slimming Toe Ring is a set of silicone rings that fit around the big toe. Each one has a magnet that is supposed to work as acupressure to reduce hunger and support weight-loss. You wear the set all day so portability is not an issue.
Slimming Toe Ring is a product of Sodial. The set is affordable and widely available on the web – a positive sign. There are some supportive comments and no negative side effects have been reported, but read on…
Effectiveness – "Not Really"
Users are not sold on Slimming Toe Ring. No matter how many days the silicone and magnetic products are worn, weight-loss just doesn't happen in most cases. "No matter how little a product costs, if it is not effective consumers will not be happy," offers our Research Editor. "Slimming Toe Rings retails for less than $2, in most cases, but why would dieters waste money for no results?"
"I wore these for a week at least. No weight loss whatsoever!," offers a dieter.
"The product is a scam. I used it for a few weeks, and all it did was hurt my feet," says a consumer.
Scroll below for one of the best products we've seen in 2015.
Lack of Comfort – "Ouch"
If a product is not comfortable to wear or if it causes pain, consumer support will fall quickly. Reports of pain come up time and again.
"Even though they were a perfect fit, walking on the hard little magnets was painful!! They kept rubbing the skin raw!!," reports one buyer.
They feel extremely gross after wearing a few minutes," claims a dieter.
Another consumer says, "Uncomfortable, doesn't do anything but hurt my toes. "
Our research indicates if there is a problem with a weight-loss product like ineffectiveness or lack of comfort, this could lead to lesser long-term results. If Slimming Toe Ring does not work, this is an issue to consider.
The Science
There's no official website or information on the company behind Slimming Toe Ring so "science" is not part of the equation. We were unable to find any studies supporting the weight-loss claims made by Sodial, the creator of the product. DietSpotlight believes clinical research is a critical component. If support does not exist, it could be problematic.
The Bottom Line
After reviewing Slimming Toe Ring it was easy to come to a decision about the product. Though there are a few issues we appreciate, like the price and some positive customer comments, we felt it unwise to give this one a thumb up. There is no official website and information on the manufacturer does not exist.
If weight-loss is your end goal, our research suggests you go to a product that brings with it a cost-effective solution and clinically researched and proven ingredients.
From all of our research, we've chosen Leptigen as one of the leading products in 2015. Its formulation includes four ingredients backed by published scientific research supporting claims of a boost in fat loss and metabolism. No negative side effects are mentioned and people are commenting on their exceptional results.
The company behind Leptigen has faith in the product, so they are offering a special trial offer – a pleasing sign.