Updated: 08/25/2015 - Sponsored by Leptigen
Slimquick Review – Does This Diet Supplement Line Work?
Are high price and side effects deal breakers?
PUBLISHED: 08/12/2015 | BY: TORY GRAY, SENIOR REVIEWER
Editor
's Review:
3.1
/ 5.0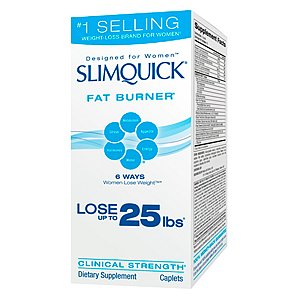 Slimquick has a lot of hype surrounding weight-loss claims, so we dove deep into the price, side effects and clinical support. Hundreds of customer comments were taken into consideration as we collected info to put forward exactly what you need to know
EDITOR'S TIP:
Substitute Slimquick with a proven fat burner such as
Leptigen
for better results.
What You Need to Know
Slimquick, a diet supplement, contains green tea and caffeine – as the main ingredients. One serving is three capsules, which can be taken outside of the home – a benefit.
The supplement, introduced by Slimquick Laboratories, which opened in 2006, uses all-natural ingredients – we like that. You can purchase the product in just about any store. We like the convenience of use and the two main ingredients, but read on…
High Price – "Something to Consider"
At first glance, Slimquick is affordable, but you have to take a few things into consideration. The only two ingredients worth mentioning in the formula are green tea and caffeine. Both cost less than $5 at your local pharmacy. "A lower price does not necessarily mean a good deal," says our Research Editor. "Sometimes the cost is more about weighing the benefits against other similar products." Slimquick costs about $22.50 a month – around $15 more than you have to spend.
"The price for the Slimquick program is about $50," says a dieter, when multiple Slimquick products are taken together.
"You get what you pay for and given that this was on sale…for $17.99, I decided to try it. BIG MISTAKE," offers one buyer.
Read down for information on one of the best products we've researched in 2015.
Side Effects – "A Consistent Issue"
One of the biggest complaints from dieters pertains to side effects. Everything from feeling jittery to having a racing heart is reported. ""I've only been on it for 3 days and its definitely not worth the headaches, anxiety attacks, insomnia and heart problems," one concerned dieter reports.
"I started off with 3 like it said to…and now I feel like I need to go to the hospital and now I'm scared," says another buyer.
Yet another review states, "Gave me a headache, nausea and upset stomach. Had to stop taking it."
When an issue comes up with a supplement, like side effects, we've connected this with reduced long-term success. If Slimquick causes headache and nausea, there could be a problem.
The Science
Slimquick does not bother to share clinical research links, though at least one trial is mentioned on the official website. We found support for green tea and caffeine, but these two ingredients are inexpensive when purchased individually. Science supporting a supplement is important, but when the facts just don't back a product, we begin to get concerned.
The Bottom Line
Taking all the info we found into mind, we came to a concrete outcome. We can't give favor to a supplement with a higher than necessary price and side effects. We also worry about the poor "C+" BBB rating and lack of substantial clinical support.
If you're fighting those stubborn pounds, we've found a supplement with ingredients supported by published research and the right price are a good suggestion.
Based on our research, we believe Leptigen to be among the best products in 2015. There's no talk of negative side effects and the customer service department is there to answer questions and take comments. Dieters are seeing great results, based on supplement reviews, and the ingredients are backed with published evidence.
If you're looking for confidence, the makers of Leptigen have it. They are offering a free trial offer to you – a huge benefit.
(Feel free to scroll below for our previously published full-length reviews of Slimquick)
Previous Slimquick Review (Updated March 18, 2014):
What You Should Know
Click Here To See Our Highest Rated Review
Slimquick weight loss supplement is from Slimquick Laboratories. The manufacturers state that this product is designed strictly for women. They claim that they understand how a women's body functions and their product is created with that in mind. The company asserts that there are several differences that women when trying to lose weight. These problems are hormone changes, retaining water and stress in everyday life as well as reduced energy levels. The manufacturer of the Slimquick program offers words of encouragement. They claim an individual can use the simple program to lose weight quickly and keep it off forever. The company claims that their team of specialists understands how a woman's body performs and that there program is tailored to engage this physiological process.
The official website for the Slimquick program is designed for simple use. An individual can view product information, learn how the method has been created and how to purchase the product. There are also detailed testimonials, ingredient lists, detailed information about the company and a manifesto on the "Slimquick mission." The website is simple to navigate and a curious individual may locate all kinds of information about Slimquick.
List of Ingredients
Slimquick New and Improved: Green Tea Extract, Caffeine, Rhodiola Extract, South African Hoodia, Juniper Extract, Chaste Tree Extract, Soy Extract, Asian Ginseng Extract, Brown Seaweed, Dandelion, Yerba Mate, Uva-ursi, Japanese Knotweed Extract, Phytosterols, L-Theanine, Microcrystalline, Film Coat (hypromellose, hydroxypropyl cellulose, acesulfame potassium, titanium dioxide), Croscarmellose Sodium, Soy Polysaccharides, Maltodextrin, Stearic Acid, Magnesium Stearate, Silica.
Slimquick Mixed Berries Packets: Green Tea Extract, Caffeine, Rhodiola Extract, South African Hoodia, Juniper Extract, Chaste Tree Extract, Soy Extract, Asian Ginseng Extract, Brown Seaweed, Dandelion, Yerba Mate, Uva-ursi, Japanese Knotweed Extract, Phytosterols, L-Theanine, Natural and Artificial Flavors, Citric Acid, Cane Juice Crystals, Malic Acid, Acesulfame Potassium, Potassium Citrate, Sucralose, Red #40, Silica.
Slimquick Hoodia: Certified Authentic South African Hoodia, Green Tea Extract, Microcrystalline Cellulose, Maltodextrin, Croscarmellose Sodium, Soy Polysaccharides, Film Coat (hypromellose, hydroxypropyl cellulose, acesulfame potassium, titanium dioxide), Stearic Acid, Magnesium Stearate, Silica.
Slimquick Extreme: Green Tea Extract, Caffeine, Loranthus, Tuber Fleeceflower, Theobromine, Hoodia, Sesame Extract, Pu-erh Tea, Brown Seaweed Extract, Rasberry Ketone, Octopamine, Clary Sage Extract, Dandelion, Uva-Ursi Extract, Piper Nigrum, Bacopa, Gugglesterones E&Z, Evodiamine, Vinpocetine, Quercetin, cAMP, Yohimbine, 11-hydroxy Yohimbine, Soybean Oil, Lecithin, Beeswax, Gelatin, Glycerin, FD&C Red #40, FD&C Yellow #6, FD&C Blue #1, Titanium Dioxide.
Product Features
An individual can choose four products from the Slimquick Laboratories company. The Slimquick New & Improved Caplets are stated to be the correct formula for the specific needs of a woman's system. The company promises that this program has been clinically tested and proven to raise metabolism levels. The price for the Slimquick program is about $50. A product with the same capabilities but "berry" different taste is also available.
The Slimquick Hoodia product offers basically the same properties as the other products. However, it also includes calcium, vitamin D3 and other nutrients. The manufacturers state that the product tests conclude that these ingredients assist with losing weight as well as building stronger bones. Unfortunately, the website does not offer this product for sale.
Last offered is Slimquick Extreme. This product is designed by the company for very active women. A person who energetically competes in competitions or exercises many times during the week may benefit from this product. The company claims the Extreme edition is created with a maximum-strength formula. It is designed to increase performance, lower water weight and assist the body in correctly breaking down fat.
Advantages
The Slimquick official website offers product information and purchasing options as well as facts on how the merchandise functions for a women's body.
An individual can use the site to locate retail stores in their area.
The cost of the products is fairly low.
Disadvantages
Even though most of the ingredients are natural, some may still cause harm if a user is taking other supplements.
The company claims that the products will assist a user in losing weight. However, they also state in fine print that diet and exercise is helpful to the process.
An potential buyer needs to be aware of the warning label on Slimquick. Serious complications can occur if certain problems are present in the person taking the weight loss supplement.
No free product samples appear to be offered with Slimquick.
Some of the products may be unappetizing. (See reader comments.)
Conclusion
The Slimquick products are designed to assist a person in losing weight quickly and effectively. They state that their products have been fully tested in clinical studies are safe for most users. An individual will be able to view testimonials directly from the Slimquick's official website. They can learn how to product works and the most effective method of using the supplement. While we appreciate the copious information available about the Slimquick product line, we would still like to see a featured proprietary ingredient, a money-back guarantee or at least a free trial sample of the product.
GD Star Rating
loading...