Updated: 09/29/2015 - Sponsored by Leptigen
Smart Water Review - Does This Enhanced Water Work?
Are cost and taste deal deal breakers?
PUBLISHED: 09/13/2015 | BY: SUMMER BANKS, SENIOR REVIEWER
Editor
's Review:
3.5
/ 5.0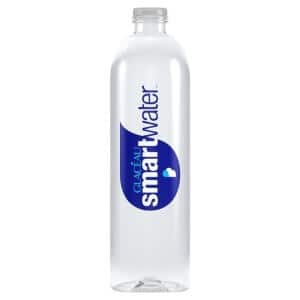 Smart Water has been a popular product for a while now. We've been curious about the buzz, so we decided to do a review of the product and see what it really has to offer. We looked at the company behind it, the product itself, and then read hundreds of user reviews to give you the best description possible.
EDITOR'S TIP:
Combine Smart Water with a proven fat burner such as
Leptigen
for better results.
What You Need to Know
Smart water is pretty simple–it is advertised as "vapor-distilled," which just means that it was boiled, the steam was retained, and it was condensed back into liquid form. Once it is "vapor purified," however, it doesn't have any minerals in it anymore. So they add potassium, magnesium chloride, and electrolytes back into the water to make it taste better. Smart Water is mostly derived from tap water, or "municipal water systems," as the website says.
The product was initially launched back in 1996, when J. Darius Bikoff, the current CEO, started peddling his homemade concoction (SmartWater) to local businesses in NY. It quickly took off–I guess consumers appreciated the alternative to GatorAde. It's pretty much just water with a few added minerals, so you won't be taking in tons of sugar like VitaminWater or some similar alternative carbonated beverage.
We like the success the company has had over a relatively long period of time. Many similar products are just a "flash in the pan," but SmartWater has grown for a while. We also like the lack of sugar or other unhealthy additives in this brand–but don't stop reading just yet.
Taste – "Hmmm"
One reason to buy bottled water rather than just drinking free water is for the taste. You can stay hydrated at work by using the water fountain or water filter, but consumers purchase a product like  Smart Water for a reason: they don't enjoy drinking regular tap or filtered water. The problem is, SmartWater doesn't provide enough taste to make it a worthwhile alternative to tap water.
"I was not happy with the quality of the product. It tasted as though it was sitting for a very long time," said one user.
"Seriously tastes like tap water. Highly overpriced," said another.
Scroll below for one of the best products we've seen in 2015.
Lack of Electrolytes–another concern
One of SmartWater's selling points is that it contains electrolytes. While these are used in sports drinks to help athletes recover from exercise, SmartWater doesn't have enough electrolytes to provide health benefits–their only theoretical benefit is for taste. According to Livestrong.com, "While Smartwater can keep you hydrated, its electrolyte content is low and not sufficient to replace losses after intense activity and sweating."  Many customers find that the electrolytes are simply not worth the hype and cost of the bottle.
If you want cheap electrolyte water, take a look at Nestle Bottled Water 16.9oz Bottle which has essentially the same things added," said one purchaser.
"I am going to buy a water filter for my sink and just use that. You can also buy packets of electrolytes from companies like Emergen-C and add them to your water," said another.
We have come to learn to that bottled water boasting health benefits but only containing small quantities of useful minerals are rarely worth the money. You will likely find yourself frustrated if you buy SmartWater for the electrolytes or the taste.
If you are determined to give SmartWater a try, though, make sure you don't rely on it to replenish electrolytes after an intense workout. It will hydrate you (since it is water) but it won't really give you any other positive benefits. If you like the taste, then great!
The Science
All water (at least, all water that was once a cloud) is vapor distilled. That's why the whole "vapor-distilled" thing seems a little bit hokey. Glaceau tries to tout SmartWater as a new scientific breakthrough in bottled water, but they are just imitating the oldest water purification system in the world. While electrolytes are scientifically proven to help your body recover, SmartWater simply doesn't have enough electrolytes to give you the benefits (see above quote from Livestrong).
It's critical to us at DietSpotlight that the research backs up the product. In this case, there isn't anything "smart" about SmartWater other than an ingenious marketing campaign that makes us feel like we are drinking something special.
The Bottom Line
While we were pretty interested in SmartWater to start off, it quickly became apparent that the product doesn't live up to the hype. If consumer reviews are to be trusted, the taste isn't worth the price tag. The electrolyte count isn't high enough to benefit athletes, either. We recommend buying a water filter for your home (so you can filter your OWN tap water) or purchasing less costly bottles of water that likely have the same electrolyte count.
One of the best products we've seen in 2015 is one called Leptigen. It blends four fantastic ingredients and has been shown in published clinical research to help accelerate fat loss and boost metabolism. We haven't been able to find any bad reviews, side effects, or negative research while looking at the product either.
The makers of Leptigen are even offering a special trial offer for the time being.