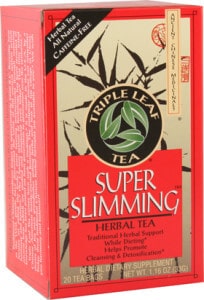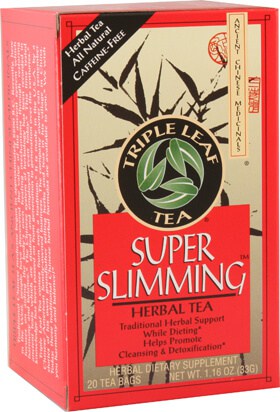 Super Slimming Herbal Tea isn't your grandmother's diet product. We conducted an in-depth review, closely examining the ingredients, side effects, scientific research and overall customer service. Furthermore, we read through dozens of user comments and dieter reviews from all over the web. At last, we condensed all the facts and feedback to give you the information you need.
EDITOR'S TIP:
Combine Super Slimming Herbal Tea with a proven fat burner such as
Leptigen
for better results.
What You Need To Know
Super Slimming Herbal Tea is described as a potent Chinese tea that is used for internal cleansing, promoting healthy digestion and detoxifying the body. This tea contains the following ingredients; Cassia Angustifolia (Senna) Leaf, Malva Verticellata Leaf, Chinese Licorice Root, Chinese Persimmon Leaf, Carica Papaya Leaf and Citrus Aurantium. In order to use this product, you simply add one teabag to a cup of hot water, and drink after meals or before bedtime. Super Slimming Herbal Tea is claimed to help with weight management.
This slimming tea has been available since at least 2011 and it can be purchased online for around $5 per box (20 tea bags). Herbal ingredients are used in Super Slimming Herbal Tea and this product should help promote regularity, but read on…
Dangerous Ingredient – Concerning?
"We noticed that Super Slimming Herbal Tea contains Citrus Aurantium, which contains Synephrine. Unfortunately Synephrine mimics Ephedra (a banned ingredient), and can lead to side effects including rapid heartbeat, high blood pressure, stroke and heart attack," says our Research Editor.
One customer said, "Even though it was not in my system that long and despite the fact that I must've vomited all the tea out, it STILL affected my stomach and had me in the toilet for an entire night. I barely got any sleep that night and in the morning I felt like I had a hangover. My head hurt and I felt like I got run over by a truck! I called out of work that day. And two days later, I'm still dizzy and nauseous!"
"This tea gave me cramping and diarrhea!," said another user.
Scroll below for one of the best products we've seen over the last year.
Numerous Customer Complaints
We surfed the web and found all sorts of complaints about Super Slimming Herbal Tea. One dieter commented, "I have not seen any improvement since I have been using slimming tea."
Another customer stated, "I haven't seen any difference in my weight when I step on the scale. I wouldn't count on it for weight loss."
The extensive research we've done has shown if there is a particular part of a weight loss product or diet program that is very troublesome (dangerous ingredients, customer complaints, too many side effects) the probability of real weight loss success is low. Therefore if Super Slimming Herbal Tea does lead to a lot of customer complaints, this could be a serious issue.
The Science – Any?
Here at DietSpotlight, we like to see documented clinical research that backs up the diet product's claims. Sadly we could not pinpoint any real science that supports Super Slimming Herbal Tea for weight loss. However, since this product contains Senna, it may work as a laxative.
The Bottom Line: Does Super Slimming Herbal Tea Work?
So, should you buy Super Slimming Herbal Tea? Well, we like that Super Slimming Herbal Tea contains some natural herbs and some positive comments are posted online. But we have some reservations about this tea because it's not backed by science. Also, we're leery about the dangerous ingredient and numerous customer complaints.
If you'd like to drop more weight, then we advise you to go with a diet product that does not contain any dangerous ingredients, is backed by clinical research and is supported by plenty of positive customer comments.
Among the best products we've seen in 2015 is one called Leptigen. Its formula is a unique blend of four ingredients, which have been proven in published scientific studies to help improve fat loss and boost metabolism. We have not located any comments about harmful side effects and user reviews around the web indicate people are seeing excellent results.
The makers of Leptigen are so excited about their product they're offering a Special Trial Offer, which is a good sign.