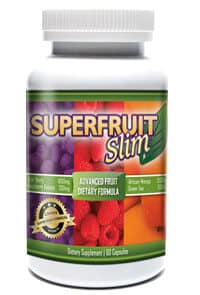 Over half of the diet products out there have absolutely ZERO scientific backing. Let's see if Superfruit Slim is one of those. We at DietSpotlight created an intensive review, investigating the side effects, ingredients, clinical studies and level of customer care. We also scrutinized hundreds of customer comments and dieter reviews from all over the web. At last, we compacted the data we found to give you the information you need.
EDITOR'S TIP:
Combine Superfruit Slim with a proven fat burner such as
Leptigen
for better results.
What You Need To Know
Superfruit Slim is an over-the-counter supplement that aims to reduce food cravings, increase metabolism, boost energy levels, enhance alertness and provide antioxidant protection. This product contains the following ingredients; Acai Berry Extract (350mg), African Mango Extract (300mg), Green Tea Extract (125mg), Caffeine (100mg), Panax Ginseng (80mg), Coenzyme Q10 (60mg) and Black Pepper Extract (6mg). In order to use Superfruit Slim, you need to take one capsule 20 minutes prior to breakfast and lunch (with eight ounces of water). The cost of Superfruit Slim is $49.95 (plus $4.95 for shipping).
Superfruit Slim is made by Optimum Nutra and was first released in 2012. This supplement contains some natural ingredients and it comes with a 30-day satisfaction guarantee, but read on…
Fad Supplement Ingredients – A Concern?
"This diet pill contains unproven weight loss ingredients such as Acai Berry and Panax Ginseng, which are not supported by any real clinical studies. Naturally this is concerning," says our Research Editor.
According to one customer, "Don't waste your money. I have taken these pills twice a day for 2 months and not lost so much as a pound. They also make you feel jittery and a little aggressive for a few hours after taking them."
"This is totally useless. I used them for the 30 days and no difference in my weight,"said another user.
Scroll below for one of the best products we've seen over the last year.
Too Many User Complaints!
There are quite a few customer complaints posted online for Superfruit Slim. One user stated, "Not only did I not loose any weight, in the third week I put a pound on. I keep a fairly low calorie diet and do sports 4 times a week. Very disappointed."
Another person commented, "Fourth week into trial, zero weight loss. Mild headache throughout trial. Disappointing results."
Our extensive research has revealed if there is a particular aspect of a weight loss pill or diet system that is especially concerning or burdensome (a painful/difficult exercise routine, fad supplement ingredients, too many user complaints) the probability of long-term fat loss success is rather low. In other words, if Superfruit Slim does lead to a lot of user complaints, this could be a major dilemma.
The Science – Any Clinical Studies?
First of all, the official website does mention "clinically-proven ingredients."However, from what we gathered, ingredients such as Acai Berry and CoEnzyme Q10 are not clinically proven to help with fat loss. Therefore we at DietSpotlight cannot get behind this product's claims. We need to see documented clinical research that supports the weight loss supplement.
The Bottom Line: Does Superfruit Slim Work?
So, should you buy Superfruit Slim? Well, we like that Superfruit Slim contains some natural ingredients and it is sold with a 30-day satisfaction guarantee. Then again, we have some reservations about this product because it contains some fad supplement ingredients that are not backed by solid science. Furthermore, we're concerned about the numerous user complaints we found on the web.
If you'd like to drop more weight, then we suggest you try a product that does not contain any fad supplement ingredients, is backed by solid clinical research and is supported by plenty of positive user reviews.
Among the best products we've seen in 2015 is one called Leptigen. This supplement contains four potent ingredients, which have been shown in documented scientific research to help improve fat loss and increase metabolism. At this point, we have not found any talk of harmful side effects and customer feedback around the web shows people are seeing substantial results.
The makers of Leptigen are so positive about their product they're offering a Special Trial Offer, which is uncommon.