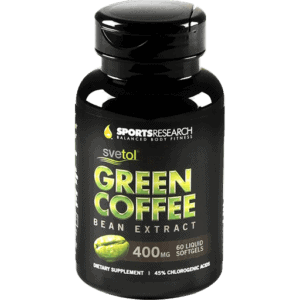 I'm here to cut through the noise and get you the bottom line on Svetol coffee bean extract. We took the time to create a thorough review, scrutinizing the ingredients, side effects, clinical studies and level of customer care. We additionally sorted through numerous user comments that are posted on the internet. Lastly, we compacted all of the data we collected to give you the information and specifics you actually need.
What is Svetol?
First of all, Svetol is a green coffee bean extract that is used in some over-the-counter weight-loss pills. It contains a chemical called chlorogenic acid, which functions as an antioxidant. This ingredient is claimed to help regulate blood glucose levels, encourage fat burning and reduce body mass index.
According to the official Naturex website, Svetol has been around since 2006. It's easy to find diet supplements containing this key ingredient on dealer websites like Amazon. Also, this substance does provide antioxidants to help combat harmful free radicals. There is also plenty of customer feedback posted on the web for this component, but read on…
Minimal Results – "Concerned Yet?"
Our first concern is minimal results. According to our Research Editor, "Several users have complained of little to no real effects from Svetol coffee bean extract. Naturally this is concerning."
One customer stated, "I have been taking this product for about three weeks and not only did I not lose weight, but I feel bloated and gassy all the time."
Then again, a different user said this, "On the fence. After using almost two bottles, I did not notice any significant weight-loss or decrease in appetite."
Another posted, "Been taking this for about 3 weeks now. I'm just now seeing a little weight-loss."
Scroll below for one of the best products we've seen over the last year.
User Complaints – "Uh Oh"
We are also concerned with the user complaints we found posted online. For example, one person reported, "I used this product for 4 weeks and am discarding it. I haven't seen any weight-loss or energy gain. I wasn't looking for miracles, but a pound or two would have been okay."
But, a different customer revealed, "No bad Svetol side effects. Didn't make me jittery like some diet products. Does seem to suppress hunger slightly."
"I have been taking this product for the past two months. While I haven't seen huge results, with a decent diet, I have lost about 5 lbs," said another individual.
According to our extensive research, if there's a certain aspect of a diet supplement that is concerning (minimal benefits, user complains, low Amazon star rating) the odds of long-term success are not very good. In other words, if Svetol does in fact fail to produce real results in a lot of people, this could be a serious issue.
The Science – "Is It There?"
There are some study results posted on the web that support Svetol coffee bean extract for mild weight-loss. However, there is also some research that shows minimal to no effects from this substance. The truth is more studies are needed to determine how effective green coffee extract actually is in regards to obesity treatment.
The Bottom Line – Does Svetol Work?
Now the moment you've been waiting for. This is our bottom line on Svetol. To start, we like that this ingredient is natural and it provides some antioxidant protection. It's also nice to see that numerous supplements are available with this component. On the other hand, we have some doubts about this substance because there are some conflicting clinical studies out there. Also, we're concerned about the minimal results some users have reported.
If you really want to get started shedding excess pounds, then we suggest you go with a product that contains clinically tested ingredients, is backed by positive user comments and reviews, and gives you plenty of bang for your buck.
Among the best products we've seen in 2016 is one called Leptigen. This supplement uses a blend of four key ingredients, which have been shown in documented clinical studies to help increase fat loss, kick-start metabolism and fight hunger. We have not found any negative user feedback, and comments around the web reveal people are seeing solid results.
The makers of Leptigen are so positive about their product they're offering a Special Trial Offer, which is uncommon.