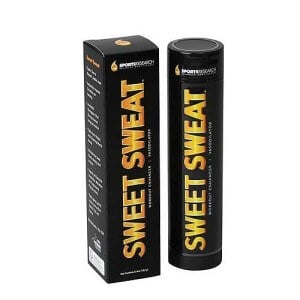 In the diet industry, don't mistake marketing for evidence. This time around we took the time to write a detailed review of Sweet Sweat, examining the side effects, ingredients, scientific studies and customer-service quality. Also, we read countless dieter reviews and user comments from around the web. Lastly, we summed up all the data we found to give you with the bottom line.
EDITOR'S TIP:
Combine Sweet Sweat with a proven fat burner such as
Leptigen
for better results.
What You Need To Know
To start, Sweet Sweat is advertised as a "workout enhancer" that targets problem areas. It contains white snow petroleum, kosher Brazilian carnauba wax, acai, pomegranate, coconut oil, kosher jojoba, camelina, squalane oils, aloe vera extract, vitamin E and fragrance. This sculpting cream is applied to fatty areas such as the buttocks, hips, upper arms and lower back. It should be used just before a workout and should not be applied over other creams and lotions. The purpose of Sweet Sweat is to improve circulation, increase perspiration and fight muscle fatigue. Thermogenesis and muscle activity should increase where this cream is applied.
Sweet Sweat, which sells for $34.95, first emerged in 2008. Plenty of customer feedback is presented online for this workout product. It is now available in four different varieties, which can all be purchased on the official website, but read on…
No Results – "A Common Issue?"
The first thing we came across with dieter reviews were claims of ineffective Sweet Sweat ingredients. According to our Research Editor, "There are no actual clinical studies provided to support the statements made about Sweet Sweat. This could be why so many users report seeing no results."
One customer said, "Had high hopes for this product. Really disappointed. No results."
Another stated, "Save your money. It's like putting vaseline on your stomach. So just use vaseline or oil and it will do the same exact thing. It will melt which makes it look like you are sweating more. I would not buy again."
We did find some users who noticed some changes. One reported, "I have used this before and it works well sweat within 3 mins of doing cardio."
We also found a user who said, "Sweat in minutes and no residue in your hands."
Scroll below for one of the best products we've seen over the last year.
Numerous User Complaints – "A Big Problem"
We certainly encountered plenty of customer complaints posted online about Sweet Sweat sculpting cream. In fact, one user said, "This doesn't do anything for me at all. It's a waste of money."
"Greasy, stinky – was walking outside for an hour in 90 degree heat not as much sweat as I would have like – real messy cleanup," said another customer.
Though we did find more negatives than positives, there are people out there who liked the product. A buyer offered, "I put it on my waist and wrap plastic around. Smells good."
One user said, "I like this stuff. It keeps my muscles from getting stiff."
Our research has concluded that if there is a certain part of a diet product or weight-loss program that is very burdensome (a painful/difficult exercise routine, no clinical studies, a lot of user complaints) the probability of long-term results is slim. So, if Sweet Sweat does lead to a high number of user problems, this could be quite problematic.
The Science – "Any Trial Support?"
Put simply, there is no documented clinical research presented on the official website to support weight-loss claims regarding Sweet Sweat sculpting cream. At DietSpotlight, we really need to find published science that backs the product's ingredients. With Sweet Sweat, we only see a big red flag, because it's just not there.
The Bottom Line – Does Sweet Sweat Work?
So, this one was quite interesting and the final take is…While we admit that Sweet Sweat is an interesting cream for workouts, we definitely have some hesitation about recommending this product. Not only are there no scientific studies to support this body sculpting cream, there are many user complaints found online as well. You should also consider the reported messy application.
If you're one of those who need to slim down more quickly, we encourage you to go with a weight-loss product that contains clinically-proven ingredients and is supported by positive customer feedback.
Among the best products we've seen in 2016 is one called Leptigen. This diet pill contains a blend of four key ingredients, which have been proven in documented scientific research to help speed up fat loss and elevate metabolism. Furthermore, we were unable to find any complaints concerning harmful side effects and customer reviews on the web reveal people are seeing great results.
It's also a positive sign that the company behind Leptigen is so confident in their product they're offering a Special Trial Offer.