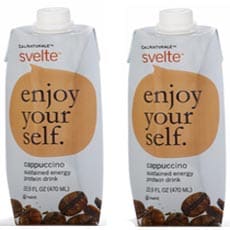 Over half of diet products on the market have absolutely ZERO scientific backing. Let's see if Sweet to Svelte is in this group. When any plan claims to help dieters lose 40 pounds in just 14 days we have to take a closer look at the ingredients, side effects, clinical research and customer service. We searched hundreds of consumer comments and reviews. Then, we gathered up all those facts, condensed and summarized to give you the info you need.
What You Need to Know
First off, Sweet to Svelte is a tiny sweetening tablet with chromium, red yeast, coenzyme Q10 and lipase. When taken as two tablets twice daily, it is supposed to "melt away" fat. The tin can be taken anywhere, a benefit.
The product has no official website and no information on the company responsible for the supplement. It appears all ingredients are natural, a good sign. You can buy it online, but it is only available from a few retailers here and there. We like the simplicity, but read on…
Results – "Anyone?"
The first issue relates to Sweet to Svelte ingredients. "Just drop a couple little tablets into your morning coffee and voila, you will lose three pounds a week or more, according to Sweet to Svelte," says our Research Editor. "It sounds like the claim is a little over the top because it is."
"I was happy to recieve your product and started it right away. Not wanting to believe my scale I continued using the product until I saw my Dr.'s only to find I had not lost a pound," one buyer explains.
"I bought it, have been using it for almost 2 weeks and have not gained or lost even an ounce," offers another.
This dieter says you can take the entire month without effects, "Have taken one box of pills and nothing has happened in the loss weight dept."
Scroll below for one of the best products we've seen over the last year.
Trusted Company – "Scam Artist?"
When dieters receive the flyer for Sweet to Svelte weight-loss tablets they want to believe they are ordering from a trustworthy company, but not everyone had a good experience. "I ordered your product approx. 2 1/2 weeks ago and still haven't received a shipment," one customer says.
"I ordered Sweet to Svelte a month ago, paid for express shipping and never received the product," claims a buyer.
Others have the same issue, "Check cleared but never received the order!! I would like to have my money back."
"Ordered, never got, full of crap com. if i don't get my refund in 5 days i am reporting them to the bbb and the attorney general's office," reports yet another consumer.
Our research shows a bond between negative aspects of a diet plan, like lack of results, and a smaller chance of long-term weight-loss results. If Sweet to Svelte is not an effective option, the dieter should just leave this one alone.
The Science – "Any Proof?"
There is no official website for Sweet to Svelte, so the company doesn't offer any clinical support. We took a look into the ingredients to see if any of them is worthwhile. Chromium is an effective option that is commonly used in supplements, but when taken alone the results are not what they could be. When added to a proven formula the user may get more bang for their buck. At DietSpotlight, it is the science that drives us to give the thumb up to a product. Sweet to Svelte does not have this backing.
The Bottom Line – Does Sweet to Svelte Work?
So, amazing claims of outrageous weight-loss pulled us to Sweet to Svelte. We like that the pills are small and portable, but we are skeptical about recommending a product with no official website, no clinical support and reports of lackluster results. We're also concerned that many consumers report having never received their order.
If you're all set to boost up weight-loss, we suggest going with a formula with clinically-proven ingredients offered from a trustworthy company at a price that won't break your wallet.
Among the best products we've seen in 2016 is one called Leptigen. The proprietary blend is an impressive mix of four ingredients with published scientific research showing they help enhance metabolism and spark fat loss. No dieters are speaking about unsafe side effects and users are thrilled with the great results they're seeing.
Also, it helps that the makers of Leptigen are so confident in the formula they're offering a Special Trial Offer, not your everyday company.