A diet product's worth depends on whether it actually helps people lose weight. Let's find out if Synedrex really works. We needed to learn as much as possible about the ingredients, side effects, clinical support and customer service. We also took a long, hard look at customer experiences. We processed and condensed to give you the info you need.
What is Synedrex?
First off, Synedrex is a thermogenic supplement supposedly helping to boost metabolism and burn fat. The ingredients are methylxanthine, methylpentane citrate, sulbutiamine, sandalwood extract, yohimbine, alpha lipoic acid and poly-thyronine. The company recommends not taking more than two capsules per day. The small container means there's no trouble taking them on the go.
The company behind Synedrex, Metabolic Nutrition, started business online in 1997. Trusted retailers and the official website sell the supplement. We like that the ingredients are available for the dieter and that we found some positive comments, but read on…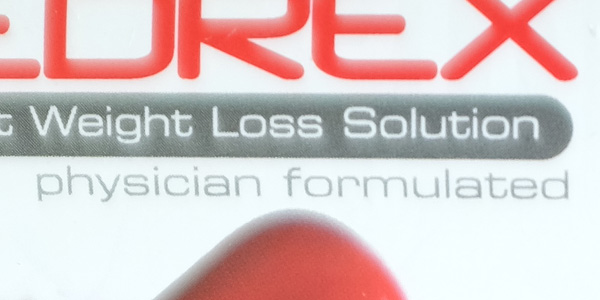 I think I may need to get a little more used to it before I can use it as a pre work out.
Side Effects – "Do You Need to Worry?"
The first negative we found was with Synedrex side effects. "No dieter wants to feel shaky and jittery after taking a product," says our Research Editor. "You can have increased energy and metabolism without the problems."
As one dieter puts it, "The side effects while on it included excessive sweating, jitters and insomnia."
Another user reports even more Synedrex side effects, "It gave good energy, but it was too much. It made my heart feel racy."
During our research, we did stumble on a few dieters who didn't have the same problem. One said, "The first day I started I got incredibly hot and enough energy to last a week, had a little trouble sleeping but by day 2 that pretty much went away."
A customer shared, "I haven't had any of the side effects listed in any of these reviews."
Scroll below for one of the best products we've seen over the last year.
Ineffective – "Frequent Complaint"
Probably one of the biggest issues with a weight-loss supplement like this is effectiveness. According to some, Synedrex ingredients do nothing to help you lose. "II didn't lose any weight. I will look for a better fat burner," a user reports.
Another dieter with the same problem says, "There was no change in my weight at all."
We did read some supportive comments along the way. As one user said, "Keeps me going. Makes me sweat."
Another commented, "I only take one pill per day, in the morning and feel it helps sustain my energy all day."
You only need one negative, like a negative reaction, to ruin your chance of long-term weight-loss success. In the case of Synedrex, if the side effects are as harsh as dieters report, that's a bad sign.
The Science – "Is There Proof?"
We visited the Science Center portion of the Metabolic Nutrition website to see if there was any support for the weight-loss product. We found articles about supplements and exercise, but no research. The most important parts are caffeine and yohimbe, two stimulants. We know these ingredients boost energy and promote a stronger metabolism, but too much can do more harm than good. Based on the side effects there may be too much in Synedrex. At DietSpotlight, we need proven facts to support claims. If there's none out there, or if the formula may cause issues, that's not a good sign.
Also: read our Leptigen Weight-Loss Kit review »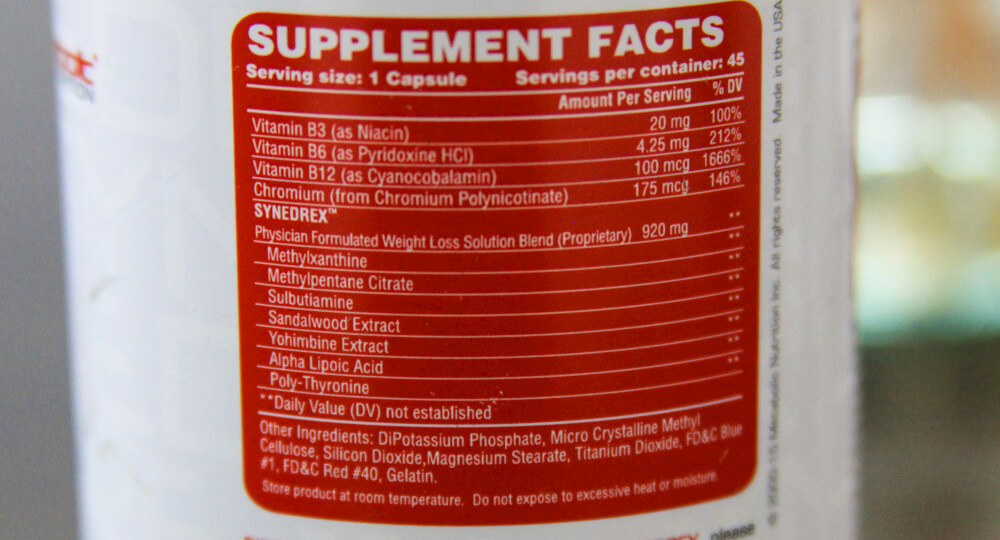 The Bottom Line – Does Synedrex Work?
So, will Synedrex help you lose weight? The business has been around for 20 years and some dieters do report positive results, but we feel uncomfortable giving our support because of the lack of clinical support. Plus, it bothers us that dieters reported side effects and lack of results.
If the time has come to shed off the extra weight, our suggestion is to find a supplement that contains clinically supported ingredients, with no known side effects offered at a price you can afford.
Among the best products we've found in 2016 is one called Leptigen. The ingredients are a proprietary blend with published scientific research to spur metabolism and boost fat loss. Dieter's aren't talking about negative side effects and users report seeing great results.
Also, the company that makes Leptigen is so confident in the formula they're offering a Special Trial Offer, which we like.