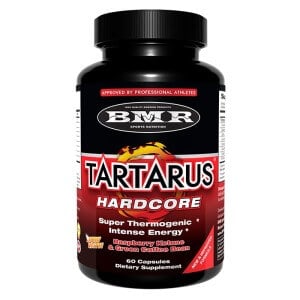 We're hearing a lot of buzz about Tartarus, so we wanted to pay a bit more attention to ingredients, side effects, scientific research and quality of customer service. We'll digest hundreds of dieter comments and reviews. Then, we'll summarize and refine the info to give you the info you need.
What You Need to Know
First off, Tartarus is a fat burner containing green tea, raspberry ketones, caffeine, green coffee bean, rhodiola rosea, chromium, beta-phenylethylamine, zingiber officinale, 1,3 dimethylamine, irvingia gabonensis, coleus forskohlii and citrus bioflavonoids. The recommended serving is two capsules per day, which supposedly increases weight-loss. It's easily taken with you, one benefit.
There is no information when Tartarus was introduced, but the supplement is distributed by BMR Sports Nutrition in Sweden. The product appears to not include synthetic ingredients, a positive. Dieters can purchase it through retailers and on the official website. We like that we found some positive customer comments and parts of the formula have some clinical support, but read on…
Ineffective – "Ingredients Not Causing Weight-Loss?"
The first negative aspect of Tartarus ingredients was ineffectiveness. "With a market as vast as the weight-loss business, there's little reason to spend money on something that just won't work," said our Research Editor. "Sometimes customers tell the story you should be hearing."
"Ginger has…prevented weight loss," commented Herbal Medicine: Biomolecular and Clinical Aspects.
"͞The findings suggest that 12-weeks of CF [coleus forskohlii] supplementation in free-living subjects have limited effects on body composition," said the Journal of International Sports Nutrition.
Scroll below for one of the best products we've seen over the last year.
Side Effects – "Not Feeling the Best"
Based on several professional organizations, Tartarus ingredients can cause some adverse reactions. [Green coffee bean caused] side effects on the cardiovascular system, central nervous system, and endocrine system," commented BMC Complementary and Alternative Medicine.
"DMAA, especially in combination with other ingredients such as caffeine, can be a health risk to consumers. Ingestion of DMAA can elevate blood pressure and lead to cardiovascular problems ranging from shortness of breath and tightening in the chest," said the Food and Drug Administration.
"Sufficiently high doses of beta-phenylethylamine (beta-PEA…can produce effects comparable to those of cocaine or methamphetamine," reported the Harvard Medical School.
According to our research and experience, something small, like side effects, could reduce the chances of long-term success. If Tartarus ingredients negatively affect dieters, will customers trust the company?
The Science – "Any Proof?"
Based on the information on the official Tartarus website, there are statements about raw materials and manufacturing, but no published clinical research linking it to weight-loss. There are a few parts of the formula that do have tests that show they help you lose more. These are found in hundreds of other options, including products that contain all proven ingredients. At DietSpotlight, locating science to support is imperative. If there are no studies, we have concerns.
The Bottom Line – "Does Tartarus Work?"
So, were we impressed with Tartarus? We like that the supplement contains natural ingredients and we located some positive customer comments, but we have reservations about the product due to the lack of published clinical research linking it to weight-loss. Plus, we have concerns about an ineffective formula that potentially causes side effects.
If you want to lose those extra pounds, we recommend a supplement containing ingredients supported by published clinical research with no reported negative side effects.
Among the best products we've seen in 2016 is one called Leptigen. The formula contains a four-ingredient proprietary blend, which has been shown in studies to help foster fat loss and boost metabolism. There's no one talking about harmful side effects and dieters commenting on the web are seeing excellent results.
The company that makes Leptigen, in a good sign of confidence in the supplement, is providing a Special Trial Offer, a great decision.