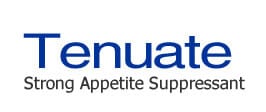 We've all struggled to find the right diet product, so we did one of our in-depth reviews on Tenuate. We closely scrutinized the ingredients, side effects, customer care and clinical studies. Moreover, we took a look at hundreds of dieter comments and experiences from all over the web. Lastly, we condensed the information and feedback we found to give you the crucial facts you need.
What is Tenuate?
To start off with, Tenuate is described on drugs.com as a "sympathomimetic amine," which is like an amphetamine. Basically this is an anorectic drug that can be prescribed by a licensed physician to treat obesity. It is directed to be used in conjunction with proper diet and exercise. It works by increasing blood pressure and heart rate to decrease appetite. It's very important to take it in accordance with your doctor's instructions. This can be up to three times daily, one hour before meals.
From what we could gather, Tenuate has been available since 2003. This diet drug is regulated by the FDA and it can help treat individuals with a BMI of 30 or greater, but read on…
Adverse Effects – "Something to Consider?"
First off, we need to address the potential for negative reactions that may come with taking this prescription medication. According to drugs.com, "Tenuate…side effects [may include] upset stomach, nausea, vomiting, headache, diarrhea, blurred vision, anxiety, insomnia, jitteriness, fatigue, dry mouth, dizziness, depression and unpleasant taste in mouth." "These should not be taken lightly," says our Research Editor.
One user stated, "Have experienced side effects with this. Headache, shakiness and dizziness!"
Another person commented, "Tenuate made my mouth extremely dry and gave me lower back pains, so I stopped taking it."
Scroll below for one of the best products we've seen over the last year.
Negative User Feedback – "Another Concern"
A number of dieters have negative things to say about Tenuate ingredients. In fact, one user stated, "Tenuate did nothing for me at all. No weight-loss or reduced appetite."
"Honestly, I didn't like Tenuate. It just didn't work for me, and it made me feel awful," said another customer.
The research we've conducted has proven that if there is some particular facet of a diet pill or product that is especially problematic (adverse reactions, negative user feedback, very steep price) the odds of lasting weight-loss are not good. Therefore if Tenuate does lead to side effects in a lot of people and results in many user complaints, this could be a serious issue.
The Science – "Solid?"
At DietSpotlight, we need to see published science that supports the weight-loss product we are examining. In regards to Tenuate, there are some clinical studies posted online, which is reassuring. While there is some real science backing this diet drug, we are very concerned about the serious side effects, as well as the negative user reviews posted online.
The Bottom Line – Does Tenuate Work?
Now the moment you've been waiting for: our bottom line on Tenuate. Well, we like that it is regulated by the FDA and dosage guidelines are provided by a licensed physician. On the other hand, we have some reservations about this diet drug because it can lead to a lot of unpleasant side effects. Furthermore, we are leery of this pill since since there are quite a few user complaints posted online.
If you'd like to drop more pounds, then we encourage you to go with a diet product that contains clinically tested ingredients, does not cause harmful adverse effects, is affordable and is supported by all sorts of encouraging user reviews.
Among the best products we've seen in 2016 is one called Leptigen. This supplement contains a blend of four ingredients, which have been shown in published clinical testing to help speed up fat loss and boost metabolism. You should also know that we can't find any talk of harmful side effects and customer feedback on the web expresses people are seeing excellent results.
The makers of Leptigen are so certain of their product they're offering a Special Trial Offer, which is a good sign.