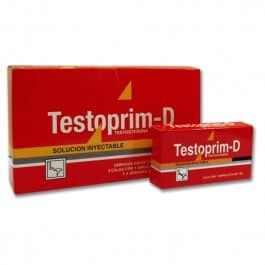 This week, I obsessed over every aspect of Testoprim-D. We dug deep into the ingredients, side effects, clinical research, and customer service. Furthermore, we analyzed hundreds of user comments and reviews. Then, we summarized and condensed to give you the info you need.
EDITOR'S TIP:
Click here
to combine Testoprim-D with a proven testosterone booster such as Pronabolin for better results.
What is Testoprim-D?
To start, Testoprim-D is a prescription anabolic steroid. The ingredients are enanthate and propionate. The doses range from 500 to 1,000 mg per injection, but depends on the what's prescribed by the physician. Typically, you'll use it for a set amount of weeks and then taper off. Supposedly, this medication helps build muscle, strength and boost testosterone levels.
There's no mention of who makes Testoprim-D, but it appears to be sold through pharmacies located in Mexico. We did locate it for sale through third-party retailers, but it may not ship to certain countries. We like that we found some favorable customer comments and that it appears to be affordable, but read on…
Availability – "Where is it Sold?"
Our first concern is the availability of Testoprim-D. "Bodybuilding forums tout this one as a solid medication," said our Research Editor. "The main problem is that users can seem to locate it for sale."
"I can't find this stuff anywhere in the United States. I'm a little afraid," said one user.
"Why would you want to order something like this online? That's a red flag for me," said another.
We did find some reviews of  Testoprim-D that talked about locating the medication.
"You can order it online easily. I had no problems," reported a bodybuilder.
"I order it online all the time without issue," said another.
Scroll below for one of the best products we've seen over the last year.
Testoprim-D Side Effects – "Concerning?"
Based on user reviews, Testoprim-D side effects were a bit severe. "The injection site was painful. It was swelling like a baseball," commented a user.
"Stuff works but every shot is painful," according to another.
According to some Testoprim-D reviews, not everyone feels this way.
"I have done a full cycle using Testoprim-D for over a 9 week period utilizing 30 viles. The first three weeks were the worst of it, however I was hitting it on Mondays and Thursdays. I found mixed with 1/2 c of Deca they started to become painless.," said a reviewer.
"I always run Testoprim D with EQ and pip is not bad," said another.
Over the years, we've found it takes a small thing, like side effects, to stop any chance of long-term results. If Testoprim D does in fact cause adverse reactions, is it really worth it?
The Science – "Any Research?"
Testosterone plays a critical role in the development of men. With age, levels tend to decrease. At times, physicians will prescribe medications to help reduce the symptoms. The concern is that Testoprim D contains synthetic anabolic steroids. Aside from being banned in several countries, there's also a possibility of adverse reactions. At DietSpotlight, research is critical to the review process. When the science doesn't connect a product to naturally boosting T-levels, we become concerned.
The Bottom Line – Does Testoprim D Work?
What's the real deal with Testoprim D? Well, we like that we found some positive customer comments, but the lack of research connecting it to boosting testosterone levels is an issue. We're also concerned that the product isn't readily available and customers are complaining about negative side effects.
If you want to reduce the symptoms associated with low testosterone levels, we suggest going with a supplement containing ingredients backed by science, readily available and not connected to harmful side effects.
Among the best products we've seen in 2016 is one called Pronabolin. The supplement contains nine clinically-tested ingredients, which have been shown to help boost energy levels, boost muscle mass and strength. There's no mention of harmful side effects and customers are talking about seeing great results.
The makers of Pronabolin are so confident in their supplement, that they're offering customers a 120-day money-back guarantee and multiple-bottle discounts.