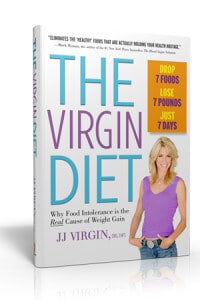 Give me two minutes of your time and I'll tell you whether The Virgin Diet actually works. We at DietSpotlight did one of our extensive reviews, closely scrutinizing the side effects, ingredients, scientific research and level of customer care. We also examined dozens of user comments and customer responses from all over the internet. Lastly, we summed up all of the facts and details to give you the info you need.
What is the Virgin Diet?
To start, The Virgin Diet is a weight-loss book that is claimed to help you drop seven pounds in only seven days. However, in order to do this, you must drop seven major foods from your diet. This text was written by JJ Virgin CNS. According to the official website, she is a nutrition and fitness expert. This book focuses on the "secrets" behind weight gain and food intolerance. It is 306 pages in length and can be purchased on Amazon. Both women and men trying to lose weight can try the plan. Note that this diet is only for seven days.
The Virgin Diet was initially released in 2012 and it's fine for people of all ages. There are some helpful customer reviews posted on Amazon, and there is also an audio CD of this text available, but read on…
Food Restrictions – "A Consideration?"
"The first thing we found with The Virgin Diet is you must avoid the following foods; peanuts, eggs, soy, dairy, corn, sugar, gluten and artificial sweeteners. Unfortunately this makes your eating plan very restricted and too difficult for some dieters to handle," says our Research Editor.
One person commented, "It's actually really difficult to cut these foods from your diet. They're in so many different things."
"Okay, not interested in cutting out eggs and dairy. This is a fad diet that is no good for the long run," said another dieter.
Scroll below for one of the best products we've seen over the last year.
Another Concern – "Dieter Complaints"
There are a number of customer complaints posted on dealer websites such as Amazon.
One dieter stated, "I was so bored with the repetitive information and stories. It seemed I was being brain washed. If I read the same thing over and over, then I would believe this information would work. Waste of time and way out there on losing 7 lbs in 7 days. Also getting repeated emails from the author wanting me to buy into her $200.00 plan."
Another person mentioned, "Just finished the plan and did not lose any weight, nor did I feel better."
Our research has proven that if there is one facet of a diet program that is very difficult or concerning (food restrictions, too many dieter complaints, poor BBB rating) the odds of long-term weight-loss success are slim. So, if The Virgin Diet does in fact leave readers unhappy, this could be a deal breaker.
The Science – "Any?"
No clinical studies are mentioned with The Virgin Diet. In other words, this weight-loss program is not backed by solid scientific research. At DietSpotlight, we really need to see some published science that supports the diet product or program we're reviewing.
The Bottom Line – Does The Virgin Diet Work?
Now the moment you've been waiting for: our bottom line on The Virgin Diet. First of all, we appreciate that this diet is fine for people of all ages and the book is easy to acquire online. But we have some reservations about it because it's not supported by any actual studies or science. Also, we're concerned about the food restrictions that pertain to this diet plan, as well as the customer complaints posted on the web.
If you'd like to get rid of more weight, then we suggest a diet program or product that is clinically tested, does not require a lot of food restrictions and is backed by plenty of customer testimonials.
Among the best products we've seen in 2016 is one called Leptigen. This supplement uses a proprietary blend of four ingredients, which have been shown to possibly encourage fat loss and boost metabolism. Furthermore, user comments posted online indicate people are seeing real results.
The makers of Leptigen are so excited about their product they're offering a Special Trial Offer, which is very reassuring.