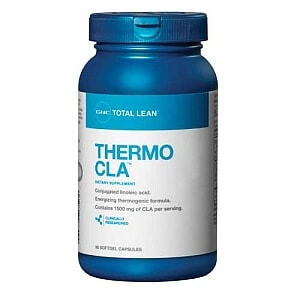 Give me just a couple minutes of your time so we can tell you whether or not Thermo CLA is worth your money. We took a detailed look at the ingredient list, possible side effects, customer care and clinical studies. We also felt it necessary to read hundreds of reviews to see what real people were saying. Then, we condensed it all to give you the info you need.
What is Thermo CLA?
First off, Thermo CLA is a thermogenic weight-loss supplement containing Vitamin E, Conjugated Linoleic Acid (CLA), L-Carnitine, Caffeine Anhydrous, Green Tea Leaf Extract, Glycerin, Caramel Color, Titanium Dioxide, and Gelatin. Taking two per day supposedly helps burn fat and possibly speeds up metabolism.
Thermo CLA comes from GNC; but there's no mention of when the supplement hit the shelves. You can only purchase the product at the local stores or through the official website. We like the natural ingredients and the ease of ordering, but read on…
Ineffectiveness – "Burning Fat?"
The first concern was the ineffectiveness of Thermo CLA ingredients. "We always check up on the reviews online to see what people are saying," said our Research Editor. "Sometimes we see great reviews, but sometimes, not so much."
"I started taking these pills a week ago. I haven't lost any weight, nor have I seen any changes," said one customer.
"I didn't find this product to really help with weight-loss or appetite suppression," said another.
"I have been using this product for over a month now. I work out 4-5 days a week and I have not seen any results or difference," a third user said.
Scroll below for one of the best products we've seen over the last year.
Side Effects – "Concerning?"
Based on customer reviews Thermo CLA side effects were concerning. "Caused me to have stomach cramping," reported dieter.
"Thermo CLA makes me tired. I am a mom of 4 kids I need all the energy I can get…will not purchase again," said a customer.
"My face broke out. Stopped taking them, did not finish taking them," commented another.
Throughout our research, we've found that all it take is something considered concerning, like negative side effects, to put a damper on long-term success. If Thermo CLA causes adverse reactions, this could become problematic.
The Science – "Any Research?"
Besides the above-mentioned discussion on conjugated linoleic acid, we found some other research about CLA on the NIH website. "As far as human consumption of CLA is concerned, a definite conclusion for safety and efficacy has not been reached yet," says the study. In other words, a lot of rats, and even more mice, have experienced the benefits, but people haven't had as much success.
Bottom Line – Does Thermo CLA Work?
Are you heading out to buy Thermo CLA? Well, we like that we located some favorable customer comments and the price seems right, but the lack of research has us skeptical about this one. The reports of customers not losing weight and the potential side effects has us concerned.
If you need a product to help you drop those extra pounds, we suggest going with a one containing clinically-tested ingredients that have been shown to work.
Among the best products we've seen in 2016 is one called Leptigen. It uses four clinically-tested ingredients in its formula. When combined they can help to boost metabolism and burn fat. The customer reviews online look great, and there hasn't been any mention of harmful side effects.
Also, the makers of Leptigen are offering a Special Trial Offer, a true sign that the company is confident in their formula.