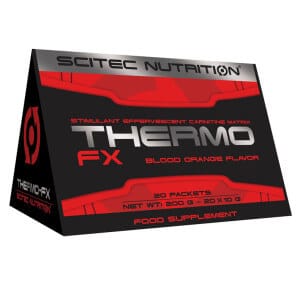 Why are people talking about Thermo FX? Well, we at DietSpotlight conducted an in-depth review, scrutinizing the ingredients, side effects, scientific research and quality of customer care. Plus we took a close look at hundreds of dieter comments and user reviews from all over the internet. At this point we summed up all of the facts and customer responses we found to give you the information you need.
EDITOR'S TIP:
Combine Thermo FX with a proven fat burner such as
Leptigen
for better results.
What You Need To Know
Thermo FX is a supplement made by Scitec Nutrition. It's described as a "stimulant effervescent carnitine matrix." This product is consumed 60 minutes before your workout. It's a packet that's added to 300 milliliters of water. According to the official website, Thermo FX helps increase physical performance, enhances concentration, boosts metabolism, reduces fatigue and aids with weight loss. The ingredients found in Thermo FX include; Caffeine (80mg), Acetyl-L-Carnitine HCL (250mg), L-Carnitine L-Tartrate (750mg), L-Tyrosine (1,000mg), Taurine (1,000mg), Sodium (1,006mg) and Vitamin C (60mg).
It's unclear when Thermo FX was first released. This cost of this supplement is $28.54 (20 servings). It contains some Vitamin C to benefit your immune system and is fine for women and men alike, but read on…
Insufficient Ingredient – Will it Actually Work?
According to our Research Editor, "Thermo FX contains the stimulant Caffeine, but the amount per serving is only 80 milligrams, which is not enough to really improve energy levels, boost workout performance or enhance alertness."
One customer revealed, "Thermo FX does not work as they claim it does. No results for me."
Another user commented, "I can't tell any difference in my endurance or metabolism, so I'm not buying Thermo FX again."
Scroll below for one of the best products we've seen over the last year.
Negative User Reviews!
We found numerous negative customer reviews posted online for Thermo FX. One person stated, "Can't stand the Aspartame taste of this stuff. Not for me."
"This product actually makes me feel nauseous, so I'm going to have to try something else," said another customer.
Our research has proven that if there is some facet of a diet product or supplement that is very concerning or bothersome (insufficient ingredient amounts, negative user reviews, too many side effects) the probability of long-term weight loss success is low. Therefore if Thermo FX does in fact lead to a high number of negative user reviews, this could be a major issue.
Any Real Science?
Here at DietSpotlight, we need to see some documented clinical research that supports the product's weight loss claims. Sadly, we could not find any clinical studies or solid science pertaining to Thermo FX. Therefore we are not sure this product actually works as claimed.
The Bottom Line: Does Thermo FX Work?
So, should you run out and buy Thermo FX? Well, we appreciate that this product contains some vitamins and amino acids, and we did find some positive comments about it online. However, we have some issues with it because it's not backed by actual science. Furthermore, we're concerned about the insufficient ingredient amounts and numerous negative user reviews we found posted online.
If you'd like to shed more weight, then we encourage you to go with a product that contains clinically proven ingredients, is backed by all sorts of encouraging user reviews and sells at a reasonable price.
Among the best products we've seen in 2016 is one called Leptigen. This product contains a combination of four unique ingredients, which have been shown in published clinical studies to help improve fat loss and boost metabolism. Moreover, we can't locate any complaints of negative side effects and customer feedback posted online indicates people are seeing significant results.
The makers of Leptigen are so satisfied with their product they're offering a Special Trial Offer, which is a good sign.