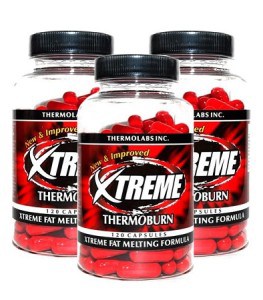 In my never-ending quest to discover the best diet product, this week I reviewed Thermoburn. We decided to pay close attention to ingredients, side effects, quality of customer service and clinical research. Furthermore, we digested hundreds of comments and experiences. We then condensed and summarized to give you the info you need.
EDITOR'S TIP:
Combine ThermoBurn with a proven fat burner such as
Leptigen
for better results.
What You Need to Know
To begin, Thermoburn or Xtreme Thermoburn is a fat burner containing l-carnitine, green tea leaf extract, raspberry ketones, fucoxanthin, gamma-aminobutyric acid, pomegranate fruit extract, irvingia gabonensis, cissus quadrangularis, acai fruit, guarana seed, yerba mate, olive leaf and choline bitartrate. The recommended serving is two capsules per day, which supposedly promotes weight-loss. The small size makes the pills easy to take.
Thermoburn was introduced as a fat burner by MLM company Yoli in 2009. The supplement contains some natural ingredients, a good choice. You can purchase the product from a distributor or on the official website. We like that we located some favorable customer comments, but read on…
Poor Customer Service Quality – "No Help?"
The first concern about Thermoburn includes poor customer service quality. "You read through a website and find tons of information, but you want to know a little bit more," said our Research Editor. "If you talk to a representative that's not helpful then why would you continue with the company?"
"I cancelled after trying this product for a few days. They still charged my account after telling me it was cancelled. Their fault for their crap product and I am still waiting for my money back," commented a customer.
"Not willing to refund used product but when they were selling the product they repeatedly said that it is money backed guaranteed. Now, I called their customer service and asked, and she said only products that are re-saleable could be returned," reported a consumer.
Scroll below for one of the best products we've seen over the last year.
FDA Warnings – "Mislabeled Products"
The Food and Drug Administration contacted Yoli in March of 2013 about supplements being mislabeled and possible contamination. According to the FDA, the items labeled failed to "bear the common or usual name of the food or each ingredient."  The products also "have been prepared, packed, or held under insanitary conditions whereby they may have become contaminated with filth, or whereby they may have been rendered injurious to health."
Side Effects – "Oh No!"
Based on dieter reviews, Thermoburn side effects were disconcerting. "Take one pill in the morning if I don't eat, I shake. Took two in one day and definitely felt like maybe that's what meth feels like," commented a user.
"I am drinking these tabs for 2 days now and have very funny side effects, my skin does not feel like my own, dizzy spells and a bit of confusion now and then," reported a customer.
"Could not sleep all night or relax. Tummy upsets and my whole body felt tight and ill," said a consumer.
Our experience and research shows that something little, like side effects, could put a damper on long-term success. If Thermoburn causes negative reactions, there's an issue.
The Science – "Evidence?"
The official Thermoburn website offers information relating to MLM opportunities, but no scientific research linking to weight-loss. The company can't share studies for all the formula considering it consists of some "fad" ingredients with no clinical backing. At DietSpotlight, finding science is of the utmost importance. If there are no evidence used as support, we turn our backs.
The Bottom Line – Does Thermoburn Work?
So, shall we hop into the car to run out for this one? After looking into all of the aspects of Thermoburn, here's our decision. We like that we located some positive comments and that the product includes a few natural ingredients, but we are skeptical about recommending a supplement that isn't supported by published clinical research. Plus, we're concerned that poor customer service quality and potential side effects are bigger concerns.
Dieters looking to lose those extra pounds may want to try out a supplement supported by published clinical research and a customer service team willing to address all of your questions and concerns.
Among the best products we've seen in 2016 is one called Leptigen. The supplement contains a four-ingredient proprietary blend, which has been shown in published studies to help promote fat loss and increase metabolism. Reviews on the web show people are seeing excellent results and there's no talk of negative side effects.
The company behind Leptigen is providing a Special Trial Offer, an impressive sign of confidence in a supplement.