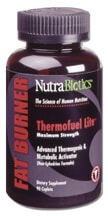 We're all searching for the right diet product. Thermofuel caught the attention of some dieters, so we chose to dig deeper into the ingredients, side effects, customer service and clinical research. We combed through hundreds of user comments and reviews. We then condensed, refined and summarized to give you the info you need.
EDITOR'S TIP:
Substitute Thermofuel with a proven fat burner such as
Leptigen
for better results.
What You Need to Know
Firstly, Thermofuel is a fat burner that has caffeine, synephrine, acetyl l-carnitine HPLC, green tea extract, banaba leaf extract, cayenne pepper and theobromine HPLC. When taken as three capsules, twice daily, the formula is supposed to promote weight-loss. You can take the pills with you, one positive.
The product, offered by NutraBio after 1996, leaves behind all synthetic ingredients, which is a nice choice. You can buy Thermofuel directly from the company or from third-party websites. We like that the supplement label is there for customers to see and you can reach a representative Monday to Friday, but read on…
Side Effects – "What Do You Have to Worry About?"
The first thing we noticed about Thermofuel ingredients was the potential for side effects. "Dieters are smarter now than ever before," says our Research Editor. "They are on the lookout for safe, effective supplements. If a formula comes with risk, they'll find another to try."
According to the National Institutes of Health Office of Dietary Supplements, synephrine comes with risk of "chest pain, anxiety, increased heart rate and elevated blood pressure." The chance of these side effects increases if the ingredient is taken with caffeine or other stimulants.
We also found mention of potential issues as stated by the Finnish Food Safety Authority. The office reports, "Denmark and Sweden have declared food supplements containing synephrine and caffeine in a combination to be unsafe to health." Thermofuel contains both.
Scroll below for one of the best products we've seen over the last year.
Caffeine – "Too Much"
Thermofuel side effects don't just stop with synephrine, it also contains caffeine. We like this stimulant as there's some research showing increased energy among other benefits. The trouble is when you add too much because that can cause negative reactions that leave the dieter feeling worse for the wear. This supplement delivers 200 mg of caffeine per serving and the user takes it twice per day. This doesn't count the amount added to the total from the green tea extract, which could add another 50 to 100 mg.
The Office of Disease Prevention and Health Promotion explains any caffeine intake "[greater than] 400 mg/day" is considered excessive. High amounts can cause "uneven heart rhythm, [increased] blood pressure, headaches, nervousness or dizziness," warns the FDA. Other potential effects to take into consideration are dehydration and dependence.
Our research and experience shows a definite connection between simple issues, like side effects, and lesser chances of long-term success. If Thermofuel really does come with potential adverse reactions, the dieter may want to look around for a substitute.
The Science – "Clinical Proof?"
There are trials showing caffeine promotes metabolic rate, so it is a good addition to any diet supplement worth trying, but we are worried about Thermofuel adding too much. According to a study from the Journal of Applied Behavior Analysis, "Caffeine is thought to be addicting, and prolonged and excessive use can lead to caffeinism, a condition that has serious behavioral and physiological side effects." At DietSpotlight we look to science to give us the inside info about a product. In the case of Thermofuel, the scientific research tells us that we should be wary of any pill that packs in too much of any stimulant.
The Bottom Line – Does Thermofuel Work?
Well now, Thermofuel was quite the interesting supplement. We like that NutraBio Labs has an "A+" BBB rating and the company has been around for nearly 20 years, but have reservations about a product with strong potential for side effects. We're also concerned that it is suggested the dieter continue for three months to see the best results. That's far too long at that caffeine level.
If you're ready to start down the path to weight-loss, we suggest a product that offers proven effects via clinically researched ingredients, with no reported side effects.
Among the best products we've seen in 20l6 is one called Leptigen. The supplement contains four ingredients packed in a proprietary blend with clinical support showing it helps spark metabolism and boost fat loss. There is absolutely no talk of harmful side effects, but we did find dieters reporting seeing amazing results.
Also, the producers of Leptigen are confident enough in the formula to offer a Special Trial Offer, not bad.