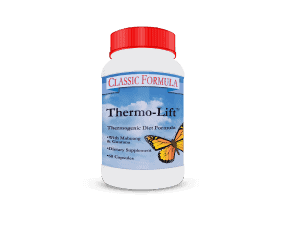 No joke – over 50% of diet products simply don't work. So what about Thermolift? We decided to put the spotlight on ingredients, side effects, clinical research and customer service quality. Additionally, we examined hundreds of customer comments and reviews. Then, we summarized and refined to give you the info you need.
EDITOR'S TIP:
Substitute Thermolift with a proven fat burner such as
Leptigen
for better results.
What You Need to Know
First off, Thermolift is a fat burner consisting of chromium, ma huang, guarana seed, white willow bark, Siberian ginseng, astagalus, bee pollen, bladderwrack kelp, ginger root, gotu kola, licorice, rehmannia and reishi mushroom. After taking one capsule, twice per day, the supplement supposedly ignites fat loss and promotes weight-loss. The smaller pills makes it easy to take with you anywhere.
Thermolift is marketed by TwinLab, a company that's been around for more than a decade. The official website and trusted retailers sell the supplement, We like that it contains a few natural ingredients and that we found some positive customer comments, but read on…
Ineffective Ingredients – "Any Results?"
The first negative was the effectiveness of Thermolift ingredients. "The formula contains some stimulants thought to accelerate metabolism," said our Research Editor. "But if you don't see results, could it be the product simply doesn't work?"
"I took this product and saw no results," reported a dieter.
"It worked for a while, but when I stopped taking it, the weight came back," commented a customer.
While some customers reported not seeing any changes using the supplement, some talked about it being effective.
"I had a good experience with this product. I lost weight," said a user.
"I'm surprised to see so many negative reviews – it helped me with my weight-loss," commented a consumer.
Scroll below for one of the best products we've seen over the last year.
Side Effects – "Another Concern?"
One thing reported by customers on the web, was the severity of Thermolift side effects. "This blend raises many concerns because it contains ma huang. Left me feeling off," stated a customer.
"I took Thermolift Classic and my blood pressure increased," commented a consumer.
"Took this once and I felt bad for days," said another.
Some users noticed more positive side effects while using Thermolift.
I took the original classic Thermolift and I know it really works," said a consumer.
"I lost weight and experienced no side effects," stated a user.
"Great results and zero issues while using this product," reported another.
We're encountered thousands of supplements over the years and have found that all it takes is something considered troublesome, like negative side effects, to put a halt to long-term success. If customers report adverse reactions, we raise the red flag.
The Science – "Scientific Studies?"
After picking apart the official website, we didn't locate any research showing Thermolift will help users lose weight. There's information about hoodia and garcinia cambogia; showing both are considered "fad" ingredients with no clinical backing. Another concern was the supplement contained ma huang, a version of ephedra, which was banned in the U.S.  At DietSpotlight, science is imperative. If there's none, we become skeptical.
The Bottom Line – Does Thermolift Work?
Here's the moment you've been waiting for: our final thoughts on Thermolift. Well, we like that it includes some natural ingredients and that we located a few positive customer comments, but the lack of published clinical research backing the weight-loss claims, leaves us a bit skeptical about this one. We're also hesitant due to reports of negative side effects and ineffective ingredients.
If the time has come to jump-start your metabolism, we suggest a supplement containing some clinically-tested ingredients and shown to work.
Among the best products we've seen in 2016 is one called Leptigen. The formula consists of some clinically-tested ingredients, which have been shown to ignite fat loss and accelerate metabolism. There's no one talking about negative side effects and customers are chattering about seeing great results.
Plus, the makers of Leptigen are so confident in their supplement, they're offering customers a Special Trial Offer – impressive.