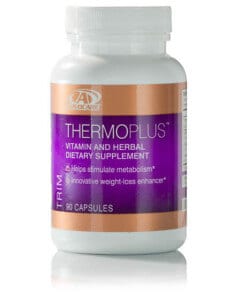 The results of my research into ThermoPlus were somewhat surprising. We at DietSpotlight did one of our comprehensive reviews, focusing closely on the side effects, ingredients, clinical studies and level of customer service. We also looked at dozens of user comments and experiences. At last, we summarized all of the facts to give you the info you need.
What is ThermoPlus?
To start, ThermoPlus is a vitamin and herbal dietary supplement. The ingredients are thiamine, magnesium stearate, gelatin, niacin, guarana seed extract, rice flour, sage extract and oolong tea extract. According to the bottle, this product helps boost metabolism and increase weight-loss. To use ThermoPlus, you need to take one capsule each day, 30 minutes prior to a meal.
ThermoPlus is made by Advocare and it has been available since at least 2011. This supplement can be purchased via the company website for $31.95 (90 capsules). We like that we found some positive comments and that the business has been around since 1993, but read on…
User Complaints – "Concerning?"
The first issue we found with ThermoPlus ingredients were complaints. "We found a lot of user complaints. This is never a good sign. Some people even complained of adverse effects like bloating, fatigue and headache, which is concerning," says our Research Editor.
According to one customer, "This product did not do one single thing that it claims. Waste of money, time and effort."
"Never felt the effects, and did not see results at all. Complete and total waste of money here. Would not recommend to anyone," said another user.
Scroll below for one of the best products we've seen over the last year.
Reviews of ThermoPlus – "Not Exactly Losing Weight"
It's clear from customer feedback that people do not see the results from ThermoPlus that they're after. One person stated, "This product did absolutely nothing for me."
Another user commented, "I continued for 3 weeks and have not noticed any change in my weight or appetite."
Our research has shown that if there is a certain aspect of a supplement or diet program that seems small, like lack of results, the chances of real weight-loss success are small. This means if ThermoPlus doesn't promote weight-loss, this could be a deal breaker.
The Science – "Is it Legit?"
While there is a "science" section provided on the ThermoPlus website, it doesn't really support weight-loss claims. For us at DietSpotlight, we need to see documented clinical proof showing a formula works and with this one that's not there.
The Bottom Line – Does ThermoPlus Work?
So, should you run out and buy ThermoPlus? Well, we like this company's longevity and ThermoPlus contains some natural ingredients. But we have some reservations because it's not supported by solid science. Plus, we're concerned about customer complaints claiming no weight-loss results.
If you'd like to drop more pounds, we recommend you choose a supplement that uses clinically proven ingredients. Check to make sure it comes with great customer service and is supported by positive user feedback.
Among the best products we've seen in 2016 is one called Leptigen. Its formula is a unique combination of four ingredients, which have been shown in documented scientific research to boost metabolism and improve overall fat loss. Also, we have not found any complaints of harmful side effects. Customer reviews around the web reveal people are seeing significant results.
The makers of Leptigen are so excited about their product they're offering a Special Trial Offer, which is very reassuring.