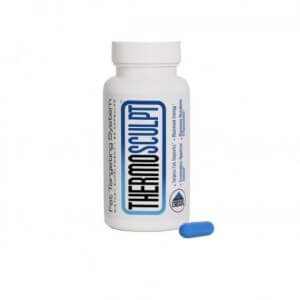 A diet product's worth depends on whether it actually helps people lose weight. Let's find out if Thermosculpt really works. We did some serious research and created an in-depth review, looking closely at this product's side effects, ingredients, customer-service quality and scientific studies. Furthermore, we scanned hundreds of user reviews and comments from around the web. Lastly, we summarized and compressed the information we found to give you the facts you need.
EDITOR'S TIP:
Substitute Thermosculpt with a proven fat burner such as
Leptigen
for better results.
What You Need To Know
First of all, Thermosculpt is a stimulant-free dietary supplement for women and men alike. It is advertised as all natural, and it's claimed to burn off fat, build lean muscle and increase overall performance. You need to take 2-4 softgels per day (1-2 softgels 30 minutes before your two largest meals), along with a minimum of 64 ounces of water. Regular exercise and a low-calorie diet plan are also encouraged with Thermosculpt. This product contains the following ingredients: Advantra Z (contains Synephrine), Glucosol, ChromeMate, Vanadium, Zinc Oxide and Vitamin B5.
We are uncertain when Thermosculpt was initially released. After all, there is no official website for this diet product. On the other hand, Thermosculpt does contain natural ingredients and a healthy lifestyle is encouraged with this supplement, but read on…
Dangerous Ingredient – Is it Even Safe?
According to our Research Editor, "Thermosculpt contains Advantra Z, which is basically Bitter Orange, and this ingredient contains Synephrine. Unfortunately Synephrine mimics the effects of Ephedra (a banned diet pill ingredient), and it may lead to side effects such as heart palpitations, dizziness, nausea, headache, high blood pressure, fainting and even heart attack or stroke."
One user commented, "This stuff is intense. It made my heart race, so I stopped using it."
"I had a bad reaction to Thermosculpt. Too many side effects and not enough weight loss," said another customer.
Scroll below for one of the best products we've seen over the last year.
Lack of Availability – Another Concern
From what we gathered, Thermosculpt does not have a company website and there are very few online dealers who sell this product. Naturally this makes Thermosculpt very hard to come by. In fact, one person commented, "Where do you actually buy this product? Can't find it anywhere online!"
Another individual stated, "Thermosculpt is not even available. Can't find a website or anything."
The extensive research we've conducted has shown if there is some particular part of a weight loss pill or diet program that is very troublesome (dangerous ingredients, lack of availability, high price) the odds of long-term success are not good. Therefore if Thermosculpt is very difficult for people to find, this could prove to be a deal breaker.
What About Actual Science?
Unfortunately we could not find any clinical studies or scientific research that supports the weight loss claims pertaining to Thermosculpt. This is not a good sign, and for us at DietSpotlight, we need to see some concrete science before we can believe a product's weight loss claims.
The Bottom Line: Does Thermosculpt Work?
So, should you run out and buy Thermosculpt? Well, we like that this product contains natural ingredients and it provides some vitamins and minerals. But we have some doubts about Thermosculpt because it's not supported by any real science. Also, we're concerned about the dangerous ingredient used in Thermosculpt, as well as this product's lack of availability online.
If you'd like to drop more weight, then we suggest you choose a product that does not contain any dangerous ingredients, is easy to purchase online at any time and contains clinically proven ingredients for weight loss.
Among the best products we've seen in 2015 is one called Leptigen. This supplement uses a blend of four ingredients, which have been shown in documented clinical research to help improve fat loss and kick-start metabolism. Moreover, we can't pinpoint any discussion of harmful side effects and the user feedback posted online expresses people are seeing great results.
The makers of Leptigen are so positive about their product they're offering a Special Trial Offer, which is uncommon.