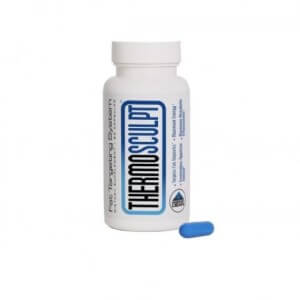 Give me just two minutes of your time and I'll tell you whether or not Thermosculpt is worth your money. We reviewed the ingredients, side effects, clinical research and customer service. Hundreds of comments and experiences made up a huge part of it. Then, we summarized and condensed to give you the bottom line.
What You Need to Know
First off, Thermosculpt is a supplement that is supposed to target fat. It contains higenamine hcl, sulbutiamine hcl, uva ursi extract, dmae hcl, theobromine hcl and synephrine hcl. You take the product daily. We like that it's portable for dieters on the go.
The company behind Thermosculpt is Herbal Technologies and appears to have introduced the supplement in 2013. You can only buy it directly from the company. We like that the ingredients are listed online and there is a coupon mentioned, but read on…
Side Effects – "Something You Should Consider?"
The first issue we found with Thermosculpt ingredients is that there may be the potential for side effects. "You can often find reports of adverse reactions in customer reviews, but this time experts tell the dieter to be wary," said our Research Editor.
A study from the Korean Journal of Internal Medicine offers, "our case accentuates the potential risk of dietary supplements containing synephrine, a sympathomimetic similar to ephedra."
Yet, we also found research that said, "the use of bitter orange extract and p-synephrine appears to be…safe."
Scroll below for one of the best products we've seen over the last year.
Lack of Strong Customer Support – "Really?"
We also found it hard to see exactly what dieters think about Thermosculpt because there are just no reviews or supportive comments anywhere we looked. The only positive mentions were the testimonials on the official website. Those show some good results, but there's no talk about how long the users took the supplement before reaching the total weight-loss.
We've found, after years of research, that it takes what seems like a small thing to ruin your chances of long-term success. If Thermosculpt only works for the people mentioned on the official website, where does that leave you?
The Science – "Clinically Proven?"
The real test of a supplement like Thermosculpt is the science behind the formula. There are no clinical studies mentioned. Some of Thermosculpt ingredients have been shown to work. But the science behind the effectiveness doesn't point toward this formula. At DietSpotlight, science-based facts is critical. If there's none, we have concerns.
The Bottom Line – Does Thermosculpt Work?
Is it time to give Thermosculpt a try? Well, we like that there's some natural ingredients and that we located a few favorable customers comments, but we're skeptical about it because of no solid science backing the weight-loss claims. We're also hesitant due to reports of side effects and no customer support.
If you're ready to take a step toward weight-loss, we suggest going with a product that contains ingredients that are safe and clinically tested.
Among the best products we've seen in 2016 is one called Leptigen. The formula consists of four clinically-tested ingredients in a proprietary blend, that have been shown to accelerate metabolism and ignite fat loss. No one is talking about negative side effects and customers are seeing great results.
Plus, the makers are confident enough  in their supplement to offer customers a Special Trial Offer on Leptigen.