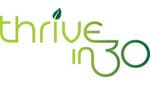 Give me two minutes and I'll tell you whether Thrive in 30 actually works. Here at DietSpotlight we did one of our in-depth reviews, scrutinizing the side effects, ingredients, customer-service quality and clinical studies. We additionally looked at hundreds of comments and user reviews posted online. At this point we compressed all of the data we discovered to give you the bottom line.
EDITOR'S TIP:
Combine Brandan Brazier Thrive In 30 with a proven fat burner such as
Leptigen
for better results.
What You Need To Know
Firstly, Thrive in 30 is basically a one-month weight-loss challenge that was created by Brendan Brazier. The purpose of this program is to help you lose weight, learn how to eat healthier and improve overall wellness. There is a strong focus on plant-based foods in this diet. Also, you are instructed to eat smaller meals, but you are encouraged to eat more frequently. Cravings for sugar, caffeine and junk food should fade away. The official website allows you to sign up for free and you will receive video lessons, tips through email, recipes, meal plans, reference guides, charts, shopping lists and in-depth articles to assist you. You can use the information you learn on the go, quite the positive.
Thrive in 30 has been available since 2009 and there are some positive comments posted around the web. This diet plan does encourage you to avoid sugar and people of all ages can try this weight-loss method, but read on…
Food Restrictions – "Something to Consider?"
The first potential problem we found with Thrive in 30 is restriction. According to our Research Editor, "This diet plan requires you to avoid meat products, processed foods, sugar and caffeine, which may be difficult for many dieters to deal with. You essentially have to adopt a vegetarian lifestyle."
One person stated, "No meat? Yikes! Thrive in 30 is not worth it."
Another dieter said, "Have too much trouble avoiding sugar and caffeine. This doesn't work for me."
Scroll below for one of the best products we've seen over the last year.
Dieter Complaints – "Another Concern"
There are quite a few complaints posted online regarding Thrive in 30. In fact, one customer said, "It didn't work. I haven't lost a lot. I lost 1 pound. I am really angry!"
"Didn't care for this approach. It's just not doable for me," commented another person.
According to our intense research, if there is one facet of a diet program that is very difficult or bothersome (a painful/difficult exercise routine, dieter complaints, too many food restrictions) the odds of long-term success are not good. In other words, if Thrive in 30 does lead to numerous issues, this could be a big problem.
The Science – "Solid?"
While Thrive in 30 is a low-calorie diet plan, we were unable to find any real science or studies to support this method. Here at DietSpotlight, we prefer to see published research that backs up the claims regarding weight-loss. However, nothing is mentioned on the official Thrive in 30 website.
The Bottom Line – Does Thrive in 30 Work?
Now the moment you've been waiting for: our bottom line on Thrive in 30. Well, we like that Thrive in 30 is for all ages and there are some positive comments posted online. On the other hand, we have some reservations about it because it's not backed by actual science. Furthermore, we're concerned about the dieter complaints and food restrictions.
If you'd like to shed more pounds of fat, then we encourage you to go with a diet program or weight-loss supplement that is backed by clinical research, is supported by positive user feedback and gives you plenty of bang for your buck.
Among the best products we've seen in 2016 is one called Leptigen. This formula contains a blend of four key ingredients, which have been shown in documented clinical research to boost metabolism and speed up fat loss. We can't find any complaints of adverse effects and dieter comments posted on the web show people are seeing great results.
The makers of Leptigen are so confident in their product they're offering a Special Trial Offer, which is certainly promising.