Updated: 09/29/2015 - Sponsored by Leptigen
Thyrene Review - Does This Diet Supplement System Work?
Are cost and lack of results deal breakers?
PUBLISHED: 09/12/2015 | BY: SUMMER BANKS, SENIOR REVIEWER
Editor
's Review:
3.5
/ 5.0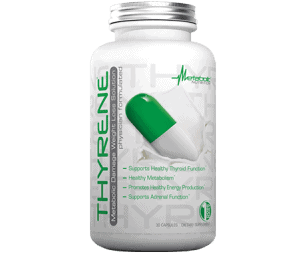 We've heard a lot lately about diet supplement stacks that include Thyrene, so we did an in-depth review of the ingredients, side effects, clinical studies, and the quality of the company behind the product. We also looked at as many online reviews as we could to provide the information necessary to make an informed decision on this product.
EDITOR'S TIP:
Substitute Thyrene with a proven fat burner such as
Leptigen
for better results.
What You Need to Know
Thyrene boasts a cocktail of ingredients designed to suppress appetite and help dieters lose weight through reduced caloric intake. Some of the ingredients include Vitamin B12 and B6, Calcium, Sodium, Kelp, Tyrosine, Phosphorus, Potassium, and more. The ingredients are well-structured and are designed to minimize side effects while helping you lose weight. These pills are also convenient and easy to take anywhere.
Thyrene has been a popular diet supplement since 2010. It stimulates the thyroid to supposedly help boost fat loss, and because there are no energy stimulants that boost metabolism, this pill can be taken multiple times per day. Thyrene is readily available online, and can be purchased in most health stores, but read on…
Price – "Yee-Ouch"
While Thyrene does have a relatively low price compared to many other supplements, some of the recommended product stacks can get extremely expensive. Most companies selling this product recommend you take this with at least 1 additional product, a metabolism booster, while some recommend a stack of up to 4 additional products. "These aren't expensive by themselves," said our research editor. "But when you add in the cost of the recommended stacks, the total cost can be $150-300 per month."
"By itself Thyrene does nothing for me, but with the stack I can't afford to keep taking it. It's kind of a catch-22," said one user.
"I thought I could afford this, but when I looked at the additional recommended products, I realized there was no way I could buy these every month," said another.
Scroll below for one of the best products we've seen in 2015.
Lack of Results – Another Concern
For customers that didn't opt to buy the entire stack of products, results were minimal or non-existent. Some customers saw minimal weight loss when they followed diet and exercise plans, while others saw no change without a significant change in their lifestyle. "I used Thyrene for 2 months and only lost 3 pounds," said one customer.
"Thyrene is expensive and did nothing for me. I still felt hungry all the time," said another. Most of the reviews agreed with these, but some offered helpful advice on how to make Thyrene work for you. "Thyrene isn't to be used by itself. I took it with a metabolism booster, worked out every day, and ate healthier. After 2 months, I've lost 12 pounds," said one satisfied customer.
According to our researchers and multiple studies, whenever there is an aspect of a diet supplement, weight loss program, or exercise routine that is troublesome (painful workouts, cost, side effects, lack of quick results, etc.) the dieter is less likely to achieve long-term success. If Thyrene really doesn't help like many of the reviews say, it could make it difficult to achieve long-term weight loss goals.
The Science
Thyrene has plenty of strong claims about how it will perform for those trying to lose weight, but unfortunately those claims are not backed up by science. There have been no clinical studies supporting this supplement, and some of the ingredients have no scientific research behind their inclusion in Thyrene. At DietSpotlight we value unbiased information on a product, so when that research is missing and no clinical studies have been conducted it leads us to question the claims that a product is making. A supplement that has proven results and has been used in clinical studies is ideal, but unfortunately Thyrene does not offer that proof for those looking for an effective weight loss supplement.
The Bottom Line
At first we were excited to review Thyrene because it was easy to purchase, had some good reviews, and was free from side effects, but in the end we were disappointed. Thyrene has no scientific studies proving their claims or that their ingredients are supported by clinical studies, the recommended stacks to take with Thyrene can get very pricey, and the lack of results mean that weight loss is a long slow process with this supplement.
If you're looking to slim down without the hassle and expense of a product like this, we suggest a supplement that offers scientific proof that its results will help you lose weight, an affordable price point, and quick and steady results.
One of our favorite products with proven results in 2015 is called Leptigen. Leptigen contains just four ingredients, which the makers have combined in a proprietary blend proven to speed weight loss by boosting your metabolism and burning fat. We've read the reviews online and customers seem to agree that this is an effective way to lose weight without negative side effects.
For a limited time, the makers of Leptigen are offering a special trial offer; putting their product on the line because they're sure you'll love it!