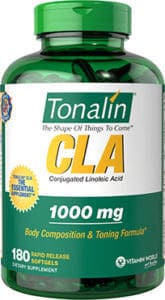 We've hearing a lot of buzz about Tonalin CLA, so we examined the ingredients, side effects, clinical research and customer service quality. We read hundreds of user comments and reviews from around the web. Then, we gathered, condensed and refined to give you the bottom line.
What You Need to Know
First off, Tonalin CLA is a fat-burning supplement derived from saffron flower oil. When taken several times per day with meals, this conjugated linoleic acid supposedly supports weight-loss. It both decreases the size of fat cells and purportedly blocks fat from being stored there. One benefit is you can take it quickly and easily and you don't have to deal with any messy powders. Taste doesn't matter, either, since these come in pill form.
Tonalin is owned by the parent company BASF (a massive chemistry corporation with offices on several continents), but we couldn't find an exact release date. It's available in pretty much every vitamin store and in online marketplaces. We like the fact that there are several clinical studies using conjugated linoleic acid and that Tonalin CLA targets fat-storing cells, but read on…
Side Effects – "Cause for Concern?"
The first question we came across with Tonalin CLA side effects was whether or not the formula is worth it. "While you will find plenty of articles out there championing Tonalin as a fat-burner without side effects, be careful of such claims," explains our Research Editor. " According to some dieters, that's just not true."
"I used this for about a week until I noticed my face was breaking out. After I stopped taking this I noticed my skin starting to get back to normal," said one user.
"The first 1000 mg I took (on a full stomach) gave me a headache and nausea that lasted until the following day. I've never experienced such a thing with any other supplement I've taken over the years," said another.
We can't say that every dieter had the same experience. One said, "What I like is not feeling any side effects concerning my stomach."
Another shared, "Tonalin didnt give me any noticable side effect at all which really pleases me."
Scroll below for one of the best products we've seen over the last year.
No Results – "Another Concern"
Just like many other magical pills out there, Tonalin claims to be the most effective CLA on the market. But do the statements match the evidence? Users are instructed to take the pills while exercising and eating healthily, so they will likely lose if they stay on the wagon. "I kept my diet the same and my exercise regiment the same. I've taken this product for one month and have not lost any weight," says one reviewer.
"I started using 1 capsule with each meal as directed. No results after 6 weeks. Started using 2 capsules with each meal. Still, no results after additional 3 weeks." said another.
Though they don't offer amazing support, we did find a few users who saw positives. As one experienced, "These help me lose some weight but once I reached my peek that was it. I only lost a little not tons."
Another suggests dieters may not be giving the supplement long enough to work. He claimed, "There is a catch with this product, because it uses NO stimulants it will take time to work, at least 6 to 8 weeks. "
Our research has shown if there is some particular part of a supplement that is especially troublesome, such as lack of effectiveness, the likelihood of long-term success is slim. If Tonalin CLA does take so long to work, we question the value of the product to the consumer.
The Science – "Clinical Evidence?"
The official Tonalin website claims this one is "clinically proven". There are several studies showing the effectiveness of cla. After a bit of digging, we found the research related to CLA, not Tonalin CLA.  For us at DietSpotlight, we like seeing solid science used to support claims. But, if the findings don't point toward a specific formula, we become concerned.
The Bottom Line – Does Tonalin CLA Work?
So, did we decide whether or not to run out for this one? Well, yes we did. Tonalin CLA seemed pretty interesting at first, but we are less than certain now. We like that the supplement is widely available and the ingredient list is simple, but we are hesitant to suggest a product that may cause some irritating side effects. There's also the issue that the brand has not been clinically-tested.
If you are on the track to weight-loss and you want a boost, we suggest going with a supplement that's packed with clinically proven ingredients that's not associated with side effects of any kind.
Among the best products we've seen in 2016 is one called Leptigen. It blends four ingredients that have been shown in published clinical research to help accelerate fat loss and boost metabolism. We haven't found harmful side effects and reviews have been overwhelmingly positive.
The makers of Leptigen are even offering a Special Trial Offer, which is a good sign.