Updated: 09/29/2015 - Sponsored by Leptigen
Tonalin CLA Review - Does this fat-burning supplement work?
Are side effects and lack of effectiveness deal breakers?
PUBLISHED: 08/27/2015 | BY: SUMMER BANKS, SENIOR REVIEWER
Editor
's Review:
3.5
/ 5.0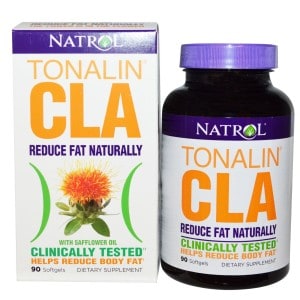 We've heard a lot of buzz about Tonalin's CLA fat-burning supplement, so we examined the ingredients, side effects, clinical research and customer-service quality. Then we read hundreds of user comments and reviews from around the web. Here is our condensed review of this product so you can make an informed decision.
EDITOR'S TIP:
Combine Tonalin CLA with a proven fat burner such as
Leptigen
for better results.
What You Need to Know
First off, Tonalin CLA is a fat-burning supplement derived from Saffron flower oil. When taken several times per day with meals, this Conjugated Linoleic Acid supposedly supports weight loss. It both decreases the size of fat cells and purportedly blocks fat from being stored there. One benefit is you can take it quickly and easily and you don't have to deal with any messy powders. Taste doesn't matter, either, since these come in pill form.
Tonalin is owned by the parent company BASF (a massive chemistry coporation with offices on several continents), but we couldn't find an exact release date for Tonalin CLA. It's available in pretty much every vitamin store and in online marketplaces like Amazon . We like the fact that there are several clinical studies using conjugated linoleic acids and that Tonalin cla targets fat-storing cells, but don't stop reading just yet.
Side effects – A cause for concern
Obviously, no fat-burning supplement is worth the trouble if it causes considerable side effects. While you will find plenty of articles out there championing Tonalin as a "fat-burner" without side effects, be careful of such claims. The effects of different products on different customers vary–so the only way for you to really know is to try it yourself. For now, here are some reviews we found that are making us think twice about the products:
" I used this for about a week until I noticed my face was breaking out in cystic acne HORRIBLY and my skin became really oily. After I stopped taking this I noticed my skin starting to get back to normal," said one user.
"The first 1000 mg I took (on a full stomach) gave me a painful headache and feeling of nausea that lasted until the following day!! I've never experienced such a thing with any other supplement I've taken over the years," said another.
Scroll below for one of the best products we've seen in 2015.
Is Tonalin really effective–Another concern
Just like many other magical pills out there, Tonalin claims to be the most effective CLA on the market. But do the claims match the evidence? Users are instructed to take the pills while exercising and eating healthily–so of course they will lose weight. A study published on onajcn.nutrition.org states "CLA produces a modest loss in body fat to humans." "Modest" isn't exactly great. Web MD also has conjugated linoleic acids listed as "possibly effective" on their website–not conclusive enough for my taste.
 "I kept my diet the same and my exercise regiment the same. I've taken this product for one month and have not lost any weight," says one reviewer. "I started using 1 capsule with each meal as directed. NO RESULTS after 6 weeks. Started using 2 capsules with each meal. Still, NO RESULTS after additional 3 weeks." said another.
Our research has shown if there is some particular part of a supplement program that is especially troublesome (headaches, nausea, lack of effectiveness after 4 weeks, etc.) that the likelihood of long-term success is slim. If Tonalin CLA does in fact cause these health concerns and takes so long to work, we question the value of the product to the consumer.
Keep in mind that using a fat-burning supplement without a good diet and exercise is almost meaningless–it has to be part of a healthy lifestyle. So if you are set on trying Tonalin CLA, feel free to do so, but you still need to do plenty of your own work to lose fat.
The Science
While the official Tonalin website claims the product is "scientifically proven," we couldn't find any published studies that speak directly to the weight-loss benefits of the Tonalin CLA product itself. For us at DietSpotlight, published science about a product is crucial, and we see a lack thereof as a red flag. While there are studies using CLAs (most of which point to modest results and cite a need for further research), Tonalin's claim that their particular CLA has been extensively studied in clinical research seems unfounded.
The Bottom Line
Tonalin CLA seemed like a pretty great supplement at first, but we are less than certain now. The clinical research is conclusive enough for our taste, and the fact that Tonalin CLA itself wasn't used as they stated is bothersome. The side effects we noticed in customer reviews and the lack of consistent effectiveness caused doubts as well.
If you are looking for a high-quality supplement to boost fat loss that is clinically researched and effective, we suggest you find one that offers more for your money.
Leptigen is one of the best products we've found in 2015. It blends four ingredients that have been shown in published clinical research to help accelerate fat loss and boost metabolism. We haven't found harmful side effects, and reviews have been overwhelmingly positive.
The makers of Leptigen are even offering a special trial offer, which is a good sign.