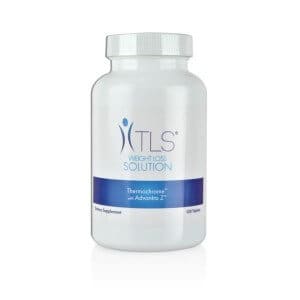 Every once in awhile, I get a little bit tired of hearing about miracle pills and "simple tricks" to lose weight. So when I hear about a program that incorporates a holistic approach to weight loss, I'm all ears–that's why Transitions Lifestyle System caught my attention. I was curious, so I researched the ingredients, cost, and clinical research. Then I looked into the company's business practices and tried to find out what customers were saying about the system. Here's all of that research compiled into one place.
EDITOR'S TIP:
Combine Transitions Lifestyle System with a proven fat burner such as
Leptigen
for better results.
What You Need to Know
Let's jump right in. Transitions Lifestyle System is exactly that–a system. It combines diet plans, exercise, and some suggested supplements to get you into a healthier lifestyle. They use terms like "behavior modification" to describe the change, but all that means is that you need to live healthier than before. The system includes access to an interactive website, a list of low glycemic impact foods, exercise videos, and a lineup of health supplements. One plus is that the system is fairly comprehensive, encouraging an overall lifestyle change.
Here are the supplement options per https://www.tlsslim.com
• TLS® CORE Fat & Carb Inhibitor – Tame Hunger
• TLS® Tonalin® CLA – Trim Stubborn Body Fat
• TLS® Nutrition Shakes – Big Taste, Slim Waist. On the Go
• TLS® Green Coffee Plus Garcinia Cambogia – Accelerate Fat Burning
• TLS® ACTS – Break the Stress & Weight Gain Cycle
• NutriClean® Advanced Fiber Powder – Cleanse and Detoxify
• TLS® Thermochrome™ – Boost Metabolism, Burn Fat
Transitions Lifestyle System is sold by Market America, a product brokerage company based in Greensboro, North Carolina. Market America, which started in 1992, sells a varied portfolio of exclusive brands, and it makes a large portion of its profits from a multi-level sales program called the "Un-Franchise Business." While the comprehensive approach to healing and the long tenure of Market America look appealing, keep on reading…
Cost–"Wow, pretty steep!"
All things being considered, the Transitions Lifestyle System program is pretty expensive. "It doesn't look like this is priced as a whole package," said our senior research editor. "You have to pay for each part individually, and those parts are fairly expensive. As in $49.95 for a month's supply of Tonalin CLA and $26.00 for a book of diet advice." If you pay for the full program, you could easily spend between $75.00 and $150.00 per month.
"The money you save from not buying this multi marketing scheme could be utilized at your local gym or studio for classes or a gym membership," said one frustrated consumer. "Huge waste of money," said another.
"The protein is of low grade, and getting 14 servings for 34 dollars is highway robbery," a third reviewer said.
Supplements–"Expensive, iffy products"
Quite frankly, the supplements aren't any better than anything else you find online. "There are a million cheaper ways to buy supplements and lose weight," said one user. "If you want to spend a ton of money on few results go for it!" another said. Here's a breakdown of a few of the Transitions Lifestyle System supplement suggestions:
• Tonalin ClA: $49.99 for a month's supply
• Protein Shakes: $35.00 for 12 servings
• TLS Thermochrome: $37.99 (appetite suppressant)
• 8-pack Energy Bars: $22.99
A quick search for any of the above products online will yield hundreds of results, mostly at lower prices. For instance, you can find many brands of Tonalin CLA for under $20.00. The protein shake is also one of the most expensive we've seen (it doesn't even include spectacular ingredients), and appetite suppressants like the one above are plentiful and inexpensive.
We've found that even minor setbacks hurt chances of long-term success when it comes to supplements. With a price this high on products that seem fairly pedestrian, you won't be able to sustain use of this system.
Scroll below for one of the best products we've seen over the last year.
Science: Does Any Clinical Research Back up the Transitions Lifestyle System?
As with any dietary supplement, science holds the real trump card. Transitions Lifestyle System makes many scientific claims, but the articles cited on its website point to general research (e.g., the benefits of chromium) rather than anything specific to Market America products. What we have trouble verifying is whether or not enough clinical thought has gone into these products to warrant a high price. If Market America invested heavily in building a truly special supplement formula, then the price would be worth it. As our research stands, we can't see anything above average with these supplements.
So What's the Bottom Line?
We were initially intrigued by the claims Transitions Lifestyle System made. It's always best to encourage a complete healthy lifestyle rather than promoting a "miracle fix," but we have concerns about the price of this product. Nothing in the system will hurt you physically, but it might hurt you financially.
If you need to burn fat, we recommend finding a product that packs more bang for your buck. Don't invest in something that you can get just anywhere.
One of our favorites from 2016 is a product called Leptigen. It burns fat and boosts metabolism with four clinically proven ingredients, and the customer reviews look great online. From what we can tell, side effects aren't an issue either.
Leptigen is offering a special trial offer online as well–always a good sign.