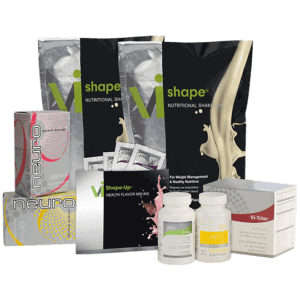 Don't laugh, but well over 50% of diet products simply don't work. So what about Trim Slim? Here at DietSpotlight, we did a comprehensive review, examining the side effects, ingredients, clinical research and overall customer-service quality. Plus we took a look at numerous user comments posted all over the web. Lastly, we summarized and compressed to give you the important facts.
EDITOR'S TIP:
Substitute Trim Slim with a proven fat burner such as
Leptigen
for better results.
What You Need To Know
To start, Trim Slim ingredients include digestive enzymes, fibersol, soy protein, green tea extract, yerba mate, carnitine, garcinia cambogia, chromium, coleus forskoli, vitamins and minerals. This is actually a weight-loss program that involves three different diet supplements. These include Vi-Trim drinks, Vi-Shape pills and Vi-Slim tablets. You simply follow the directions with each product and reduce your daily food intake. This is supposed to lead to weight reduction and a slimmer figure.
This weight-loss program was created by ViSalus. It's intended for both women and men trying to shed pounds. While we are unsure when it was first released, it looks like Trim Slim is no longer available. Just so you know, there is no special fitness regimen required with this diet system, but read on…
High Price – "Can You Afford It?"
Our first concern is the price of this weight-loss program. "From what we gathered, the actual cost of Trim Slim is $150 per month. Naturally this may be too expensive for some dieters to afford. Some customers even stated that this system costs $200 per month," says our Research Editor.
One user posted, "Too expensive for me. Costs more than $200 a month. No thanks."
On the other hand, not everyone found Trim Slim to be pricey. One person said, "Not bad when you consider the smaller grocery bill."
Another customer commented, "More affordable than some alternative diets."
Scroll below for one of the best products we've seen over the last year.
Side Effects – "Another Issue?"
There are some customer complaints about side effects from the Trim Slim supplements. These include abdominal discomfort, diarrhea, constipation and bloating. One user revealed, "I started doing the shakes about a month ago and when I first started I was constipated bad and had rectal bleeding."
Then again, a different person mentioned, "Seems to help on some level. Have lost about three pounds thus far."
"No bad reactions. But do get a little hungry at times. Must be the reduced calorie intake," posted another customer.
The extensive research we've conducted has shown if there's a certain part of a diet program or weight-loss product that is especially burdensome (high price, supplement side effects, low Amazon star rating) the probability of lasting results is low. Therefore if Trim Slim does in fact cause adverse effects in a lot of people, this could be a major issue.
The Science – "Any Research?"
Here at DietSpotlight, we need to see some actual science that supports the weight-loss program or supplement we're investigating. However, we didn't find any solid research that backs up the claims pertaining to Trim Slim. On the other hand, we are glad to see that green tea is used in one of the products. After all, this herb has been shown to help boost metabolism.
The Bottom Line – Does Trim Slim Work?
Now the moment you've been waiting for. Here is our bottom line on Trim Slim. First off, we like that this weight-loss program is for women and men alike. It's also good to see that some natural herbs are used in these supplements. Then again, we have some reservations about this diet system because it's not really supported by any clinical studies. Also, we're concerned about the steep price, as well as the side effects some users have experienced.
If you'd like to drop more weight, then we suggest you go with a weight-loss program or supplement that does not cause any unpleasant side effects, is backed by positive user reviews and does not cost you an arm and a leg.
Among the best products we've seen in 2016 is one called Leptigen. This supplement uses a blend of four ingredients, some of which have been clinically tested, and are shown to help speed up fat loss and kick-start metabolism. Note that we can't find any complaints or negative feedback, and user comments posted online reveal people are seeing substantial results.
The makers of Leptigen are so satisfied with their product they're offering a Special Trial Offer, which is a good sign.