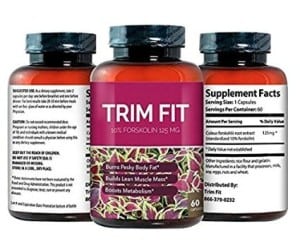 Over half of diet program on the market have absolutely ZERO scientific backing. Let's see if Trimfit is one of those. Our attention will turn toward ingredients, side effects, clinical studies and customer service quality. Additionally, we'll analyze hundreds of comments and reviews. Then, we'll summarize and refine to give you the info you need.
What is Trimfit?
First off, Trimfit is a fat burner containing forskolin 125mg. There is also mention of Advantra Z, green tea and kelp on certain websites. The recommended serving is two capsules per day, which supposedly promotes weight-loss. You can take the supplement on the go, one benefit.
There is no information as to when Trimfit was released, but the company behind it is Leading Health Supplements. You can buy it from Amazon, but we found no other retailers selling the formula. We like that the product contains no synthetic ingredients and it seems affordable, but read on…
Potentially Unsafe Ingredients –"Causing Issues?"
The first negative that concerned us about Trimfit ingredients was the fact that they might not be safe. "If there is any question as to whether or not you are at risk by taking a supplement the answer is simple, don't take it." said our Research Editor.
According to research and expert advice, Advantra Z, or synephrine, can cause side effects similar to ephedra. The risk of adverse reactions is even higher if the stimulant is combined with caffeine, as is the case with Trimfit.
"Iodine [kelp is a source] can cause significant side effects in some people. Common side effects include nausea and stomach pain, runny nose, headache, metallic taste, and diarrhea," reported the National Institutes of Health.
Though there is some question as to whether or not Trimfit is safe, there are dieters who had something positive to say. As one shared, "This product is good if you need a cleanser or your bowel is not regular. "
Scroll below for one of the best products we've seen over the last year.
Side Effects – "Makes You Feel Different?"
Dieters commenting on Trimfit reactions claim there are some issues with sleep and pain, among others. "I don't like the effect Trim Fit supplements have on me. It was the same feeling as taking the ephedrine based supplement. I felt nervous and jittery all the time, I couldn't sleep and my muscles ached," reported a user.
"I took your Trim Fit product for two weeks and they upset my system," commented a customer.
"When I use Trim Fit, I become irritable," stated a consumer.
Reports of side effects were common, but not everyone had the same experience. According to a dieter, "You will not have any bad experience or uncontrolled bowel movements."
Our research and experience concludes that something small, like side effects, could put the brakes on long-term success. If Trimfit causes negative reactions, will dieters want to use it?
The Science – "Based on Research?"
We found some information on Trimfit online, but nothing about clinical research. This is concerning, considering the product contains beneficial ingredients such as forskolin and green tea. At DietSpotlight, locating science to back claims is one of the biggest parts of the equation. If there are no studies, we don't bother with it.
The Bottom Line – Does Trimfit Work?
So, should you run out and purchase Trimfit? We like that we located some positive comments and that the supplement contains some natural ingredients, but we have reservations about the lack of scientific research linking the formula to weight-loss. Plus, we're concerned that the product contains a potentially unsafe formula and it may cause side effects.
If you'd like to drop those extra pounds, we recommend going with a product containing ingredients backed by published clinical research with no reported side effects.
Among the best products we've seen in 2016 is one called Leptigen. The supplement consists of a formula containing a four-ingredient proprietary blend, which has been shown in studies to help boost metabolism and accelerate fat loss. Dieter comments on the web show people seeing excellent results and there's no one talking about negative side effects.
Also, the company that makes Leptigen is providing a Special Trial Offer, a good sign of confidence in the supplement.