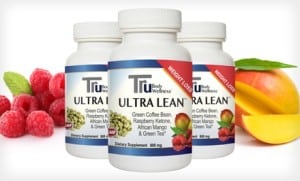 There are a lot of people talking about the fat burning supplement Tru Ultra Lean, so we'll delve into ingredients, side effects, clinical research and quality of customer service. Additionally, we'll turn our attention toward hundreds of consumer comments and reviews. Then, we'll refine and summarize to give you the info you need.
EDITOR'S TIP:
Combine Tru Ultra Lean with a proven fat burner such as
Leptigen
for better results.
What You Need to Know
Tru Ultra Lean is a fat burner containing raspberry ketones, green coffee beans, African mango and green tea. The recommended serving is two capsules per day, which supposedly supports weight-loss. One of the benefits is ease of use.
There's no information as to when TruBody Wellness and Healthy Body introduced the supplement, but the company was founded around 1988, impressive. Dieters can buy Tru Ultra Lean on the official website and through retail stores. We like that we found some dieter comments supporting the product, but read on…
Side Effects
The first concern about Tru Ultra Lean ingredients was the occurrence of side effects.͞We go through hundreds of products and program, looking for the good and the bad,͟ said our Research Editor. ͞Adverse reactions fall into the not so good category.͟
͞All the pills make me jittery,͟ commented a user.
Scroll below for one of the best products we've seen in 2015.
Ineffective
Multiple customer comments stated Tru Ultra Lean ingredients were ineffective. ͞Still find that I am hungry even after using as directed. I had high hopes…but unfortunately it did not do well for me,͟commented a user.
͞Had no effect on my weight or appetite. I bought 2 bottles,͟ said a customer.
͞I thought the first few days were OK…but any help for my weight loss did not happen,͟ reported a consumer.
Based on our experience researching supplements, we've found that something small, like an ineffective product, could hinder your long-term success. If Tru Ultra Lean doesn't provide results, is it worth it?
The Science
When we visited the official Tru Ultra Lean website, the company states the mission is to provide high-quality supplements, but there's no scientific research supporting the weight-loss claims. Looking at the active ingredients, only green tea is proven effective. At DietSpotlight, finding clinical studies linking the formula to losing weight is critical. If there's no science, we turn our backs.
The Bottom Line
After picking apart Tru Ultra Lean, here's what we found. We like that the company has been in business for years and that we located some favorable customer comments, but we can't recommend it because there's no published clinical research supporting weight-loss claims. Plus, we have concerns that the supplement is ineffective and could possibly cause side effects.
If you are in the mood to lose weight, try going with a supplement supported by published clinical research with no reported negative side effects.
Leptigen is one of the best supplements we've researched in 2015. The product contains a four-ingredient proprietary blend shown in published studies to help ignite metabolism and boost fat loss. Dieters commenting on the web are saying they're seeing excellent results and no one is reporting negative side effects.
The company that makes Leptigen is providing a Special Trial Offer, a good sign the makers have confidence in the supplement.