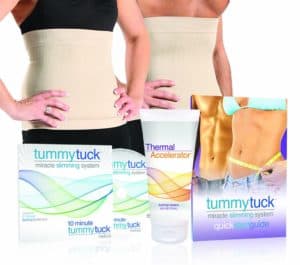 It's been a long journey, but I feel I'm now qualified to advise you on whether or not to use the Tummy Tuck Belt. We at DietSpotlight spent some time creating a comprehensive review, looking closely at the side effects, ingredients, customer service and scientific research. Moreover, we focused on hundreds of dieter comments we found posted online. Finally, we summed up all of the facts and details to give you the bottom line.
EDITOR'S TIP:
Combine Tummy Tuck Belt with a proven fat burner such as
Leptigen
for better results.
What You Need To Know
To start, the Tummy Tuck Belt is boasted as a miracle slimming system that helps both women and men lose unwanted pounds from the midsection. To use this system, you have to follow three steps, which requires 10 minutes per day. The first step is applying the Thermal Accelerator Cream to the midsection/tummy area. The second step involves putting on the Tummy Tuck Belt and performing "Standing Abdominal Tummy Tighteners" for two minutes. Lastly, you need to relax for eight minutes and do other regular activities. You are supposed to notice a slimmer tummy area within the first week. The Tummy Tuck Belt, the Thermal Accelerator Cream and a DVD are included.
From what we could gather, Tummy Tuck Belt was first available in 2010. It can be easily purchased via the official website. There are some before and after photos posted on the website and a 30-day satisfaction guarantee is provided, but read on…
Negative Reviews – "Something to Consider?"
This first issue we came across with the Tummy Tuck Belt was the number of negative reviews. "During our deep look into this slimming system, we found both doctors and users who didn't care for the results, or lack thereof," says our Research Editor.
One licensed doctor stated, "This type of device won't change the appearance of your abdomen, because it won't impact the underlying skin, muscles or fat. Gimmicks like this are a dime a dozen. They're not intended to fix your abdomen, but instead to separate you from your money."
Another physician commented, "Don't waste your money. This is classic quackery at its finest. People are always hoping that there is some sort of easy fix for obesity."
Despite these words of wisdom from doctors, one user still claims benefit. She says, "The Tummy Tuck Belt does work. I've tried it and seen results."
Scroll below for one of the best products we've seen over the last year.
Lack of Clinical Support – "Another Concern"
There is no scientific research that supports the Tummy Tuck Belt as an effective belly fat reducer. In fact, one customer revealed, "Wore it religiously for 3 months and did not see a bit of difference."
"I tried this product as instructed and I haven't seen any results after 30 days of use. I do not recommend this product," said another user.
For some dieters, it doesn't matter if research is there to support a product. As stated by one woman who lives by the belt, "Tummy tuck really works! I use it and I see results."
Our research has shown if there is some particular part of a weight-loss product or diet program that is especially problematic (a painful/difficult exercise routine, negative user reviews, lack of real science) the likelihood of lasting success is slim. So, if the Tummy Tuck Belt does in fact fail to produce real results in a number of customers, this could be a serious issue.
Science – "Anything Real?"
Sadly we could not pinpoint any real clinical studies or solid research that supports the weight-loss and slimming claims made about the Tummy Tuck Belt. While there are some before and after photos posted on the website, we at DietSpotlight prefer to see solid scientific research that backs a product.
The Bottom Line – Does the Tummy Tuck Belt Work?
Is it time to hop in the car to rush to the store for this one? Well, we like that the Tummy Tuck Belt is easy to purchase online and there are some before and after photos posted on the main website, but we have some reservations about it because it's not backed by any real science. Also, we're concerned about all of the negative user reviews posted on the web.
If you'd like to drop more weight, then we suggest you select a product that is backed by solid clinical research, is supported by plenty of positive customer reviews and is easy to use anywhere.
Among the best products we've seen in 2016 is one called Leptigen. Its formula is a potent blend of four ingredients, which have been shown in documented scientific research to help kick-start metabolism and improve fat loss. Furthermore, we can't locate any complaints of harmful adverse effects and user reviews around the web express people are seeing solid results.
The makers of Leptigen are so certain of their product they're offering a Special Trial Offer, which is a good sign.