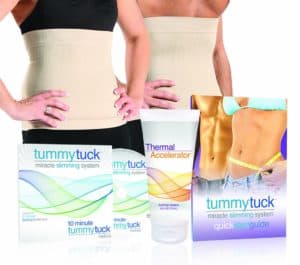 It's been a long journey, but I feel I'm now qualified to advise you on whether or not to use the Tummy Tuck Belt. We decided to put the spotlight on side effects, ingredients, customer service quality and scientific research. Furthermore, we analyzed hundreds of dieter comments and reviews. Then, we summarized and condensed to give you the info you need.
What is the Tummy Tuck Bel?
First off, the Tummy Tuck Belt is a slimming system supposedly helping you firm up the midsection and lose weight. The ingredients (what comes in the box) includes Thermal Accelerator and an instructional DVD. You'll use the product 10 minutes per day for one month. One benefit is that you can wear under your clothes.
Tummy Tuck Belt was first available in 2010; although the parent company, Savvier, was founded in 2002. It can be purchased on the official website and through trusted retailers. We like that we found some positive customer comments and the 30-day satisfaction guarantee, but read on…
Negative Reviews – "Something to Consider?"
This first concern were the negative reviews about the Tummy Tuck Belt. "The purpose of a slimming product is to help dieters lose inches off of the midsection," said our Research Editor. "Customers will give honest feedback to help others make up their minds."
"After 2 weeks of using the band, along with daily exercise, I have not seen any results. The band is not even strong enough to use it as an instant slim garment," commented a user.
"They claim you can wear it under clothes to slim…umm NOT!! It rolls and ends up in a tight band under and you cant breathe," said another.
While some users weren't pleased with the Tummy Tuck Belt, others had a different take.
"This isn't a miracle cure for a flat stomach but will definitely help you loose inches if you exercise, eat healthy and drink plenty of water. It is steady and easy to fit in my busy schedule," reported a dieter.
Scroll below for one of the best products we've seen over the last year.
Minimal Results – "Another Concern?"
Customers are talking and a major concern was the effectiveness of the Tummy Tuck Belt. A customer reported, "Wore it religiously for 3 months and did not see a bit of difference."
"I tried this product as instructed and I haven't seen any results after 30 days of use. I do not recommend this product," said another.
For some dieters, they noticed results. A customer stated, "Tummy Tuck Belt really works! I use it and I see results."
Our research has shown that any part of a weight-loss product considered concerning, like lack of clinical support, long-term success could be reduced. So, if the Tummy Tuck Belt isn't backed by science, this could be a serious issue.
Science – "Anything Real?"
After dissecting the Tummy Tuck Belt website, we didn't find any clinical studies supporting the weight-loss and slimming claims. While there are some before and after photos provided, this doesn't equal research showing it works. We at DietSpotlight look for solid science, prior to making suggestions. If there are no evidence to back a product, we become concerned.
The Bottom Line – Does the Tummy Tuck Belt Work?
Is it time to rush to the store for the Tummy Tuck Belt? Well, we like that it's easy to purchase and there are some before and after photos, but we have some concerns about it because it's not backed by any real science. Also, we're concerned about the negative user reviews and lack of results.
If you'd like to drop more weight, then we suggest you select a product that is backed by solid clinical research and supported by positive customer reviews.
Among the best products we've seen in 2016 is one called Leptigen. The formula contains four clinically-tested ingredients, which have been shown to help kick-start metabolism and improve fat loss. Furthermore, we can't locate any complaints of harmful side effects and user reviews show people are seeing solid results.
The makers of Leptigen are so certain of their product they're offering a Special Trial Offer, which is a good sign.