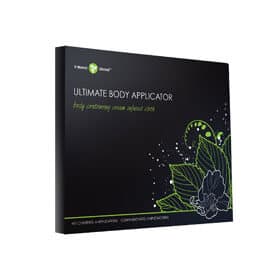 You may be surprised by what I say in this Ultimate Body Applicator review. We looked at the clinical research, side effects, and customer service. Then, we went on to read through hundreds of user reviews and comments. We condensed and refined everything to give you the bottom line.
EDITOR'S TIP:
Click here
to combine Ultimate Body Applicator with a proven testosterone booster such as Pronabolin for better results.
What is Ultimate Body Applicator?
Firstly, Ultimate Body Applicator is a product that's applied to the skin and worn for several hours to overnight, with best results seen in 72 hours. It is supposed to help tone and tighten the skin to give a more sculpted look. The ingredients include horse chestnut, green tea extract, horsetail extract, eucalyptus leaf oil, seaweed, ivy extract, menthol, guarana seed, and rosemary oil.
The Ultimate Body Applicator is a product of It Works! The company was founded in 2001. Items must be purchased from a distributor who has signed up to run their own direct sales business with the company. We like the company longevity and the variety of options to choose from, but read on…
Ineffective – "Do They Really Work?"
Our first concern is reports of ineffectiveness. "This isn't the first wrap your way to skinny type product we've seen, and it won't be the last. While you can get some results after the first application, the entire thing hinges on the fact that you have to keep buying and using it, which means a lot of money spent," said our Research Editor.
"It doesn't work! It gives the illusion that it works but very temporarily tightening the area you use it on. You are expected to drink a lot of water which by doing that has a slimming effect on its own. Not worth the money," said one user.
Yet another said, "Product does not work. I followed the instructions exactly and nothing happened."
Not everyone seems to think they don't work.
We found one reviewer said, "I needed to drop an inch and a half off my waist in three weeks. I used these body wraps and it worked. Passed my USAF PT test for my waist measurement!! Def recommend and will buy this again if needed!!!."
"I love wrapping! I definitely see a reduction in my cellulite," said another.
Scroll below for one of the best products we've seen over the last year.
Multi-Level Marketing – "You'll Be Told About The Business Opportunity"
The goal of any MLM is to get people interested enough in the products you're selling to convince them to join you. Some people may like this option, but others may not. Having to buy from a consultant rather than going to the store or ordering online without one could turn customers off.
"I don't wanna sell this stuff. I just wanted to buy something to try and the rep was pushy," said a customer.
"When I finally agreed to buy the wraps, my consultant assumed I was interested in joining the business," according to one review.
Others say the business has changed their life.
"I earn extra income while taking care of my kids at home," said a reviewer.
"I'll never work a day job again," said another.
Over the years, we've learned that it only takes one issue, like ineffectiveness, to stop any chance of long-term results. If the Ultimate Body Applicator doesn't work, customers will eventually turn to another product that does.
The Science with the Ultimate Body Applicator – "Not There"
There is a clinically proven ingredient in the formula – green tea. But, you can get it at your local drug store for about $5, and you don't have to hassle with the wrapping. Plus, topical applications behave differently than an oral application. There's little science to support using body contouring solutions like this to actually help you lose weight over the long-term.
At DietSpotlight, we want to see science before we can recommend any product. We also want to know our readers are getting a good value. When we don't see the proof that something works, we are skeptical.
The Bottom Line – Does Ultimate Body Applicator Work?
Is it time to clear the shelves of Ultimate Body Applicator? It could be a great product for temporarily slimming down to fit into a dress for an event, but as far as long-term actual weight loss? We don't see the proof we need to recommend it. Reports of ineffectiveness and customers being pitched to join the business make us wary.
If the time has come to jumpstart your metabolism, you may want to check out a product that contains clinically tested safe and effective ingredients known to support your weight loss, backed by hundreds of happy customer reviews.
Among the best products we've seen in 2016 is one called Leptigen. Over the course of our research, we found no negative product mentions or discussions of harsh side effects. It's no surprise really, since the formula is made with four key ingredients all shown in research to help support a healthy metabolism, fight hunger and boost fat loss.
Plus, right now, you can get in on a Special Trial Offer, directly from the manufacturer. We love it when a company has this kind of confidence in their products.