Updated: 08/25/2015 - Sponsored by Leptigen
Ultimate ThermoFit Review – Does This Weight-Loss Formula Work?
Are poor customer reviews and MLM marketing deal breakers?
PUBLISHED: 08/01/2015 | BY: TORY GRAY, SENIOR REVIEWER
Editor
's Review:
4.4
/ 5.0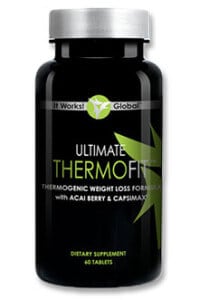 The buzz around Ultimate Thermofit weight-loss formula is quite interesting, so we dug deep into the ingredients, customer reviews and clinical support. After reading dieter comments by the hundreds, we gathered up all the information and presented it in a clear and concise manner for readers.
EDITOR'S TIP:
Substitute Ultimate Thermofit with a proven fat burner such as
Leptigen
for better results.
What You Need to Know
First thing, Ultimate Thermofit is a weight-loss formula combining raspberry ketones, green tea extract, guarana extract and acai berry. The dieter takes two to three tablets with meals and the product is portable so you can take it anywhere you go.
Ultimate Thermofit is a product of It Works. The company started offering weight-loss options in 2001. All natural ingredients are used in each formula – a positive decision. The supplement is available through a member of the distribution team or via online retail websites. We like the professional looking headquarters and supportive customer service team, but read on…
Poor Customers Reviews – "No Thank You"
Based on customer reviews, Ultimate Thermofit may not offer what dieters are looking for in a weight-loss supplement. "The dieter wants a product that just works," says our Research Editor. "If the supplement sells a formula that may not help shed the pounds then why waste the money?"
"The only thing it did is make me choke on it, everytime I took it, bad taste in the mouth…and lots and lots of gas!!!," one dieter says.
"Once I started using it, I hit a wall and did not drop weight," another customer claims.
Yet another buyer offers, "The product is not what it racked up to be! Do not waste your money!"
Scroll down to see info on one of the best supplements we've researched in 2015.
MLM Marketing
Ultimate Thermofit uses MLM marketing to sell products. With this type of sales it can be difficult to buy a small supply for personal use as the distributor is trying to bring you in as a seller, not a client. "This is mainly just a pyramid scheme. You start by selling so much, you recruit a team, they sell so much which gives you a bonus on top of your sales," claims a customer.
"The fact that EVERY single 5 star review for this product comes with a distributor's contact info tells me enough NOT to buy this product!," says one dieter. A distributor offers, "If you are interested in purchasing with someone that can guide you, I will be honored to do so."
In our research if there is a negative, like poor customer reviews, the dieter may not achieve long-term success. If Ultimate Thermofit is indeed as ineffective as buyers claim, this may be an issue.
The Science
If you are looking for research to support the claims associated with Ultimate Thermofit you won't find any. It Works does not publish "science" for dieters to read. We searched for studies that backed up the company's statements, but we found none. DietSpotlight is on the lookout for clinical effectiveness and if that's not there, we may have to throw in the towel.
The Bottom Line
The hype surrounding Ultimate Thermofit drew us in. The company does have a professional looking headquarters, international presence and a good BBB rating, but we can't give this one the thumbs up. Weight-loss claims are not backed by science and poor customer reviews leave the dieter questioning the effectiveness of the formula.
If now is the time to drop the weight, we propose a supplement that contributes a good price and clinically proven ingredients to your weight-loss program.
We've gone through hundreds of products in 2015 and Leptigen is one of the best. The formula is comprised of a proprietary blend – four ingredients with published scientific support. The supplement is shown to quicken fat loss and raise metabolism. Dieters are seeing results and we couldn't find reference to side effects.
The confident makers of Leptigen offer a trial offer, a good gesture.
(Feel free to scroll below for our previously published full-length reviews of Ultimate ThermoFit)
Previous Ultimate ThermoFit Review (Updated March 18, 2014):
What You Should Know
Click Here To See Our Highest Rated Review
Ultimate ThermoFit claims to be an all-natural energy boosting and fat burning supplement to help you reach your weight loss goals. With so many products on the market today claiming to do just that, it can be overwhelming trying to make a decision about which one you should use to reach your weight loss goals. Take a look at this review to learn more about the product and its ingredients to help you decide whether or not the supplement is the right one for you.
List of Ingredients
Ultimate ThermoFit contains the following ingredients:
Vitamin B12
Chromium
Capsicum Fruit Extract
Raspberry Ketones
Acai Fruit
Green Tea Leaf Extract
Guarana Seed Extract
Bitter Melon Fruit Extract
Dandelion Root Extract
Gymnema leaf Extract
Product Features
Ultimate ThermoFit contains several natural ingredients that can help boost your energy levels and help you burn more fat. However, on the other hand, there are also several ingredients in the formula that while natural, do not really have a purpose in terms of weight loss that may produce some side effects. Ingredients such as capsicum fruit extract, raspberry ketones, and chromium may help you burn fat and lose weight by elevating the metabolism through raising the core body temperature. Acai fruit has no known direct link to weight loss, though the antioxidants may help improve overall health. The final five ingredients are included in a very small proprietary blend that cannot contain the right amounts for those ingredients to be effective. Vitamin B12 is essential to energy production, but is available on its own as a supplement for much cheaper than this supplement. Most if the ingredients in this formula will produce nothing but water weight loss, so you will not see long term weight loss results.
Advantages
Ultimate ThermoFit contains some ingredients that may help you burn fat.
This formula is all natural.
Disadvantages
Ultimate ThermoFit will cause the need to urinate frequently because of the diuretics in the formula.
Water weight loss is temporary. Fat loss is what it takes to see long term results.
All natural does not mean safe. You may experience side effects such as insomnia, headaches, and irritability.
We do not see evidence of a money back guarantee for this product.
There are no free trials of this supplement.
Conclusion
Ultimate ThermoFit seems at first glance like it could be what you need to reach your weight loss goals. After factoring in the ingredients will generally only promote weight loss through causing you to release excess water, which may even cause dehydration, we do not believe this supplement is going to help you lose weight and keep it off. You need a clinically proven safe and effective fat burner or appetite suppressant in conjunction with balanced diet and exercise to reach those goals.
GD Star Rating
loading...