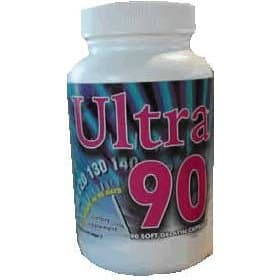 Give me two minutes and I'll tell you whether Ultra 90 actually works. We focused on ingredients, side effects, clinical research and customer service. We also read hundreds of user comments and reviews from top to bottom. We then condensed and refined to give you the info you need.
What is Ultra 90?
First off, Ultra 90 is a dietary supplement offered as an AM and PM formula. The ingredients include hydrolyzed fish collagen protein, safflower oil, aloe vera, vitamin C, Tonalin CLA, gelatin, glycerin, water, beeswax and lecithin. The recommended serving is three capsules in the morning and again at night; supposedly increasing weight-loss. One benefit is that it's easily taken with you.
There is no mention of when Ultra 90 was introduced, but the parent company is A New Healthy You. The supplement is available to purchase on the official website. We do like the favorable BBB rating and the fact that there are some positive customer comments, but read on…
Lack of Information – "Problematic?"
The first concern we have with Ultra 90 is the lack of product and company information. "When you purchase supplements, you want a way to reach out to the service department for assistance," said our Research Editor. "If you can't find out anything about the business how are you supposed to get in touch with anyone?"
"I looked for reviews, but found very few," commented one dieter.
"Just searched..and found no posts relating to Ultra 90," said a user.
Scroll below for one of the best products we've seen over the last year.
Ineffectiveness – "Just Doesn't Work!"
Based upon multiple customer comments, Ultra 90 doesn't work. In fact, dieters claim the supplement causes weight gain. "I took the pill according to the directions and after one month i had gained 3 pounds," said one buyer.
"I am almost finished with my third bottle of Ultra 90 and I have not lost the first pound. VERY DISSAPOINTED in this product! Should of known what it says is too good to be true…wanted to lose some weight-instead I lost my $90," commented a dieter.
"The first time I tried it, I was on it for 4 months. The only thing it did for me was make my clothes tighter and give me diarrhea. I tried it again for 3 or 4 months and put the weight on again," said a consumer.
Our research finds that any portion of a weight-loss plan causing problems, like ineffectiveness, could reduce chances of long-term success. If Ultra 90 doesn't work, that's a problem the dieter won't like.
The Science – "Validated With Research?"
According to the official Ultra 90 website, the supplement "promotes fat loss" and "maintains lean muscle mass." There are plenty of products out there that can make these claims, but backing them up is important. At DietSpotlight, finding scientific support is critical. In this case there's no science listed; customers will simply pass it by.
The Bottom Line – Does Ultra 90 Work?
Let's gather round to hear the final take on Ultra 90. There are some positives, like a few favorable customer comments and "A+" BBB rating, but our reservations are too strong because of the lack of published clinical studies supporting weight-loss claims. Plus, we're concerned about the lack of information about the parent company and a headquarters that looks more like a country club than a research facility.
If you'd like to transform your body, we suggest going with a product from a company you can reach via phone, located in a professional headquarters that offers a formulation backed with scientific research.
Among the best products we've seen in 2016 is one called Leptigen. The formula contains a four-ingredient proprietary blend, which has been shown in published scientific research to help promote fat loss and enhance metabolism. There's no one talking about negative side effects and customer comments on the web highlight dieters seeing exceptional results.
Additionally, the makers of Leptigen are showing confidence in the supplement by offering a Special Trial Offer, an excellent decision.