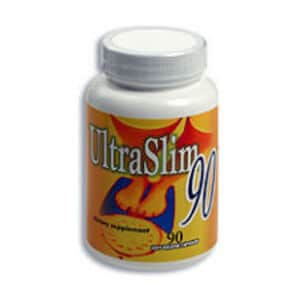 Don't mistake marketing for effectiveness. We explored the manufacturer's website as well as available reviews to learn more about Ultra Slim 90 ingredients, possible side effects, scientific research and customer service. We also read every experience we could find. Finally, we condensed it all to give you the bottom line.
What is Ultra Slim 90?
First off, Ultra Slim 90 claims suppress appetite and lose excess fat and weight. The ingredients may include Collagen Protein, Safflower Oil, Lecithin, Beeswax, and Aloe Vera. We didn't find these listed on an official website, so that makes it hard to verify the formula.
The website for the product read more like a giant advertisement. We do like that customer service can be reached by phone 24 hours a day, but read on…
Lack of Information – "Worrisome"
The biggest concern with Ultra Slim 90 is the lack of information. The website claims sound good and the price, at only $39 a month, isn't bad. But, not only are the ingredients not generally listed, they don't even provide the primary components that support the various functions the maker's claim the product provides.
"In order to really assess the safety and efficacy of any supplement, we would need far more information than the company provides," said our Research Editor.
Scroll below for one of the best products we've seen over the last year.
Questionable Instructions – "How Do You Use It?"
Another concern we have about Ultra Slim 90 ingredients are the instructions that are provided. A dietary supplement should have specific details derived from extensive research used to discover how it is most effective. Instead, the makers of the product say you can take it day or night, and how many is mostly up to the consumer.
Additionally, there is no suggestion of following a moderate diet or exercise program. While this may seem like a positive, it makes us wary when combined with the lack of usage guidelines.
The Science – "Anything Solid?"
There are absolutely no scientific studies provided to verify that Ultra Slim 90 works as promised. Not only this, but the company doesn't even provide the main ingredients which would at least give an indication as to whether it was even possible that the product might work. The list we found does not contain a single element with clinical support for weight-loss.
The Bottom Line – Does Ultra Slim 90 Work?
We enjoy looking for revolutionary diet products that can help our readers lose unwanted weight safely and effectively. Unfortunately, with a complete lack of information or supporting evidence, we have strong reservations about recommending Ultra Slim 90.
If you have weight you want to lose, we recommend choosing a supplement that is made my a company that isn't afraid to tell you how the results are derived. Further, it is important to find someone who is willing to support their claims with clinical evidence.
Among the best products we've seen in 2016 is one called Leptigen. The product is made with tested ingredients that are all well known for their ability to help enhance metabolism as well as fat loss. Our research indicates consumers are happy with the results by the lack of complaints and negative reviews.
The people who make Leptigen are so confident that their product will satisfy dieters, that they are giving new customers a Special Trial Offer, which we find very reassuring.