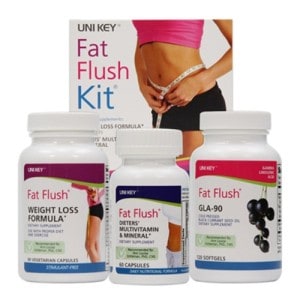 I'm obsessed with finding diet products that actually work. Let's find out if Uni Key is one of them. In our review we'll concentrate on ingredients, side effects, clinical research and quality of customer service. Furthermore, we'll pick apart hundreds of comments and experiences. Then, we'll summarize and condense to give you the info you need.
EDITOR'S TIP:
Substitute Uni Key with a proven fat burner such as
Leptigen
for better results.
What is Uni Key?
First off, Uni Key is a line of dietary supplements containing caffeine, ginkgo biloba, bilberry, pea and rice protein, l-carnitine, chromium and green tea, among others. The recommended serving depends on the product, but typically you will use them once or twice per day, which is supposed to support overall health. One benefit is the variety available on the official website.
The brand, which was introduced as a line of health and wellness supplements in 1992 by Unikey Health, does not appear to use synthetic ingredients, impressive. The products are available to purchase online and through some outside retailers. We like that the company has a strong foothold in the industry and that some of the formulas are all-natural, but read on…
Scroll below for one of the best products we've seen over the last year.
Side Effects – "Do You Need to Worry?"
The first concern we came across about Uni Key side effects was the severity. "We often find reports of adverse reactions with natural supplements," said our Research Editor. "Just because a product uses ingredients found in nature does not mean they are 100% safe."
"I am reluctant to continue to take this supplement. Yes, I feel quite energetic but to the point I cannot sit still, I feel nausea, and in general not too good," said a user.
"I ordered this kit and was very excited to try it. However, the headaches I experienced for the first 3 days were so debilitating that I couldn't even work," reported a customer.
Ineffectiveness– "Does it Work?"
Dieters tell what's really going on and based on reviews, Uni Key ingredients don't work "Unfortunately, after 8 months this product did nothing for me," stated a customer.
"I have seen and felt no change in the way I look or the way I feel," reported a consumer.
"I have been taking the product for almost a month. The product (Kit) simply has not worked for me," commented a dieter.
We've researched countless supplements and found that something small, like an ineffective product, could hinder your long-term weight-loss success. If Uni Key doesn't work, will dieter's want to use it?
Is it Backed by Science?
We took a close look at the official Uni Key website and you know what we found? The company doesn't provide scientific research linking the formulas to weight-loss. The business works with a licensed physician, but still doesn't offer evidence of effectiveness. At DietSpotlight, finding science to back claims is critical. If there are no studies, we have a problem.
The Bottom Line – Does Unikey Work?
So, does Uni Key help dieters lose weight? Well, we like the longevity of the company and that we found some positive customer comments. But, we have reservations about it because of the lack of published scientific research. Additionally, we're concerned that the supplement didn't work for some and that it may cause side effects.
If you want to lose those extra pounds, we suggest going with a supplement that's supported by published clinical research. One with no reported negative side effects to worry about.
Among the best products we've seen in 2016 is one called Leptigen. The supplement contains a formula consisting of a proprietary blend of four ingredients, which have been shown in published scientific research to help improve fat loss and jump start metabolism. We can't locate any chatter about negative side effects and reviews on the web show people are noticing excellent results.
Also, the company that makes Leptigen is providing a Special Trial Offer, a great sign of confidence in the supplement.