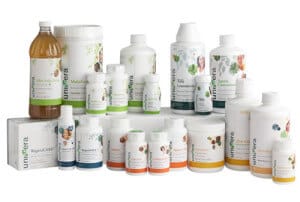 We've noticed a lot of buzz surrounding Univera weight management supplements, so we did some serious digging and created a comprehensive review, taking a close look at the side effects, ingredients, clinical studies and level of customer service. Then we examined countless responses posted online. At this point we summarized all the facts to give you the bottom line.
EDITOR'S TIP:
Click here
to combine Univera with a proven fat burner such as Leptigen for better results.
What You Need To Know
To start, Univera is a company located in Seattle, WA. Herbal ingredients such as aloe are used. They offer products in personal care, protein, heart health, targeted formulas, digestive health, immune support, joint comfort, metabolic makeover and superfood. For instance, Metabolic Makeover 2.0 is a group that is taken in conjunction with one another in order to provide consistent energy, assist the metabolism and aid with weight-loss. The five supplements included are Univera Xtra, Aloe Select, RegeniFREE capsules, Rhythmatix softgels and Level G. The cost is $208.95. .
Univera dates back to 1998 and all products in this line are sold via the official website. These supplements address several aspects of health and natural ingredients are used, but read on…
The Price – "Ouch?"
Our first concern with Univera ingredients is that the cost is a little over the top. "The supplements available are quite pricey. You will spend more than $200 to get started with the weight management plan, Metabolic Makeover 2.0," says our Research Editor.
One dieter stated, "Expensive products .. be careful if insulin dependent…HORRIBLE return policy of 4-6 weeks."
Another user said, "Too expensive for me!"
Scroll below for one of the best products we've seen over the last year.
Negative User Reviews – "A Problem"
We noticed a number of negative customer responses to this line of supplements. One user said, "Zero results from this product."
According to one dieter, "Has no impact whatsoever. Will not buy again."
After conducting a great deal of research, we have come to the conclusion that if there is one facet of a diet program or supplement that is especially concerning or difficult (too many negative reviews, pills with serious side effects, high cost) the chances of real fat loss success is pretty low. So if Univera does leave dieters wanting for more, that's a red flag.
The Science – "Clinical Backing?"
Although "science" is discussed on the official website, we couldn't find any clinical evidence linking Univera to weight-loss or fat reduction. The website basically just says how they use plant extracts for therapeutic benefits. At DietSpotlight, we need to see actual scientific proof that is documented or we simply turn the other way.
The Bottom Line – Does Univera Work?
Well, what's the word on this line, ladies and gentlemen? It's nice to see that Univera is intended to promote health and vitality, but we have reservations about recommending these supplements for weight-loss. There is simply no proof that supports these products. Furthermore, Univera is quite pricey and it does not appear to have a very solid return policy. These factors alone should raise a few eyebrows.
For those who need to lose more weight, we recommend a diet supplement that contains proven key ingredients, is affordable and is backed by positive customer feedback.
Among the best products we've seen in 2016 is one called Leptigen. This supplement contains a unique blend of four ingredients that have been proven in published scientific studies to help kick-start metabolism and enhance fat loss results. Moreover, we can't find any customer complaints of side effects and user comments found online reveal people are seeing solid results.
To boot, the company behind Leptigen is so confident in the ingredients that they're offering a Special Trial Offer, which is an amazing sign.