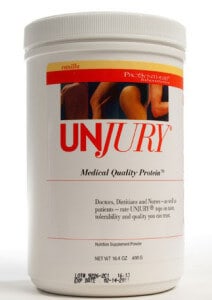 No joke – over 50% of diet products simple don't work. So what about Unjury? We wanted to know, so we took a look at all of the information we could find to create a complete review. We closely examined the ingredients, side effects, customer service and scientific studies. Moreover, we focused on hundreds of consumer and dieter responses from the internet. Lastly, we condensed all of the facts to give you the important details you need.
EDITOR'S TIP:
Click here
to combine Unjury with a proven fat burner such as Leptigen for better results.
What You Need To Know
To start, Unjury is a company that specializes in "premium quality" protein powders, as well as other vitamins. According to the official website, the supplements help with weight-loss and overall health. They claim to have the best taste and highest quality available. Chocolate, vanilla, strawberry sorbet, chicken soup and unflavored options are available. As for the price, a container sells for $22.95, which is 17 servings. You can add the mix to water, milk, coffee and other beverages at any time of the day.
Unjury has been available since 2008 and can be purchased via the official website. A 100% satisfaction guarantee is posted online. Also, single servings of protein powder are for sale, which is convenient, but read on…
Unpleasant Taste – "Be Aware?"
The first thing we noticed about Unjury ingredients was the less than desirable taste. According to our Research Editor, "There are numerous customer complaints posted online concerning the bad flavor and texture of Unjury protein powder. This is something that all dieters should be aware of before spending money."
One dieter commented, "The smell and taste made me very sick, so I refused to use it."
"This stuff tastes terrible," said another user.
Scroll below for one of the best products we've seen over the last year.
Results – "Nothing There"
From what we could gather, there are no clinical studies that show Unjury Protein supplements aid with weight reduction, which means the comments from dieters may not be far off the mark. According to one customer, "Many of the ingredients in this protein raise concerns in me – like the fructose and sucralose."
Another user stated, "It did not create a full feeling as advertised."
After doing plenty of research, we concluded that if a certain facet of a weight-loss supplement or diet program is especially burdensome or problematic (bad taste, lack of clinical backing, too many complaints) the chances of success are minimal. So, if Unjury is not what dieters expected, that could be enough to turn them away.
The Science – "Any Proof?"
Aside from Unjury protein being boasted as high quality on the official website, we could not pin down any real scientific research supporting this supplement for weight-loss. Since we were unable to locate clinical trials, we at DietSpotlight don't feel comfortable suggesting it.
The Bottom Line – Does Unjury Work?
Well ladies and gentlemen, what do we have to say this time? We are always excited to see a good protein supplement that can function as a meal replacement to assist with weight-loss, but there are definitely some customer complaints about Unjury. Not to mention, this formula does not appear to be supported with any clinical research and the taste is not the best.
If you need to get rid of excess body fat faster, we encourage you to go with a diet supplement that is backed by real science, does not cost a fortune and has positive customer reviews.
Among the best products we've seen in 2016 is one called Leptigen. It offers a unique blend of four key ingredients, which are proven in documented clinical studies to help increase fat loss and elevate metabolism. You should also be aware that we can't find any discussion of bad side effects and consumer reviews posted on the internet show people are seeing excellent results.
Also, we love that the makers of the formula behind Leptigen are so confident that they're offering a Special Trial Offer.