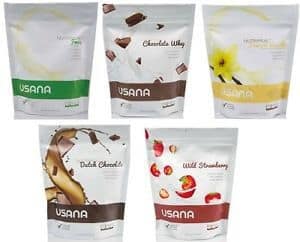 If you want the bottom line on Usana Nutrimeal, give me just two minutes of your time. We at DietSpotlight did one of our intensive reviews, examining the side effects, ingredients, customer care and clinical research. We also read countless dieter comments and user reviews we found posted online. At this point we summed up all of the facts and details to give you the info you actually need.
EDITOR'S TIP:
Combine Usana Nutrimeal with a proven fat burner such as
Leptigen
for better results.
What You Need To Know
Usana Nutrimeal is a meal replacement supplement that is available from USANA Health Sciences. This powder formula is available in chocolate, vanilla and strawberry flavors. It can be consumed daily in place of one or more meals. Each serving contains 240 calories, and the purpose of this product is to reduce your daily caloric intake so you lose weight. The nutrition facts are as follows; 7 grams of fat, 8 grams of dietary fiber, no cholesterol, 420 milligrams of sodium, 17 grams of sugar and 15 grams of protein. In order to use USANA Nutrimeal, you add three scoops of powder to 10-12 ounces of water.
From what we gathered, USANA Nutrimeal has been available since 2013. This product can be purchased via the official website or Amazon. It is gluten-free and it's a low glycemic food, which diabetics will appreciate, but read on…
High Price – Something to Consider?
According to our Research Editor, "The actual cost of USANA Nutrimeal is $32.95 per bag, which is only nine servings. If you use this supplement twice a day, a bag will only last for 4-5 days. This means you will be spending almost $200 a month on this shake. This is simply not affordable for many dieters."
One customer said, "How do people afford this? It's like $40 for 9 shakes."
"There are much more affordable meal replacement shakes out there," said another person.
Scroll below for one of the best products we've seen over the last year.
Another Concern – Unpleasant Taste
We noticed plenty of customer complaints about the taste of USANA Nutrimeal. One user stated, "Honestly wondering how anyone could rate this highly based on taste/texture/smell – yuck!"
Another customer commented, "Don't care for the taste of this shake. Not for me!"
Our research has proven that if there is a certain aspect of a diet product or weight loss program that is especially problematic (high price, unpleasant taste, a difficult or painful exercise) the likelihood of lasting weight loss is slim. So, if USANA Nutrimeal does in fact taste bad to a lot of people, this could be a major problem.
Any Real Science?
At DietSpotlight, we need to see some published science that supports the diet product and how it works. However, there is no scientific research or study results presented with USANA Nutrimeal. Therefore we cannot get behind the weight loss claims made about this meal replacement supplement.
The Bottom Line: Does Usana Nutrimeal Work?
So, should you run out and buy USANA Nutrimeal? Well, we like that USANA Nutrimeal is easy to find online and we appreciate the customer testimonials we found on the main website. However, we can't ignore that it's not backed by any science. Also, we're concerned about this product's high price and less-than-savory taste.
If you'd like to get rid of more pounds of fat, we suggest you go with a product that is backed by solid scientific research, sells at an affordable price and comes with great customer service.
Among the best products we've seen in 2016 is one called Leptigen. This supplement uses four potent ingredients, which have been shown in documented clinical research to increase metabolism and enhance fat loss. We can't find any complaints of negative side effects and user comments on the internet indicate people are seeing excellent results.
The makers of Leptigen are so sure about their product they're offering a Special Trial Offer, which is a good sign.