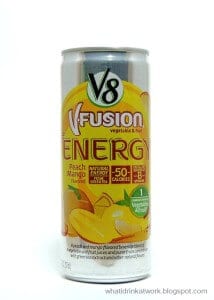 V8 Fusion Energy Drink is one diet product I will surely never forget. We did one of our in-depth reviews, taking a close look at the ingredients, side effects, level of customer care and scientific research. We also examined numerous user comments from all over the internet. At this point we summed up the data we collected to give you the information you need.
EDITOR'S TIP:
Substitute V8 Fusion Energy Drink with a proven testosterone booster such as
Pronabolin
for better results.
What You Need To Know
First off, V8 Fusion Energy Drinks are available in flavors such as concord grape raspberry, strawberry banana and pomegranate blueberry. The ingredients found in V8 Fusion Energy Drinks are green tea extract, reconstituted fruit and vegetable juice, natural flavoring, sucralose, vitamins and minerals. Each serving has 50 calories. A 24-pack sells for around $16 online and each can provides eight fluid ounces. This beverage can be consumed at any time during the day to help boost energy levels.
The V8 Fusion Energy Drink first emerged around 2012. The best place to make a purchase is in your local grocery store. This beverage is rich in B vitamins and does not have any added sugar. No artificial colors or flavors are used, but read on…
Bad Taste – "Big Problem?"
Our first consideration with V8 Fusion Energy Drinks ingredients is the fact that people just don't like them. "Looking at dozens of customer reviews has made it clear that many people do not like the taste. This presents a serious problem, because no one wants to consume a daily beverage that's bad," says our Research Editor.
According to one customer, "There was not much flavor, compared to the aftertaste which was horribly nasty."
"That one word, 'sucralose' says it all for me as it gives this drink a terrible after taste," said another person.
Yet another complained, "It had a really strong chemical like taste."
Scroll below for one of the best products we've seen over the last year.
Artificial Sweeteners – "Another Concern"
Many people despise the taste of artificial sweeteners and some are more concerned about the health issues or side effects. For instance, one consumer stated, "I found out that it has Splenda in it. I dumped the bottle down the sink. This is suppose to be a health product."
Another said, "It's POISON. Problem is it has sucralose in it. Why do producers continue to put poisons in foods?"
According to our research, if there is a specific part of a supplement, energy drink or workout program that is quite bothersome (foul taste, steep price, artificial sweeteners, painful exercise) the chances of long-term results are not good. This means if V8 Fusion Energy Drink just isn't palatable, this could prove to be a substantial problem.
The Science – "Clinical Proof?"
While everyone knows that fruits and vegetables are healthy and provide antioxidants, we could not locate any scientific research that supports V8 Fusion Energy Drinks. Even though this beverage may provide some energy since it contains caffeine, it will unlikely do more than a cup of coffee. Here at DietSpotlight, we prefer to see concrete evidence of clinical studies before we get behind a product or supplement.
The Bottom Line – Does V8 Fusion Energy Drink Work?
So, should you buy V8 Fusion Energy Drink? Well, we like that the V8 Fusion Energy Drink is easy to purchase online and in stores and it does contain fruits and vegetables, but we are concerned about the numerous customer complaints regarding the taste of this beverage leaving us with skepticism about giving this one our recommendation. Furthermore, the sucralose used in this obviously bothers a lot of people.
Among the best products we've seen in 2015 is one called Pronabolin. The formula is a proprietary blend of nine ingredients clinically proven to help you reclaim energy and naturally boost testosterone levels. There's no talk of adverse side effects and comments all around the internet show people are seeing great results.
Also, the makers of Pronabolin are so confident in their product they're offering every customer a 120-day money-back guarantee and multiple-bottle discounts.