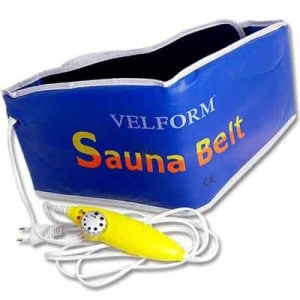 If you haven't looked carefully at the Velform Sauna Belt, now's your chance. We created a comprehensive review, examining the side effects, ingredients, scientific research and level of customer service. Also, we looked at hundreds of user reviews and customer responses from around the internet. Finally, we condensed all the data and comments we discovered to give you the facts you need.
EDITOR'S TIP:
Combine Velform Sauna Belt with a proven testosterone booster such as
Pronabolin
for better results.
What You Need To Know
The Velform Sauna Belt is a fitness device that straps around the midsection or other parts of the body you wish to address. The purpose of this belt is to lock in heat and increase perspiration. This in turn flushes toxins out of the skin, pulls retained water weight from the tissue and is intended to promote weight loss as well. This belt can even be used on sore muscles to help relieve pain. The Velform Sauna Belt can be strapped around the abdomen, back, hips and waist areas to help increase the intensity of workouts. It can also be used on the thighs to address cellulite.
We're not sure when the Velform Sauna Belt was first released, but it is available on Amazon for $26 (plus $5 for shipping and handling). This belt is easy to travel with and it's suitable for both women and men, but read on…
User Complaints – A Concern?
According to our Research Editor, "We found a high number of customer complaints posted online about the Velform Sauna Belt. Some users even complained of this belt smoking and burning them. This is a major red flag."
"I did sweat a little bit; but I got nasty heat burns on my waist. I didn't sweat as much, which makes me wonder: What kind of SAUNA doesn't make you sweat hard?," said one customer.
Another user stated, "While I was using it I noticed a burning smell. The wires were burning through and almost on my skin."
Scroll below for one of the best products we've seen over the last year.
Lack of Real Results
There is no actual proof that the Velform Sauna Belt increases the intensity of your workout. One user said, "It sucked, it feels like a heating pad. No results. You might as well go to a real sauna then."
"Waste of money!!! Does not work!!! Gonna return this!! Has very short cord so you have to sit very close and if you move a little, plug comes out and you have to start all over," said another person.
Our research has proven if there is a certain aspect of a fitness device or diet program that is especially concerning or difficult (user complaints, lack of real results, too many side effects) the odds of long-term success are not very good. Therefore if Velform Sauna Belt does cause a lot of customer complaints and fails to yield real results in numerous users, this could be a major deal breaker.
The Science – Solid?
At DietSpotlight, we like to see documented research that proves the product in question actually works. Unfortunately we did not find any real science to support the Velform Sauna Belt and its fitness claims.
The Bottom Line: Does Velform Sauna Belt Work?
So, should you buy the Velform Sauna Belt? Well, we like that the Velform Sauna Belt is easy to purchase online and it can be strapped on different parts of the body. However, we are concerned because it's not backed by any real science. Moreover, the numerous customer complaints and lack of user results are serious drawbacks.
If you're ready to really improve strength, vitality and stamina, we encourage you to go with a product that is backed by real science, has plenty of positive user reviews and comes with great customer service.
Among the best products we've found in 2016 is one called Pronabolin. This supplement uses a proprietary blend of nine ingredients, which are clinically proven to help you reclaim energy, enhance strength and naturally elevate testosterone levels. There are no complaints of unpleasant side effects and user comments posted online show people are seeing solid results.
Also, the makers of Pronabolin are so confident in their product they're offering every customer a 120-day money-back guarantee and multiple-bottle discounts.