Updated: 09/29/2015 - Sponsored by Leptigen
Vi Shape Review - Does This Meal Replacement System Work?
Are cost and long-term side effects deal breakers?
PUBLISHED: 09/15/2015 | BY: SUMMER BANKS, SENIOR REVIEWER
Editor
's Review:
3.5
/ 5.0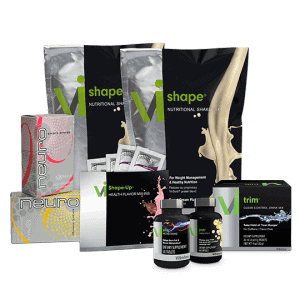 Vi Shape has only been on the market for a few years, but it's already generating a lot of interest, so we conducted an in-depth review of Vi Shape's history, ingredients, side effects, taste, and clinical studies to see if this was a product we could recommend to our readers. We also looked at online reviews from current and former users of this meal replacement supplement and summarized what we found to provide you with the information you'll need to make a decision.
EDITOR'S TIP:
Combine Vi Shape with a proven fat burner such as
Leptigen
for better results.
What You Need to Know
Vi Shape is a meal replacement shake that contains a protein blend, soy protein, pre-biotics, aminogen, vitamens, and fiber. It's meant to be taken 1-2 times per day as a meal replacements shake, and it only contains 90-140 calories per 2-scoop serving. It can be consumed anywhere and it's easy to mix.
Vi Shape is produced by ViSalus, and has been around for about 5 years. These shakes are meant to curb your appetite and reduce your daily caloric intake which can help you lose weight. Their products seem to taste OK to most customers, and many people do see weight loss results, but read on…
Price – "Yee-Ouch"
Vi Shape is distributed by consultants as part of their Multi-Level Marketing structure. While we don't have an issue with MLM companies, this particular product can only be purchased in large quantities or at an exorbitant markup. If you're unable to find a friend that is a consultant, you're likely to pay $150 a month for the meal replacement shakes, which is 3-5 times what other meal replacement shakes cost per month. "Many customers do lose weight with these shakes," said our research editor, "but at $150 a month, you'll struggle to keep stocking up on Vi Shape products."
"The MLM strategy is frustrating and makes these products cost way too much," said one user.
"I feel like the pyramid scheme of MLM makes these cost more than they should," said another.
Scroll below for one of the best products we've seen in 2015.
Long Term Side Effects – Another Concern
It's not unusual for a product to have some negative side effects in some customers, but the wide spread nature of Vi Shape's negative side effects quickly became apparent. In addition to the standard complaints of stomach pain or jitters, there are also some more serious complaints. "I'm sitting in the hospital prepping for a liver transplant that the doctors think was caused by Vi Shape meal replacement shakes," said one customer online.
"Vi Shape lead to blurry vision and partial vision loss in addition to various other health issues," said another. There were several reviews with similar complaints, and the serious nature of these reviews had us worried. Another customer lost weight without side effects, but had her own complaint as well: "I lost 20 pounds with Vi Shape, but a lot of it was muscle weight. Because of the dangerously low caloric content, Vi Shape forces your body into starvation mode, which can have unintended negative consequences."
While researching diet supplements and weight loss routines, we've found that whenever there is something particularly troublesome about a supplement or work out (poor taste, long term side effects, high cost, difficult to find products, etc.) the likelihood of long-term, sustained success is slim. If Vi Shape really does cause these long term health issues, it could make it difficult for dieters to achieve their long-term weight loss goals with these meal replacement shakes.
If you are convinced to try Vi Shape, we recommend you consult with your doctor prior to beginning this meal replacement diet. Take a list of the ingredients in Vi Shape, and make sure that your body can handle these shakes before you buy them.
The Science
Vi Shape's claims aren't exactly backed up by clinical studies and unbiased research, but science has proven that minimizing caloric intake will help you lose weight. These shakes do a good job at helping you replace your meals with lower calorie options, but they may take it too far. There's also scientific research out there that states that too much of a calorie deficit can be dangerous for those trying to lose weight. We'd also like to see some information proving that Vi Shape works better than more affordable meal replacement shakes, but we were unable to find that information in the form of a published study. When we don't see published research or clinical trials proving a company's claims, it's difficult to believe their weight loss claims or that their high price is worth it.
The Bottom Line
We like the longevity of the company behind Vi Shape, and their shakes are easy to mix and seem to taste pretty good for a meal replacement shake, but we can't ignore the lack of data backing their claims. We're also concerned about the high price because of the MLM distribution, the alarming negative side effects, and the long term dangers of taking this product.
If you're looking to slim down and lose weight, we suggest you start on a supplement that delivers on their promises and offers an affordable solution that offers realistic weight loss claims backed by published research.
One of our favorite products of 2015 is called Leptigen. This weight loss supplement contains a proprietary blend of four powerful ingredients that help you lose weight by burning fat and boosting metabolism. Leptigen's claims are all based on published trials and research, and the ingredients are safe for short-term and long-term health, with no known side effects. The reviews online are full of positive comments from satisfied customers that have lost weight with Leptigen.
The makers of Leptigen are even providing a limited time special trial offer, which is a great way to start trying this new product.