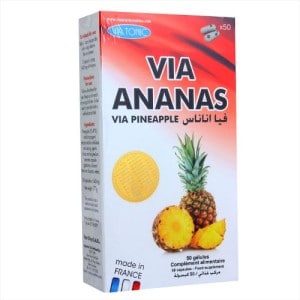 Diet products either work or they don't. Period. Let's find out which one Via Ananas is. We decided to turn our attention toward ingredients, side effects, clinical research and customer service quality. Additionally, we sorted through hundreds of user reviews and comments. Then, we condensed and summarized to give you the info you need.
EDITOR'S TIP:
Substitute Via Ananas with a proven fat burner such as
Leptigen
for better results.
What is Via Ananas?
Via Ananas is a fat burner containing pineapple, microcrystalline, cellulose, silica and magnesium sterate. The recommended serving is two capsules per day, supposedly resulting in weight-loss. The blister packs makes it easy to take anywhere.
There's no information as to when Via Ananas hit the shelves, but the parent company, Stambouli Enterprise, has been operating for more than 40 years. The supplement is sold through multiple online retailers. We like the longevity of the company and that is contains some natural ingredients, but read on…
Side Effects – "Not So Good?"
The first concern was Via Ananas side effects. "When the main ingredient is pineapple, one thinks is basically safe," said our Research Editor. "But if the formula causes negative reactions, dieters may simply walk away from it."
"My mouth became dry and I had an upset stomach," stated a user.
"I did start to get a little moody while taking it," said a consumer.
Some customers tried the supplement and didn't experience adverse reactions.
"This is my 5th day using Via Ananas and I am not having any symptoms or side effects," commented a dieter.
"No side effects so far, everything is good," stated another.
Scroll below for one of the best products we've seen over the last year.
Ineffective Ingredients – "No Results?"
One of the concerns mentioned by customers in the forums was the ineffectiveness of Via Ananas ingredients. "No changes at all in my appetite or my weight", said one dieter.
"I tried it and didn't see any real differences in my weight," stated a user.
"Tried it for a week and it's useless," reported a customer.
While some customers didn't like the lack of results, we found some users noticed the effects.
One user said, "I tried it and it works. Lost some weight"
"Pretty good product, I noticed some results," commented another.
We're researched thousands of supplements and have found that all it takes is something minute, like ineffective ingredients, to limit the chances of long-term success. If the formula in Via Ananas doesn't produce results, it's a bit concerning.
The Science – "Not Solid"
When we visited the official website, we found information relating to the benefits of Via Ananas, but no scientific research proving the supplement helps with weight-loss. There are studies about the compound found in pineapples, bromelain. According to Department of Pathology, Duke University Medical Center, "the potential efficacy of bromelain…has not yet been tested rigorously."
At DietSpotlight, research is a critical part of the review process. If there are no studies, we become skeptical about it.
The Bottom Line – Does Via Ananas Work?
So here's our final thoughts on Via Ananas. Well, we like the longevity of the company and that we found some favorable customer comments, but the lack of scientific research makes us a bit skeptical about this one. We're also concerned about customers talking about negative side effects and a formula not producing results.
Are you wanting to jump start your weight-loss journey? If so, consider a supplement containing some clinically-tested ingredients and no reports of adverse reactions.
Among the best products we've seen in 2016 is one called Leptigen. The supplement contains some clinically-tested ingredients and has been shown to work. We couldn't find customers talking about negative side effects, but we did find that some are seeing great results.
Plus, the makers of Leptigen are so confident in their product they're offering new customers a Special Trial Offer. This is always something we like to see.