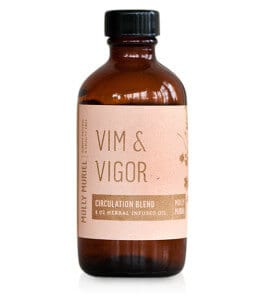 A brand name recently came up–Vim and Vigor–that I hadn't heard of before, and an acquaintance of mine said that these supplements were free of stimulants. After I heard the words "stimulant free," I was all ears, so I decided to do an in-depth review of Vim and Vigor's weight loss products. I looked for ingredient information and clinical studies and read up on side effects. Then I tried to find out a little bit about the company itself and to search for customer reviews. Here's the condensed version of that research.
EDITOR'S TIP:
Combine Vim And Vigor with a proven fat burner such as
Leptigen
for better results.
What You Need to Know
Vim and Vigor produces 5 supplements under their "Weight Loss" category: Collagenate, CitriCare, Ab Igniter Fat Burner, Body Contour Cream, and Calorad Caps. For more information on Collagenate, you can read our Collagenate review. Here's a quick break-down of the other four products:
• CitriCare
This is a "natural citrus seed extract made from lemon, lime, tangerine, and grapefruit seeds," according to vimandvigor.com. It claims to help burn fat and costs $25 for a 1 fl. oz. bottle–that is the extent of the information available online.
• Ab Igniter Fat Burner
Ab Igniter claims to boost your body's thermogenic properties with green coffee extract, raspberry ketones, and garcinia cambogia. A month's supply costs $25.
• Body Contour Cream
Allegedly, it's designed to "firm, tighten and tone the skin" to "improve the appearance of cellulite and loose or dimpled skin." The ingredients are collagenate and herbal aloe gel (quantities not disclosed), and you rub the cream on your troublesome areas 2-3 times a day. A 5.9 oz. bottle costs $95.50.
• Calorad Caps
Collagen, glycine, L-lysine, HCI, L-Arginine, and L-Glutamine supposedly burn fat in this supplement. Three capsules are taken before going to sleep each night (no food should be consumed within 3 hours of taking them). A 30-day supply costs $47.00
Vim and Vigor has been in business for over 20 years (although an exact start date isn't listed), and Rick and Karla Jarrett are behind the company. The products are all fairly simple to take, and each supplement is easy to order online. We also like the longevity of the business, but read on…
Lack of Information–Should We be Concerned?
One of our initial concerns was that Vim and Vigor doesn't supply thorough enough information online about their products. "We rely heavily on data from the manufacturers themselves when doing reviews," our research editor said. "When it comes to ingredient quantities and research, we like to see a business be as forthcoming as possible."
CitriCare, for instance, only lists that citrus seed extracts are used but not the quantities. According to the NIH, citrus seeds can have an impact on obesity and weight loss but only in the correct dosage. We also aren't given any information that would lead us to purchase this extract over the many others available (for much cheaper) on the market.
Body Contour Cream is another example. Improving dimpled, loose, or cellulite-plagued skin is a lofty claim, and Vim and Vigor doesn't offer much information about how that is accomplished. Why should we spend $95 on a cream with aloe and collagen? Is it better than other clinically studied creams?
Scroll below for one of the best products we've seen over the last year.
Our Second Concern–Do Vim and Vigor Products Work?
There seems to be very little information from customers as to whether or not Vim and Vigor products have much effect. Colleganate, the most popular Vim and Vigor product, has spotty reviews itself, but the other four weight loss supplements have hardly any at all.
The single reviewer on Yelp says, "It doesn't work, and the owner recites the same lines each time I call. Reading from a script! Really?" Reviews on CitriCare, Body Contour Cream, and the others are nearly impossible to find.
Does Science Back Vim and Vigor?
While we were able to find research on www.ncbi.nlm.nih.gov about the anti-aging properties of collagen, we couldn't find research that showed a positive effect on weight loss. Some other weight loss ingredients in Vim and Vigor products, such as raspberry ketones, simply haven't been shown to play a significant role in burning fat.
What's the Bottom Line?
Vim and Vigor looked interesting at first because of the unique focus on collagen, but we haven't found enough information about collagen's impact on weight loss. If collagen does have other helpful uses, then great! We are simply investigating the weight loss claims of these four products. Some of the other ingredients–raspberry ketones, for instance–have questionable ties to fat-burning as well, and others, like green coffee extract and grapefruit seed extract, aren't worth Vim and Vigor's price.
If you need a fat burner, try one that's been proved to do just that–burn fat. Potent ingredients and clinical research are a big part of that.
One of our favorites from the last couple of years is something called Leptigen. It combines four powerful ingredients to burn fat and boost metabolism, and each of them has been clinically studied. The online reviews look great, and there aren't harmful side effects.
If you try it soon, you can take advantage of the special trial offer.