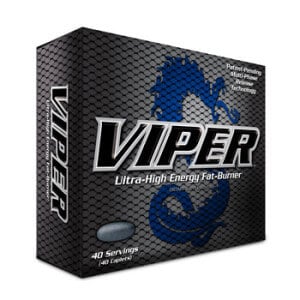 You may be surprised by what's said in this Viper review. We took the time to analyze the ingredients, side effects, scientific research and quality of customer service. In addition, we concentrated on hundreds of consumer comments. Then, we summarized and condensed to give you the info you need.
What You Need to Know
To start, Viper is a fat burner containing caffeine, synephrine, theobromine, guarana seed, phenylalanine, xanthine, zingiber, cayenne, yohimbe hcl, bioperine, maximowizia chinensis, phaseolus vulgaris, r-alpha lipoic acid, guggulsterones, rhodiola rosea root, tyrosine ethyl ester, l-carnitine, thiamine disulfide and thiamine trisulfide. The recommended serving is one capsule per day, which may promote weight-loss. You can use the supplement on the go, a positive.
There's limited information about when Dymatize Nutrition introduced Viper, but the business was founded in 1997. You can no longer purchase the supplement on the official website, but you can visit other online retailers. We like that the company includes a few natural ingredients and that we located some favorable customer comments, but read on…
Ineffective – "Any Results?"
The first negative aspect with Viper ingredients was ineffectiveness. "You've headed into the store and purchased a supplement that you're willing to give a try," said our Research Editor. "Only this time you don't see the results the company claims. That could be quite the problem."
"Really didn't care for this product. Not a whole lot of energy and overall left me feeling drained most of the day," commented a customer.
"This product did next to nothing for me. Maybe a small energy perk, but other than that nada," stated a user.
Scroll below for one of the best products we've seen over the last year.
Side Effects – "Feeling Bad"
We also found that dieters tell quite the story about Viper side effects. "If you don't mind feeling dehydrated and having a kind of shaking feeling after a workout, this is a great product to try," reported a user.
"It increases your heart rate, being inactive makes you feel kinda sick," commented a consumer.
We've researched hundreds of supplements and we've found that something minute, like a simple side effect, could derail long-term success. If Viper causes reactions, will dieters continue to use it?
Is the Science There to Back Up Claims?
Based on the official Viper website, the product is tested by a team of scientists, but there's no published clinical research supporting weight-loss claims. There are studies proving the effectiveness of caffeine, but none that prove this formula is any better than other caffeinated supplements. At DietSpotlight, finding science is critical. If a company can't provide proof, there's a concern.
The Bottom Line – Does Viper Work?
Is the car engine revving for this one? We've conducted the research on Viper and here are our findings. We like that we found some positive customer comments and that the company has been operating for years, but we are hesitant about recommending a supplement not supported by clinical studies. Additionally, we're concerned about the product not being effective and that there are potential side effects.
If you're at the point that you want to lose more weight, we suggest trying out a supplement that offers clinically proven ingredients that have no side effects to worry about.
Among the best products we've seen in 2016 is one called Leptigen. The supplement contains a formula consisting of a four-ingredient proprietary blend, which published scientific research has shown helps to boost metabolism and ignite fat loss. There's no talk of harmful side effects and from customer comments on the web, we found people are noticing excellent results.
Plus, the company behind Leptigen is confident enough in the formula to offer a Special Trial Offer, which is a good thing.