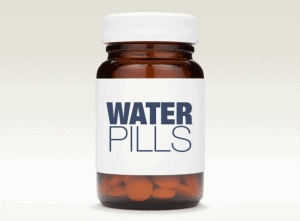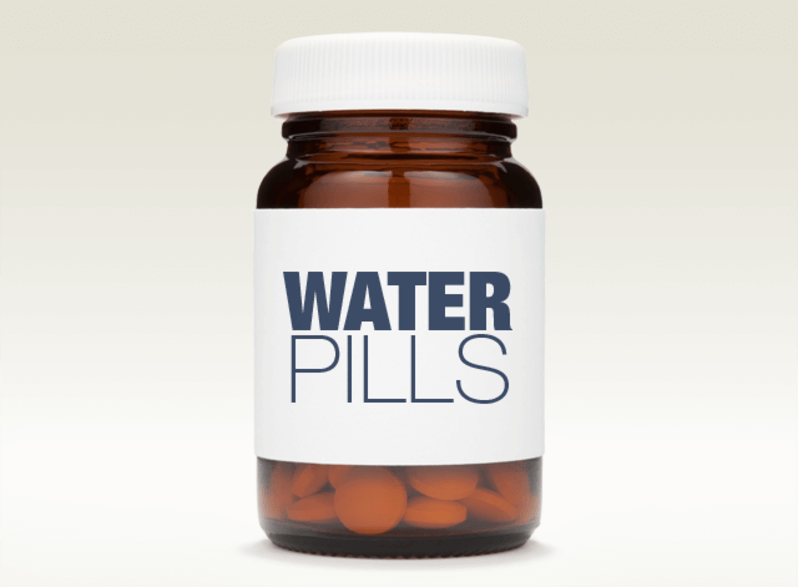 Diet products either work or they don't. Period. Let's find out which one Water Pill is. We created a comprehensive review, scrutinizing the side effects, ingredients, clinical studies and customer-service quality. Also, we looked at hundreds of dieter comments and user reviews we found posted online. At this point we compressed the facts and feedback we found to give you the info you need.
EDITOR'S TIP:
Substitute Water Pill with a proven fat burner such as
Leptigen
for better results.
What You Need To Know
A Water Pill is a diuretic that is often used for lowering high blood pressure, reducing retained water weight, flushing out unneeded salt and treating certain heart conditions. There are all sorts of Water Pills available in local stores and online. These products typically cost $10 to $20 per bottle. The common ingredients used in Water Pills include Dandelion Root Extract, Bucchu Leaves, Caffeine Anhydrous, Juniper Berry Extract and Green Tea. Potassium and electrolytes may be added to help prevent dehydration. A Water Pill can help reduce puffiness, bloating and water weight gain that is linked to menstrual cycles. Typically these pills are taken one to three times each day.
Water Pills have been around for many years and they typically do not require a prescription. Many of these products contain natural ingredients and they are easy to take anywhere, which is convenient, but read on…
Side Effects – Concerning?
According to our Research Editor, "There are some common side effects that occur with Water Pill products. According to WebMD, these adverse effects include the following; dizziness, dehydration, muscle cramps, blurred vision, loss of appetite, skin rash, nausea, vomiting and headache."
One user commented, "All it did was spin me like a top. I was dizzier than a bar fly."
"It causes you to expel water, alright. But in the form of watery diarrhea. And it takes a couple of hours to expel all the liquid, so you're running (literally) back and forth to the bathroom," said another customer.
Scroll below for one of the best products we've seen over the last year.
Too Many Customer Complaints
Unfortunately we found plenty of user complaints posted on dealer websites such as Amazon. One customer stated, "I tried it, did not work. I increased my water intake and still, I got nothing. You get what you pay for."
Another user said, "This "water pill" did not work. It also caused constipation. Do not buy this product. It is a waste of money."
The extensive research we have done has proven if there is a certain aspect of a diet product or weight loss supplement that is very concerning or problematic (side effects, customer complaints, bad taste) the likelihood of real weight loss results for the long run is slim. In other words, if Water Pills do result in too many customer complaints, this could be a serious issue.
The Science – Solid?
Well, first of all, there is some science that supports Water Pills for getting rid of retained water weight and lowering blood pressure. On the other hand, there are no clinical studies that prove these pills promote fat loss and long-term weight management. This is a factor that should not be overlooked.
The Bottom Line: Do Water Pills Work?
So, should you run out and buy Water Pills? Well, we appreciate that these pills have been around for many years and there are some positive comments posted online. But we have some reservations about Water Pills because they are not backed by real science as fat-loss aids. Furthermore, we're concerned about all of the customer complaints and common side effects.
If you'd like to shed more pounds of fat, then we suggest you try a diet supplement that does not cause harsh adverse effects, contains clinically proven ingredients and is supported by plenty of positive customer reviews.
Among the best products we've seen in 2015 is one called Leptigen. This supplement uses four unique ingredients, which have been shown in documented clinical research to help boost metabolism and increase fat loss. You should also know that we can't pinpoint any talk of harmful side effects and user reviews posted on the internet reveal people are seeing excellent results.
The makers of Leptigen are so positive about their product they're offering a special trial offer, which is uncommon.