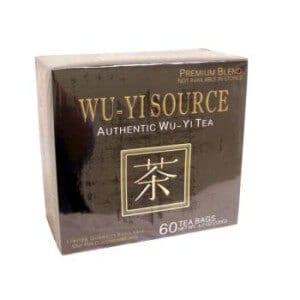 Wu Yi Source Tea is a diet product I will surely never forget. Here at DietSpotlight, we conducted an in-depth review of the side effects, ingredients, customer care and scientific studies. We additionally read dozens of dieter responses from all over the internet. At this point we summarized and compressed all the data to give you the bottom line.
EDITOR'S TIP:
Click here
to combine Wu Yi Source Tea with a proven fat burner such as Leptigen for better results.
What You Need To Know
To begin, Wu Yi Source Tea is a weight-loss aid that helps flush out the colon, boost metabolism and burn off fat. The core ingredient in this herbal tea is oolong tea leaves. It provides some antioxidants, which help prevent free radical damage. To use it, you simply add one tea bag to a cup of hot/boiling water and allow to steep for 5-10 minutes before drinking.
We are unsure when Wu Yi Source Tea was first available, but it has been around for many years. It is available online for around $5 to $10 per box. Both women and men can use it on a daily basis. The formula does provide some beneficial antioxidants and some people enjoy the flavor, but read on…
Poor Customer Service – "A Concern?"
The first issue we found with Wu Yi Source Tea was the number of reports of poor customer service. "If a company doesn't give the customer the support they8 need that is more than enough reason to go with another product," says our Research Editor.
One customer stated, "Bad product, will never buy this again, when I checked the item was expired."
"You won't get your money back if you don't like this tea. Trust me. Not good customer service," said another user.
Scroll below for one of the best products we've seen over the last year.
User Feedback – "Negative"
There are plenty of discouraging user reviews for Wu Yi Source Tea. According to one person, "I wouldn't bother purchasing this again. The product was past its 'best by' date. I did not think it was worth it for me."
"If you're looking for weight-loss support, look elsewhere," commented another customer.
According to our research, if there is some particular part of a weight-loss tea or diet program that is very bothersome (a painful/difficult exercise routine, poor customer service, negative user feedback) the chances of real long-term success are not good. In other words, if Wu Yi Source Tea does lack support, this could be a problem.
The Science – "Any Clinical Evidence?"
There is no actual science presented with Wu Yi Source Tea that supports this product as an effective weight-loss aid. On the other hand, this herbal tea may help combat harmful free radicals in the body. Then again, for us at DietSpotlight, we need to see some actual clinical studies that support the formula for weight reduction.
The Bottom Line – Does Wu Yi Source Tea Work?
So, should you run out and buy Wu Yi Source Tea? Firstly, we appreciate that this tea is all natural and it does provide some antioxidant protection against damaging free radicals but, we have some reservations because it's not backed by actual scientific research. Also, we're concerned about the poor customer service and negative user feedback we found posted on the web.
If you'd like to lose more pounds of fat, we advise you to choose a weight-loss supplement that is supported by numerous user testimonials, comes with great customer service and contains clinically proven ingredients.
Among the best products we've seen in 2016 is one called Leptigen. Its formula is a unique combination of four potent ingredients, which have been shown in documented clinical research to help increase fat loss and ignite metabolism. We have not found any talk of unpleasant side effects and user comments around the web show people are seeing substantial results.
The makers of Leptigen are so satisfied with their product they're offering a Special Trial Offer, which is a good sign.