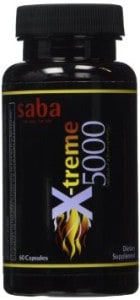 I did two things this week. I obsessed over every aspect of Xtreme 5000. Then I wrote this review about it. We focused on ingredients, side effects, scientific research and customer service. Additionally, we turned our attention to hundreds of consumer reviews and comments. Then, we summarized and refined to give you the info you need.
What You Need to Know
First off, Xtreme 5000 is a fat burner containing black pepper extract, chromium, green tea extract, guarana extract, l-tyrosine, methyl synephrine hcl, phenylethylamine hcl, raspberry ketone, synephrine hcl, theobromine, B-vitamins and yohimbe extract. According to the label, you take one capsule per day, which supposedly sparks weight-loss. One of the benefits is the supplement contains natural ingredients.
The supplement, introduced as a fat burner in 2001 by AMS Health Sciences, contains some natural ingredients, a good decision. You can shop for the product on the official website, through trusted retailers and distributors. We like that the company has been in business for years and that we located some positive customer comments, but read on…
Ineffectiveness – "Where's The Weight-Loss?"
The first concern about Xtreme 5000 ingredients was ineffectiveness. "We're not sure what dieter out there would take a supplement that doesn't work just to do it," said our Research Editor. "You are looking to have results, not to waste money."
"I am very unhappy with my purchase I was eating right and taking these supplements and I never lost a pound," stated a user.
"I have been taking this product for approximately 20 days along with diet and exercise but I have not seen any results to date," said a customer.
Scroll below for one of the best products we've seen over the last year.
FDA Warnings – "Hold Up!"
The Food and Drug Administration contacted AMS Health Sciences in November of 2013 about violations of the Federal Food, Drug, and Cosmetic Act. The FDA mentioned that, according to the website, "the products are drugs because they are intended for use in the cure, mitigation, treatment, or prevention of disease," based on descriptions and claims. All appropriate changes have since been made by the company.
Side Effects – "Something's Wrong"
Customers commenting on the web reported Xtreme 5000 side effects were a bit troublesome. "Switched to the Xtreme 5000, will NEVER take again! I had an allergic reaction and actually passed out in a store! Had major jitters for hours after and was nauseas!," commented a dieter.
"OMG!! This stuff made me very nervous, and jittery!! Had panic attacks and diarrhea! Plus cold sweats, my feet are even sweating!! Will not take this product again," said a user.
"I thought I would try the X 5000 hoping to get a little more benefit from it. I was only able to take it for two days. It made me feel as though my individual cells were all vibrating at once. It made me extremely jittery and nauseous. I had to stop taking it," claims a consumer.
Throughout our research, we found that something small, like side effects, could reduce your chances of long-term success. If Xtreme 5000 causes negative reactions, this is problematic.
The Science – "Clinical Evidence?"
After investigating the official Xtreme 5000 website, we found that the company doesn't provide published clinical research supporting weight-loss claims. There are bigger concerns, considering several of the Xtreme 5000 ingredients can cause side effects. According to the National Center for Complimentary and Integrative Health, "There have been reports of fainting [and heart-related issues] in healthy people after taking bitter orange supplements alone or combined with caffeine." At DietSpotlight, science is the critical piece of the puzzle. If there are no studies, we don't bother with it.
The Bottom Line – Does Xtreme 5000 Work?
Take your foot off the gas pedal for a minute. We took a close look at Xtreme 5000 and here's what we saw. We like that the product contained a few natural ingredients and that we located some positive customer comments, but we have reservations about recommending it because there's no published clinical research supporting weight-loss claims. Plus, we're concerned that the supplement could cause side effects.
If you'd like to lose those extra pounds, we suggest going with a product that is backed by published scientific research with no known adverse reactions of any kind.
Among the best products we've seen in 2016 is one called Leptigen. The supplement contains a four-ingredient proprietary blend, which has been shown in published studies to help jump start metabolism and ignite fat loss. There's no talk of adverse side effects and dieter reviews show people are seeing great results.
Also, the company behind Leptigen, in a good sign of confidence in the supplement, is providing a Special Trial Offer.