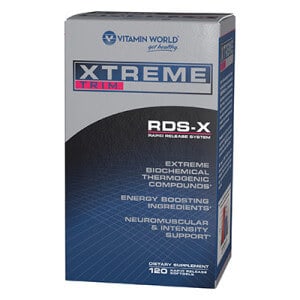 Guess what I did with my weekend? Well, I overheard a friend talking about Extreme Trim RDS-X at work on Friday, so I had to do an in-depth review to alleviate my curiosity. It looked pretty interesting. I did a check on the ingredients, looked for the risks of side effects, and tried to find some clinical research. After that, I read up on as many customer reviews as I could find and looked into the company that makes it. Here's the sum of my research.
EDITOR'S TIP:
Combine Xtreme Trim RDS X with a proven fat burner such as
Leptigen
for better results.
What You Need to Know
To begin, Extreme Trim RDS-X is a thermogenic fat burner, which basically means that it increases the "heat" inside your body to promote fat loss. Heart rate, blood pressure, and metabolism are all influenced by the stimulants in thermogenic supplements. The list of ingredients is pretty lengthy, so here you go:
• Xtreme RDS-X Burn Blend: Caffeine, Green Tea Extract, Cayenne Pepper, Xanthinol Nicotinate, and Black Pepper Extract.
• Xtreme RDS-X Amped Blend: Soybean Oil, White Quebracho, Ginkgo Biloba Extract, Huperzine, and Phosphatidylserine.
• Xtreme RDS-X Melt Blend: White Willow, Soy Lecithin, Indian Elecampane Extract, Sesame Oil, Gotu Kola Extract, and Hoodia Gordonii.
• Xtreme RDS-X Activation Blend: Evodia Extract, Codonopsis Extract, Inositol Hexaphosphate, Yohimbe, and Cnidium Extract.
Although some ingredient amounts are listed specifically, each of these blends is proprietary, so we don't know exactly how much of each ingredient is present (there wouldn't be enough room on the label anyway!). One plus is that Xtreme Trim RDS-X is simple to take–no mixes or powders.
A company called Vitamin World makes Xtreme Trim RDS-X, and Vitamin World has been around since 1976. It's currently based in Bohemia, New York. One bottle of the supplement should last you a month (take two pills, twice per day for optimal results), and each costs $52.99 online. We like the longevity of the company–it's certainly easier to trust a company that has been around since 1976–and the pills seem easy to use. We also like the comprehensive nature of the ingredients list, but read on…
"Too Much Caffeine?"–Our First Concern
Our first concern when we looked at the label was the amount of caffeine. "There's nothing unusual about finding caffeine in a supplement. In fact, it's almost a necessity!" said our research editor. "However, the dosage found in Extreme Trim is excessive, and I would be surprised if side effects weren't an issue." Xtreme Trim RDS-X contains 195 mg of caffeine, well beyond the average amount in supplements.
Caffeine can stay in your system for as long as 14 hours, according to WebMD.com. That being said, you need to plan your two doses of Xtreme Trim very carefully during the day or you might have trouble sleeping at night. Furthermore, if you're normally sensitive to caffeine or have blood pressure problems or heart irregularities, stay away from this high dosage of caffeine.
Scroll below for one of the best products we've seen over the last year.
"Where Are All the Reviews?"–Another Issue
As you know, reviews usually play an important part in our research; but this time around, we were disappointed. Vitaminworld.com has zero reviews for Xtreme Trim RDS-X on its website, which isn't a good sign. Some other regular review sources like the Better Business Bureau came up empy as well, and Amazon.com (although we don't recommend buying supplements from someone other than the actual retailer if possible) had only seven total reviews.
It's hard to get a good idea about whether or not a product will work for you if there aren't many reviews. Normally, we'd say that the review-writing has to start somewhere–maybe even with you–but when a company has been around since 1976, this is a surprise.
In our experience, even minor setbacks or problems can doom the long-term efficacy of a supplement. In this case, the caffeine amounts are high, which may cause you some real discomfort. You may also have withdrawal symptoms when you stop taking Extreme Trim TDS-X.
Where Does Science Come into the Picture?
We took to the National Institutes of Health website to see if we could dig up valuable research and discovered an interesting study about green tea extract. In this study by the University of Birmingham, patients experienced better fat oxidation when taking green tea extract, but the dosage was around 890 mg–the amount of green tea extract in Xtreme Trim RDS-X is 59 mg. In short, that's not enough to render it particularly useful.
What's the Bottom Line?
We thought this supplement looked interesting at first, especially because of the long-standing history of Vitamin World. The supplement doesn't hold its own though, and we couldn't find a reason to suggest taking it over any number of other supplements. There's simply too much caffeine and not enough of the oxidant green tea extract.
If you want to burn fat, try something that has more clinical research to its name and doesn't rely quite so heavily on caffeine.
Lately, we've been recommending a product called Leptigen–it burns fat, boosts metabolism, and has 4 powerful, clinically-researched ingredients in the proprietary blend. The customer reviews are positive online, and we can't find any word of harmful side effects.
There's a special limited-time trial offer going on right now, so it wouldn't hurt to give it a try.